By Adam Chau, AsAmNews Staff Writer
Around 6:15 AM on March 17, 2016 in Burnsville, MN, the police were called on a report of a suspicious man sitting in a car in the parking lot yelling and jumping up and down in his seat waving a knife. As police officers tried to calm him down from outside, trying to get a better look at what was inside the car, they decided to break the window and tase him.
The man in the car, Map Kong, a Cambodian American, tried to flee with his back turned to police running away.
23 bullets were fired in the span of 3 seconds from three officers—with 15 of those bullets hitting Map Kong, killing him instantly.
While he wasn't enough of a threat to be shot when they were near his car, breaking the windows and tasing him–instead of running on foot and chasing him down to secure him–they said they deemed him such a threat that they had to shoot him.
Even though they had used tasers before, they had to resort to bullets and deadly force?
According to Case No. 16-cv-03634 (SRN/HB) (D. Minn. Dec. 14, 2018) the police officers "contended that when Map Kong ran from his car, knife in hand, he posed an imminent threat of 'great bodily harm or death' to both themselves and the surrounding public" and that according to one of the officers "even if Mr. Kong was not poised to attack any one person or car, deadly force was justified because 'there was cars constantly coming and going,' including 'traffic just basically across the parking lot on Highway 13'".
But in the original call to police there was never any mention that Map Kong had threatened anyone, nor committed any acts of violence against anyone. While erratic sitting in his car, and absolutely needing help, he posed more of a threat to himself than anyone else.
If you look at the full bodycam video and where Map Kong was shot and the surrounding area, did he really pose a threat? Was he not contained enough already that they couldn't have used any other means to secure him?
They should have, and could have, used other means to secure Map Kong.
Fast Forward Close To Five Years Later
On December 30 at approximately 1:38 PM, Pennsylvania State Police responded to a report of a distraught and suicidal man on the SR-33 overpass to interstate 80 in Hamilton Township, Monroe County. When the state troopers arrived they identified the man as Christian Joseph Hall, 19, who was in possession of a gun.
According to the release put out by Pennsylvania State Police, they said that Christian Hall, who was Chinese American and a transracial and transnational adoptee, at first complied with police by putting down his weapon, but that he later picked back up the gun, and began walking towards them.
This is when Pennsylvania State Troopers, like the officers in Burnsville MN, felt they had no other option except to shoot Christian Hall, who was then transported to Pocono Medical Center in East Stroudsburg, PA, where he was pronounced dead.
But new video contradicts this statement.
The video taken by onlookers who were underneath the pass, show Christian Hall with his hands up—not moving towards police—and then being shot.
The video doesn't clarify whether Christian Hall had picked back up the gun or not. It doesn't clarify whether or not he had the gun in his hand when his arms were raised (in the video when it is blown up, it is difficult to see if there is something in his right hand or not).
But let's say Christian Hall did pick the gun back up.
In the video his arms are clearly in the air. In the video he is not moving towards police.
Remember that police indicated that he was moving towards them—even though the video, at least at that stage, shows Christian Hall not moving towards them.
And then look at the space between Christian Hall and the State Troopers.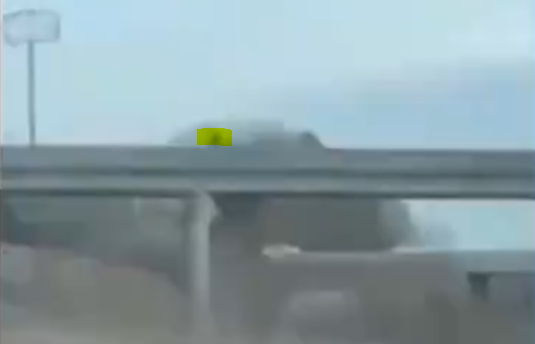 With his hands up in the air, not moving towards police, and the space that they already put between them, to be as safe as they could for negotiations—were the state troopers' lives threatened in such a way that they had no other choice but to shoot Christian Hall?
Just like in the case of Map Kong, they had other choices, to de-escalate.
Will Having Your Hands Up Really Save Your Life And What's The Worth Of An Asian American Life?
I understand the impetus behind the reasoning, but I can't help but think that in some ways we're sending the same message as "Just comply with police, don't say anything, and do what they say and you'll be okay, even if it's an unjust stop or arrest" but wrapped in a different package.
I wonder to myself if this is a myth we are telling ourselves, and others in our communities, because we want to believe, that it does make a difference.
Even though it doesn't always work out that way.
We've seen countless times that having your hands up, telling police you can't breathe, or having it all filmed on camera, doesn't always make a difference.
But even more so—you shouldn't have to have your hands up if you're from a community of color, or a marginalized community to stay alive in a situation where law enforcement is called.
When you juxtapose the differences in these types of cases where a life is taken, versus something like the tried and failed coup of our country, which was mostly individuals who were White—and there are countless instances of the same ilk as we all know—there is no comparison:
An Asian American life is not worth that of a White life in the eyes of law enforcement.
AsAmNews has Asian America in its heart. We're an all-volunteer effort of dedicated staff and interns. Check out our new Instagram account. Go to our Twitter feed and Facebook page for more content. Please consider interning, joining our staff, or making a financial contribution to support us.