By Esther Yang, AsAmNews Staff Writer
Honoring my Mom's bday in Heaven. Miss her every day. The arguments, the love and of course her illogical logic that never made sense.

My mom loved making Wonton for her grandkids. She spoiled them rotten.
Her love skipped a generation. Grandkids get everything, her kids get leftover, sometimes nothing. A tiger mom is an understatement.

My mom used eggs, white flour for the fillings. I am opting out of those and just use 3 ingredients — wonton wrappers, ground turkey, and scallions + salt — 15 minutes. Yup, that's all folks, 3 ingredients, and it tasted yummy.
8 minutes if you can wrap the wonton faster.

Maybe someday I would make my own wonton wrappers from scratch, but my lazy self always veto that 🙂 

The recipe:
1. The filling – One pound of Turkey/chicken or beef. 1/2 cup chopped scallions. Mix it together. Add salt or whatever spice you want. Less is always better for me. 
I saved the roots of the scallions in a small vase. Add water and the green scallions will keep growing. Your very own hydroponic garden.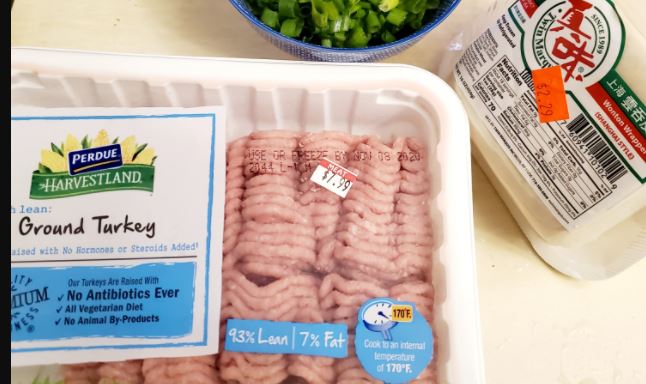 2. You can get the wonton wrapper from any Asian Market. $2.29. About 50/70 wrapper. One pound of Turkey and scallions filling makes about 100 pan-fried wontons. It seems a lot, but my daughter and I can eat 40 of them in one sitting. Too addictive.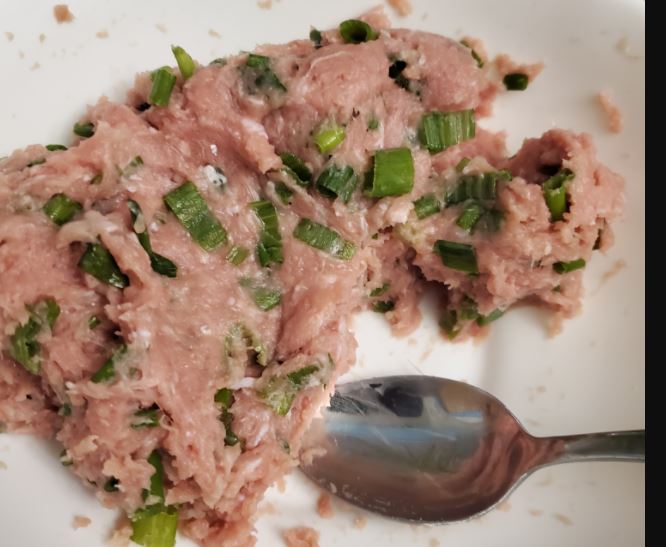 3. How to wrap the wonton? There are many versions, but I did what my mom taught me. Put the fillings in the middle, fold it and make a triangle. Press the corner edge. Then dap a little of water on one edge and bring the other edge on top of it and press it again, so it sticks. Too confusing? Make yourself a triangle or a square wonton. You do You. Your kitchen – Your domain!!!
4. Do not freeze cooked wonton, but you can always freeze uncooked wonton. 

FYI – Photo of my mom, me (I look cuter when I was young) and my mom patiently showing my daughter Grace how to wrap the wonton. If that was me, my mom would criticize how uneven and lumpy my wonton is. LOL.

The good news – my daughter who is now 21, only has fond memories of her Apho. I know my daughter is the way she is because of her Apho love of cooking and being her #1fan.

Me, on the other hand, need more therapy sessions…

Vegan or vegetarian? Make vegetables wonton with chopped broccoli or cabbage with caramelized onions. Don't eat pan-fried wonton? Steam it or make wonton soup with vegetables.

Happy cooking. Happy adventure. Hug and call your mom more often, even if your mom drives you crazy. Love to you all ❤❤❤ #wontons #mom #gratefulforeverything
AsAmNews has Asian America in its heart. We're an all-volunteer effort of dedicated staff and interns. Check out our new Instagram account. Go to our Twitter feed and Facebook page for more content. Please consider interning, joining our staff, or making a financial contribution to support us.