Photos and Recipe by Esther Yang, AsAmNews Staff Writer
4 ingredients — Thin sliced Chicken Breast, Tomatoes, Parmesan Cheese, and Baby Spinach.

One-pan dinner. My lazy self dinner. I love one-pan meals. Fewer dishes to wash. Healthy and yummy. Everybody is happy. Done in less than 10 minutes.

Cooking and doing the video requires more bloopers. As you can see, I forgot what I was cooking. LOL 😆 Brain freeze. 

Yoga, cooking, – sighhhh, I just can't change to another outfit just for the video. Who does that??? I am lucky if I survived cooking.

The recipe:
1. Get super thin sliced chicken breast. Faster to cook. 

2. Heat the pan with a touch of olive oil. Add the chicken breast (pan-fried 2–3 minutes on each side). I always cook on high heat and I only use salt.
But hey, you do your thing and add whatever…

3. Once the chicken is browned on both sides, add the sliced cherry tomatoes on top of the chicken, then the shaved Parmesan cheese. (2 minutes or less until the cheese melts — careful not to burn the chicken). Add the cut baby spinach (30 seconds). Super easy.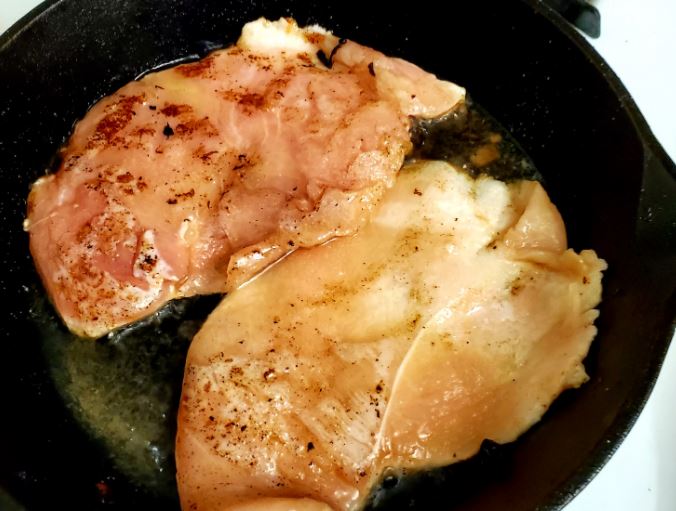 No cherry tomatoes? Use sun-dried tomatoes. No baby spinach? Use whatever greens – like broccoli or zucchini or do without. Trust me, it will taste as good. No sliced Parmesan cheese? Use whatever cheese you got in your fridge. 

FYI – Never ever buy Parmesan cheese that is not refrigerated. Fresh food is the best gift to yourself.

Allergic to dairy? Don't stress, do without. The chicken is yummy without the cheese. 

No other ingredient but chicken? Do 1 ingredient dinner – chicken by itself.
How about that??? It will taste as good. It is never about the ingredients but the love you put into your cooking ❤️. 

Be brave. Be adventurous. Your dinner – you do you and ignore everyone else !!!
Love to you all ❤❤❤ #easydinner #onepanmeal #onepan #dinnerrecipes #chickenrecipes #gratefuleveryday 
AsAmNews has Asian America in its heart. We're an all-volunteer effort of dedicated staff and interns. Check out our new Instagram account. Go to our Twitter feed and Facebook page for more content. Please consider interning, joining our staff, or making a financial contribution to support us.