Photo by Adam Chau
Pew Research Center released a report today that highlights the diversity of the Asian American community.
"The 19 largest Asian origin groups in the U.S. differ significantly by income, education and other characteristics," the report states.
Researchers at Pew used data from multiple sources to conduct their analysis. Their main source of data is a three-year dataset constructed from the U.S. Census Bureau's 2017-2019 American Community Survey. The survey is conducted only in English and Spanish, which means Asian adults who do are not fluent in either language may not have been included.
The research found that the Asian population in the United States nearly doubled between 2000 and 2019, rising from 11.9 million to 23.2 million. It is projected to reach 46 million by 2060. By the middle of the century, Asian Americans are projected to be the country's largest immigrant group.
About 83 percent of Asians in the U.S. are single-race, non-Hispanic. Multi-racial and Hispanic-Asians make up 14 percent and 3 percent of the Asian population respectively.
The report also highlighted the diversity amongst America's fast-growing Asian American population. Traditionally a majority of the Asian American population resided in the West, but Asian American populations in other locations are growing.
Around 45 percent of the Asian population resides in the West, while 12 percent reside in the Midwest, 19 percent in the Northeast and 20 percent in the South.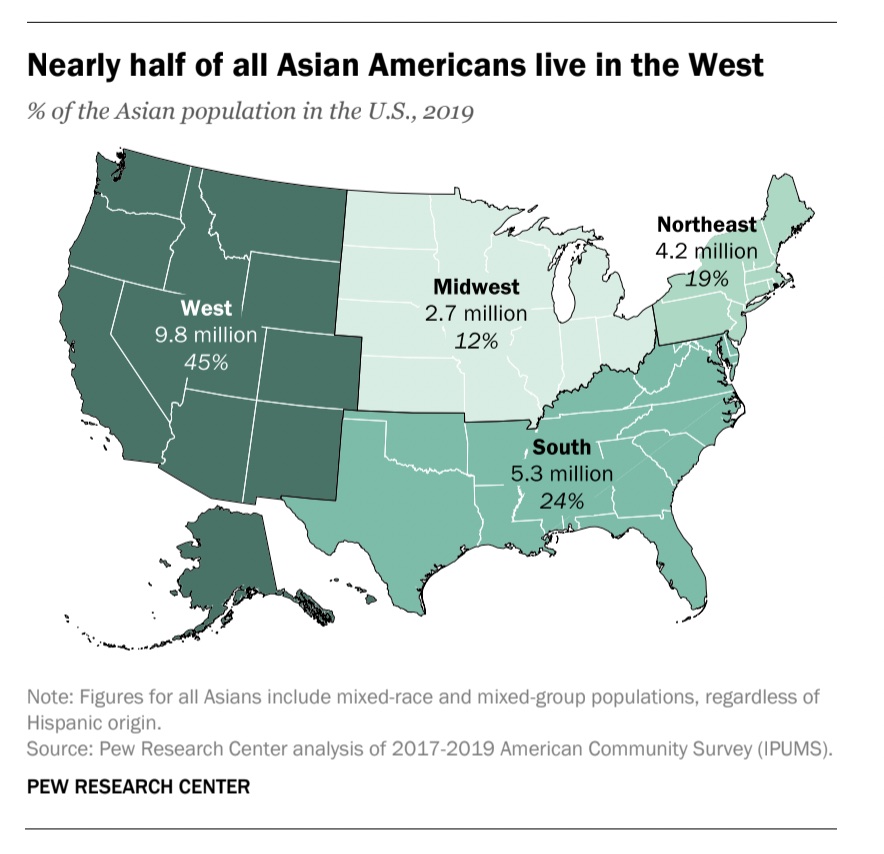 The largest Asian origin group varies by state: Indian Americans in 22 states, Chinese Americans in 12 states, Filipino Americans in 9 states, Vietnamese Americans in 4 states, Hmong Americans in 2 states and Korean Americans in 1 state (Alabama).
Educational attainment also varies amongst different Asian ethnic groups. For example, 75 percent of Indian Americans aged 25 and older have at least a bachelor's degree, while only 18 percent of Laotians aged 25 and older have at least a bachelor's degree.
According to the report, the variation in educational attainment reflects "the levels of education immigrants bring to the U.S." Many Indian Americans already had a bachelor's degree when they arrived in the U.S.
Disparities in income and poverty also vary widely amongst groups. The median annual household income of Asians in the U.S. was $85,800 in 2019, higher than the $61,800 among all American households. Indians and Filipinos had median household incomes above the median for Asian Americans overall, but most of the other origin groups were below the median household income.
Asian Americans had a poverty rate of 10 percent in 2019, but only Indian Americans, Filipino Americans and Japanese Americans had a lower poverty rate. Most other groups had a poverty rate higher than the overall Asian American poverty rate.
Researchers at Pew hope the new report will encourage people to acknowledge the diversity of the Asian American community when discussing Asian American issues.
"The diversity of the Asian American experience continues," Neil Ruiz, one of the authors of the report said in a press conference. "All of this data really shows there is so much more to learn from the diverse voices as it relates to immigration experiences, economic mobility and identity. We at the Pew Research Center will continue to do more work in this area."
The report also noted that English proficiency also varies considerably amongst groups. A majority of Japanese (85%), Filipinos (84%) and Indians (82%) speak English proficiently aged 5 and older speak English proficiently. However, only 36 percent of Bhutanese and 38 percent of Burmese aged 5 and older speak English proficiently.
The data Pew used surveyed Asian adults who spoke proficient English or Spanish. Pew researchers said they hope to conduct surveys in more languages given the diversity in English proficiency amongst Asian Americans.
"The dream is to do [the survey] again, but do it in a more diverse way," Ruiz said. "We want to make sure we can include as many voices and also include smaller groups as much as possible to study them as well."
AsAmNews has Asian America in its heart. We're an all-volunteer effort of dedicated staff and interns. Check out our new Instagram account. Go to our Twitter feed and Facebook page for more content. Please consider interning, joining our staff, or making a financial contribution to support us.