By Aaron Facundo, AsAmNews Intern
The only Asian American to compete in Miss Michigan this year, Vivian Zhong, takes the crown. Zhong will go on to be one of two Asian American representatives to compete in Miss America's 100th anniversary this year.
The other is Lydia Sohn of Maryland.
The 2021 winner claims her new title after her fifth year in a row competing for Miss Michigan.

"I truly believe that every other year, I wasn't fully prepared mentally and physically to be Miss Michigan because it is a full-time job. This year, I went into it with a really open mind because it was going to be my last time competing since I kind of shifted my focuses starting medical school and all of that," Zhong told AsAmNews. "Beyond that, I was confident in myself, I knew that I had a lot to offer to the Miss America organization and I knew that if it wasn't meant to happen, I would impact the world in a different way. I really was very confident and very calm this year."


As a competition, Miss Michigan showcases young womens' interview skills, talents and professionalism. Aspiring Miss Michigans showcase these skills through an interview question, a social impact pitch, a talent show and an evening gown competition.
Zhong gives credit to her more calm and focused mindset as the reason for winning her newly acquired title.
"Every other year, I've been focused on winning, whereas this year, I was more focused on the experiences and really spending time with all the other women who had become my close friends," Zhong said. "Overall, I think my mindset was a lot different than any other year coming into Miss Michigan."
The University of Michigan and Tulane University alum received a $10,000 scholarship along with the opportunity to compete for the 2021 Miss America Scholarship Pageant in December.
"I encourage other Asian American young women to compete in this organization," Zhong said. "I would love to see more Asian women competing, developing those social skills and really getting out into the world and making themselves known."
For her upbringing, Zhong shows a lot of gratitude to her grandparents who immigrated to the United States from China.
"I'm very in touch with my Asian roots, but I wasn't always when I was younger because I was bullied for what I would bring to eat for lunch, what I looked like or how I dressed- it was really hard for me, but it was also nice having my grandparents there to be able to talk about where I come from and as I've grown older, it's something that I've become very proud of," Zhong said. "As Miss Michigan this year, I'm super excited to be representing the Asian American community at the 100th anniversary of Miss America."
Growing up, Zhong always had the dream of becoming a doctor. She just graduated with a masters degree from Tulane. However, the multiple years of schooling do not come with a cheap price tag. Looking for ways to help remedy the future financial pain, Zhong stumbled upon the Miss America organization, one of the largest scholarship providers for young women.

"I started competing in [Miss America's Outstanding Teen Program] when I was 17 and I absolutely loved it," Zhong said. "That's when it became more than scholarships for me because I learned more speaking skills, professionalism and resume development."
Continuing her passion for pageantry, Zhong placed top 5 in Miss Michigan twice. When she didn't reach top 5, she began to question herself.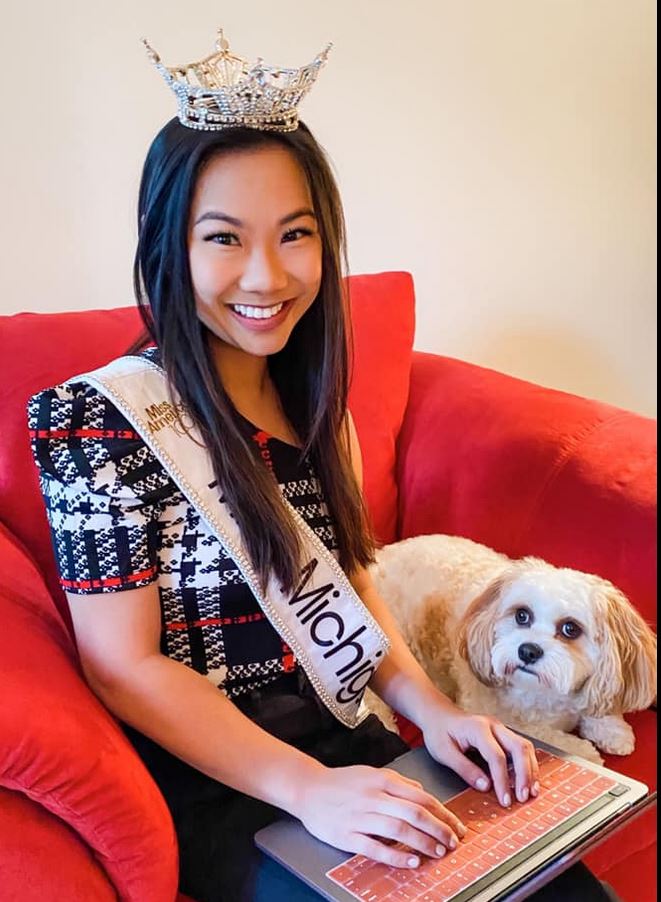 "Ultimately, I persevered and I just kept trying to better myself to be the person that they were looking for with more interview skills, talents, skills and presentation overall," Zhong said. "I've gained a lot from [the Miss America Organization] even without this crown so I'm very thankful that I started in this organization."
As part of her social impact pitch, Zhong advocated for Golden Warriors of Pediatric Cancer-Fight Like a Kid which raises awareness for pediatric cancer research as well as supports pediatric cancer survivors and patients. Zhong has been advocating for Golden Warriors of Pediatric Cancer – Fight Like a Kid for over three years, but is also connected with the American Cancer Society, The American Childhood Cancer Organization and local organizations throughout Michigan.
When she was 17, Zhong walked throughout pediatric hospitals and saw a different side of medicine. She connected with the many children she met and always tried to make their days better, even during harsh times. Previously, she volunteered alongside the patients and even dressed up as Princess Mulan to make their days better.
"I thought it would be a great idea to really tackle that issue from many different perspectives as both a medical student and also as Miss Michigan since I am going into the medical field," Zhong said. "I have been fundraising for pediatric cancer research for the past few years and I will continue to do so as Miss Michigan."
As Miss Michigan and beyond, she wants to continue helping children in need.
While she continues on with her medical career, Zhong will be seen competing for Miss America in December of this year.
AsAmNews has Asian America in its heart. We're an all-volunteer effort of dedicated staff and interns. Check out our new Instagram account. Go to our Twitter feed and Facebook page for more content. Please consider interning, joining our staff, or submitting a story or making a contribution.