By Nina Ha
It's 2013, and the hallways of the San Diego Convention Center are packed with cosplayers channeling Harry Potter, Princess Leia, Ninja Turtles, and confounding creations such as Sailor Bacon.
Suddenly, one Asian American family emerges from the crowd, dressed in full superhero regalia as if in slow motion, capes flapping in its wake. It was the genesis of what would become an annual family tradition of dressing up as Superman, Wonder Woman, Wonder Girl, and Superboy. Their iconic emblems, boots, and lasso were all they had ever seen on the big screen, until now.
That was us, the Ha family of Bakersfield, California. Over the years, based on our penchant for costumes, we've been lovingly dubbed the Superha family by close family and friends.
This weekend, we, along with the rest of the world, witnessed the rise of a new Asian superhero in the Marvel Cinematic Universe.  Shang-Chi and the Legend of the Ten Rings split-kicked 4-day Labor Day weekend box office records with an impressive $94 million dollars, smashing the previous record of $30 million set in 2007 by Halloween.  As we celebrate the success of this film, it challenges me to reflect on the pivotal events in my own personal journey to this moment. 
I grew up in Alhambra, California after my family immigrated from Taiwan in the 1980s. As early as the age of 5, I tied bath towels around my neck, ran around with one arm in the air, and jumped off couches pretending I could fly. I learned about heroism from George Reeves by watching reruns of the black and white Adventures of Superman series after school. I even watched Kung Fu reruns starring David Carradine, a non-Asian actor cast to play a half Chinese Shaolin monk.  
Even though I was surrounded by Asian Americans at school and around my neighborhood in the San Gabriel Valley, I didn't realize that I was missing the on-screen representation of my community, culture, and race until three distinctive theatrical events occurred.
The first was when I was 18 years old watching The Joy Luck Club with my older sister, our mom sandwiched between us.  The compelling drama had the three of us crying together while holding tightly to each other's hands. 
The movie adaptation of Amy Tan's novel made me feel like I was staring into the faces of my own aunties and uncles at the dinner table. But, in real life, I would only be observing them from the kids' table. Even though I'm married now with two teenage children, I still find myself at the kids' table from time to time. Hearing those characters talk about the social faux pas of grabbing food other than the piece directly in front of them affirmed my childhood. It provided validation that all the unspoken cultural rules that I was supposed to naturally know, but never did, really did exist outside of my family. 
As an Asian American kid, I often felt the self-imposed burden of parental expectation and filial responsibility. I felt like I was always fighting, not to please my parents per se, but to not disappoint them. When I saw all the daughters in the film struggling to appease their family, even into adulthood, I instantly felt understood and less alone.
A quarter of a century later, Jon Chu's Crazy Rich Asians once again featured an all Asian cast in lead roles which brought Kevin Kwan's bestselling book to life. We saw Asian women as powerful leaders of their families, Asian men as attractive without being emasculated, and love stories that gave us proof that we could be the main characters, and not just supporting cast members, in the story of our lives. Once again, I found myself tearing up over the film's beautiful storylines, the victory of another nearly all Asian cast, and the sad realization that it had taken Hollywood 25 years to do it.  
Fortunately, just three short years later, Shang-Chi and the Legend of the Ten Rings is giving all of us the superhero we never had growing up.  My 5-year-old self is currently jumping up and down in excitement, wielding her powerful imaginary rings. 
Marvel's new Avenger, Shang-Chi, is masterfully played by Simu Liu, a Canadian actor, writer, and stuntman.  He balances comedy and drama with the confidence and charisma of Hollywood leading men. His agility and physicality make for lightning-fast action scenes reminiscent of old-school Hong Kong flicks. Shang-Chi is a relatable character who strives to overcome obstacles on the way to reaching his ultimate potential.  This origin story allows us to meet the man before the legend. 
Shang-Chi's life parallels many of our own. He struggles to make peace with his past, embrace his humanity, and live up to his purpose in life.  His hardships and obstacles don't just resonate with Asian audiences, his story is universal.  It may be difficult to identify with an alien superhero born with supernatural abilities, but we can all appreciate a superhero who, through hard work and perseverance, accomplishes the seemingly impossible.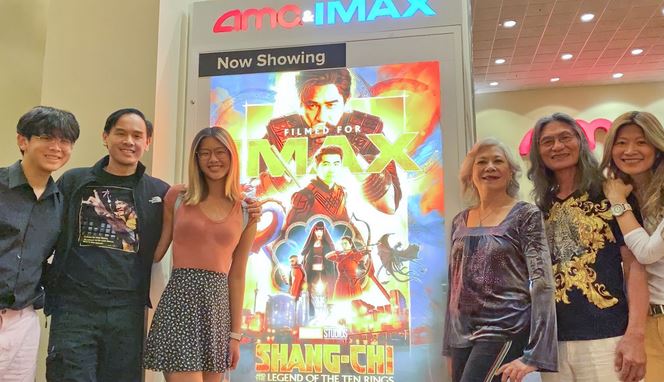 It was really special watching the film on opening night with my parents, husband, and children. Midway through the film, I became emotional as I realized that three generations of my family were witnessing the birth of an Asian superhero. Having visibility and representation isn't a form of tokenism; it gives us all permission to see the possibilities that we didn't even realize were options. It emboldens those often marginalized in society permission to rewrite our narratives, empowering us to envision ourselves as the protagonist. 
It's not just about seeing someone who looks like you as a superhero. It's believing that it could actually be you.
After the movie and its various credits and bonus scenes ended, our 14-year-old, Ben, Jr. immediately said, "This is the best Marvel movie ever!  It keeps you captivated.  The fighting scenes never got boring."  His 16-year-old sister Ashley chimed in. "I agree!  It was so cool to see Uncle Danny in it!"
Full disclosure: My younger brother, Daniel Liu, a model with the Ford agency, made his first-ever movie cameo appearance in Shang-Chi.  It was exciting and surreal to see him emerging, in cinematic slow-mo, from a sleek car in an international MCU blockbuster.  I enjoyed watching my parents take in the moment of seeing their son on screen while they were ensconced in signature reclining seats piped with Dolby surround sound speakers. 
After a tumultuous and heartbreaking year for the Asian American community, this film is already giving hope for a kinder tomorrow. Our daughter experienced racist remarks from a classmate this past year. She said, "Shang-Chi is a role model because he's trying to protect the ones he cares about.  At school, sometimes people make fun of Asians. If this movie had come out earlier, maybe they wouldn't have done that."
Perhaps a much earlier release date for Shang-Chi could have altered the entire trajectory of our family's Comic-Con cosplay. Instead of only suiting up as the Man of Steel, the Princess of Themyscira, and their younger counterparts, we could have added these culturally influenced costumes to our cosplay repertoire. 
Our daughter wants to wear the white and black fight suit of Shang-Chi's sister and martial arts equal, Xialing. Our son said that he would prefer to be Shang-Chi rather than Superman because "the rings are pretty cool." 
If you find yourself at the next comic convention, be on the lookout for an Asian American superhero family heeding their latest call to action, walking the halls in full "Shang-Chi" regalia, as if in slow motion, with some pretty cool rings lighting the way. 
AsAmNews has Asian America in its heart. We're an all-volunteer effort of dedicated staff and interns. Check out our new Instagram account. Go to our Twitter feed and Facebook page for more content. Please consider interning, joining our staff, or submitting a story or making a contribution.