Reporting by Xiaojie Zavon & Felicity Tao with Louis Chan, AsAmNews National Correspondent
(Updated 10:53 pm Eastern Time)
Aftab Pureval is declaring victory in Cincinnati's mayor race. He will become the first Asian American mayor of the city following a commanding victory.
With more than 30,000 votes counted, Pureval leads 25,910 votes to 5553 over David Mann.
Mann conceded on Twitter and had spoken to Pureval before his opponent declared victory.

"Cincinnati is a place where no matter what you look like, where you're from, if you work hard you can achieve your dreams. Tonight I achieved mine," he declared to applause as he kissed his wife.
Mann is a political veteran who has twice previously served as mayor.
Pureval promised racial equity and a sound economic vision. He said in 1980 his parents decided to come to the United States in a place called Ohio. "They believed in the greatness of America."
Pureval, whose father is Indian American and his mother is Tibetan American, won his first race in 2016 as County Clerk.
"He made history as the first Asian American mayor in a major Midwest city and I am proud," said Xiaojie Zavon who also assisted in reporting this story. "I saw a different politician with energy, vision, and a plan in place."
"An Asian American mayor is a really remarkable victory for Asian Americans everywhere," said Lisa Kuan,co-founder of the Tristate Asian American Action Fund, to AsAmNews. "For too long, we have been overlooked for promotions, positions of leadership, as serious citizens of the world. We have been told by the political parties that we are not important to them. Aftab believes in the power of the people, including Asian Americans. I share his history of being a child of immigrant parents, educated by our public schools, and have had to "prove" myself every day. His victory represents a victory for all POC who are from immigrant families."
"It's looking good!!" said Mala Patel, co-founder of the Tristate Asian American Action Fund, said in an email to AsAmNews earlier in the night. "Pureval has devoted much time to representing the needs of all the AAPI communities in Ohio. He spends time to mentor and lead people in the AAPI communities – I've seen it first hand."
Hao Cong, Asian Pacific Islander American Public Affairs Cincinnati Chapter President, joined Patel in his support of Pureval.
"Aftab is a person with a clear vision and plan for Cincinnati's future," Cong said. "He is optimistic, hopeful, and resilient. He is the one who can bring people together and get things done. I trust him in his leadership capability and believe he will be a great Mayor of Cincinnati.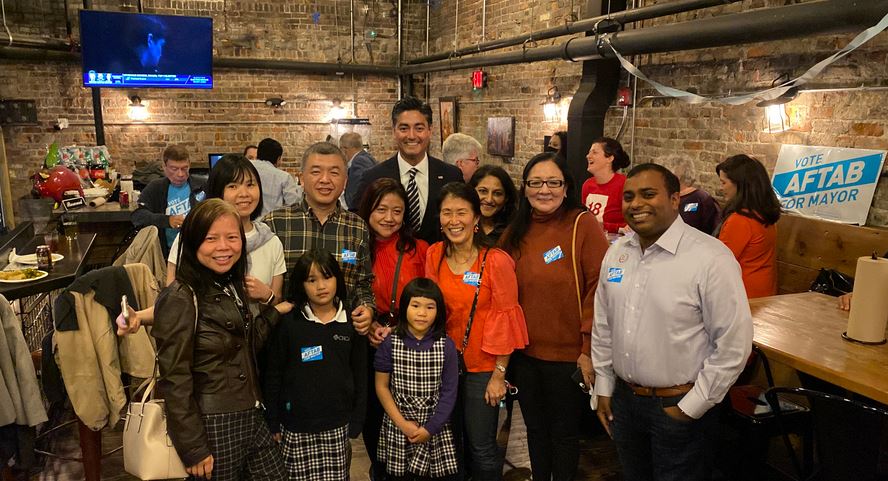 (AsAmNews would like to thank the following people for their assistance in reporting this story: Felicity Tao, Leo Chan, Lee Wong, Xiaojie Zavon, and Sato Kazuya ))
AsAmNews has Asian America in its heart. We're an all-volunteer effort of dedicated staff and interns. Check out our new Instagram account. Go to our Twitter feed and Facebook page for more content. Please consider interning, joining our staff, or submitting a story, or making a contribution.