Today's Pacific Islander youth are redefining their identity with tattoos
By Zachary Anderson
21-year-old Kamaha'o Kawelu of Keaukaha, Hawaii began the process of tattooing his upper right arm and chest during the summer of his junior year of college.
"I am literally wearing my family on my body," said Kawelu. "I'm going to take that wherever I go."
Across the Pacific another islander, Tyson Andrews has a design on his shoulder influenced by masks from Chinese folk art that protect fatherless children from evil spirits. His brother's father was Norwegian and so Nordic symbols appear throughout the entirety of the piece.
"Not only was it a way for me to connect to generations of my family and a culture I wasn't familiar with," said Andrews, "but it was also a crash course of my people."
Despite the many differences in family life and geographic location, Andrews and Kawelu are intimately connected by an experience they share with both each other and Pacific islanders across time: tattooing their bodies.
Tattoos occupy a sacred space in the myriad cultures of the Pasifika. The word is derived from the Samoan term tatau or "to strike".
The region has no formal writing.
"Our tattoos were our writing," said Kawelu.
He learned his family lineage–– his moʻokūʻauhau— from his uncle and relied on information recorded about his family in books.
Born and raised on the Big Island, he never doubted that he was Hawaiian. His hometown, Keaukaha, was set aside by the federal government for exclusive use and settlement by Native Hawaiians. For most of his early life, he attended the Kamehameha schools that were created by Princess Bernice Pauahi Bishop to provide Hawaiian children college-preparatory education enhanced by indigenous cultural practices.
"It's a school teaching Hawaiian values and culture to Hawaiians, to become the next leaders of Hawaii," said Kawelu. "You are taught that your cultural identity sets you apart from all these other people."
Andrews, on the other hand, did not have volumes of books containing vast information about his family. To his knowledge, his ancestors came to Hawaii from Samoa and China at various points across the 20th century. But from there, the information is scarce if not missing.
"I didn't get a 'traditional upbringing," said Andrews. "I didn't get to meet any elders or any of my extended family. Long story short: it's just me, my mom, and my brother."
The 25-year-old was born and raised in Kirkland, Washington which the 2010 census reported only 0.3% of the residents were Pacific Islanders. It wasn't until he went off to play football at Washington State that he had significant interactions with other islanders–– in addition to Andrews, the 2015 roster boasted players from Tonga, Hawaii, and American Samoa.
"The biggest shock to me was that I went 18 years without seeing anyone that looked like me," said Andrews.
At 18, he began his journey of reconnecting with his Hawaiian identity started researching what little he knew about his genealogy to inform his ink.
While Kawelu already had a general blueprint for what he wanted his tattoos to represent, Andrews dedicated a large portion of his late teens and early twenties researching artists who could help map out the story he wanted to tell.
For his right side, the first artist he met botched the design. Andrews then went to Kamu Kamu, an artist based in Fife, Washington who agreed to fix the tattoo on the condition that he be open to learning more about the art.
"I really appreciated the tattoo artists that saw me and heard me and taught me and understood that what I was doing was really significant," said Andrews.
The evolution of how Polynesian tattoos are applied reflects the mixed ethnic background of modern-day Pasifika and its diasporas.
"I wanted to make a design that was emblematic of my own personal mix and journey," said Andrews. "
For the left side, Andrews went to Joshawa Elsas, a Chamorro artist raised in Hawaii and based in San Diego with over two decades of experience.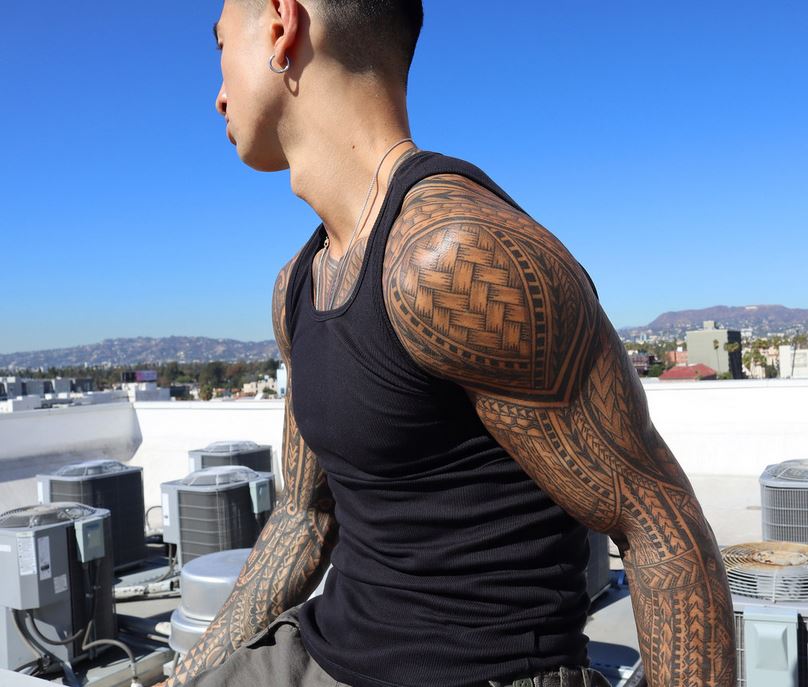 His first clients were close family members and friends from his time in the Navy and when he started out, tattooing traditions and patterns depended on a person's island background–– the way it had been for thousands of years.
"If I was tattooing a Hawaiian person or Samoan person, I was only doing Hawaiian or Samoan tattoos," said Elsas.
In 2003, actor Dwayne "The Rock" Johnson took a trip to Hawaii to get his family's story tattooed by Tahitian artist Po'iono Yrondi. The demand for similar tattoos skyrocketed.
"People were coming into the shop saying, 'I want a tattoo like The Rock's,'" said Elsas.
Since then, artists began blending together modern techniques and traditions from across Pasifika creating the style known today as "tribal tattoos."
As the popularity of tribals grew, so did the understanding of cultural appropriation among indigenous youth, and the ethics of getting them were called into question.
In college, Kawelu met a Samoan student from Utah with tribals. When he asked what they meant the student said that he had gotten them just because they looked cool.
"I think it's very important to know what your [tattoos] mean," said Kawelu.
That doesn't mean that tribals are exclusively reserved for Pacific Islanders, however. During Elsas' extensive research trips throughout Pasifika, he met with community leaders and elders who viewed non-Polynesians getting tattoos not as mockery but as an appreciation of the culture.
"Every single elder I asked said, 'That is beautiful. That's awesome that another person would want to honor our culture by sharing a part of their skin,'" said Elsas. "That's their perspective and to me, it's important to carry on the culture through the art and I wanted their blessing to do so."
This does not come without a few rules. Typically, islanders were tatted by family members. Elsas' first client was his father and Kawelu's tattoos were done by his uncle. In Andrews' case, he fostered a familial relationship with Kamu Kamu and since then he said they talk every day.
To mirror this close bond between both parties, Elsas requires that clients consult with him first so that they are educated in Polynesian cultures, and they have an understanding before getting a tattoo.
"More people are just going on Google or Instagram and they're just copying," said Elsas. "Everyone I tattoo has to at least respect the culture enough to want to learn about it… If they're open to listening and learning about it, that falls within my belief system."
Elsas said that he has turned people away who were unwilling to comply with the educational part of the process.
Since the era of European contact, western cultural influences had viewed any form of body art as taboo. But as younger generations enter professional spheres, they have become more open to the concept–– today 35% of American adults have at least one tattoo.
The ancient Pacific people who invented the traditions of tribal tattoos as a means of communication were also the world's greatest maritime explorers. With knowledge of the wind and stars passed down for generations, they navigated the vast ocean and made it home.
Today, the descendants of those navigators rely on modern tools and techniques to reveal to the modern world their connection to those ancestors.
"It is an honor to be able to carry the tribal marks of my ancestors," said Whitney Salas, a Chamorro living in La Center Washington, "this will always be a connection to them and a constant reminder to continue to learn about and represent my culture.
To learn more about the folks in this article, follow Joshawa Elsas on Instagram. You can also follow Tyson Andrews on Instagram and TikTok as well Kamaha'o Kawelu on Instagram and TikTok.
AsAmNews has Asian America in its heart. We're an all-volunteer effort of dedicated staff and interns. Check out our new Instagram account. Go to our Twitter feed and Facebook page for more content. Please consider interning, joining our staff, or submitting a story, or making a contribution.