By Raymond Douglas Chong, AsAmNews Staff Writer
Portland, Oregon, an American liberal utopia, is now known worldwide as a city in chaos, with its pervasive squalor and incessant turmoil.
The COVID-19 pandemic arrived in Portland on February 28, 2020. Since May 28, 2020, George Floyd protests have endlessly been overtaken by rioters, vandals, and arsonists. The city has suffered through a record homicide rate with an associated surge in street violence. In June 2020, Portland City Council reduced its 2020-21 budget by $15 million for Portland Police Bureau. Residents and businesses are more endangered with this reduction in public safety.
Portland's earliest Downtown, Old Town Chinatown, is the hotbed of the city's dysfunctional malaise and in ghastly crisis.
Background
At its height, Old Town Chinatown gained a reputation as a bustling entertainment district and streetwear shopping hub near the Willamette River.  It has deteriorated into a skid row for marginalized peoples, caused by governmental indifference and ineptitude. Homelessness, drugs, and violence prevail in the neighborhood.  Social service agencies do their best to serve the poor there.
Vandals have destroyed storefronts and infrastructure. Storefront windows are boarded up. Walls and windows are marked in graffiti. Homeless erect tents on city streets and live in their cars and on storefront alcoves. They openly urinate and defecate. They mill around with bags, luggage and shopping carts, amidst the garbage and debris. Mentally ill people wildly rant and rave on the streets. Addicts brazenly deal and use illegal drugs. They leave needles on the streets. They trash and burn abandoned vehicles. Vagrants harass and assault TriMet riders on trains and buses and at train stations and bus stops. Shooting and killings are more frequent, daytime and night time. Restaurants, stores, and hotels are suffering and closing.
The new Chinatown and Japantown Historic District, within Old Town Chinatown, includes Portland's second Chinatown and Nihonmachi (Japanese community). The Chinatown Gateway, hanging red lanterns, and bronze plaques, as well as the iconic Hung Far Low Chop Suey neon sign, are tokens of a bygone era, They are surrounded by struggling restaurants, shops, and institutions.
Call for Action
At Old Town Chinatown, four cultural organizations desperately called for officials of Portland City Council and Multnomah County to take action to improve deplorable conditions in their neighborhood.
These organizations are:
Portland Chinatown Museum (PCM) which showcases the Chinese immigrant experience in Portland.
Japanese American Museum of Oregon (JAMO) which tells the story of Nikkei people (Japanese descent) of Oregon before, during, and after World War II.
Lan Su Chinese Garden (LSCG) which is an authentic Chinese garden, an oasis of tranquil beauty and harmony, to inspire, engage and educate Chinese culture.
Oregon Jewish Museum and Center for Holocaust Education (OJMCHE) which is dedicated to the documented and visual history of the Jews of Oregon.
In their joint letter released on October 11, PCM, JAMO, LSCG and OJMCHE clearly deplored what they called "the rapidly deteriorating conditions in our neighborhood. They demanded "immediate action to safeguard our visitors, staff and volunteers."
They frustratingly reported that "The frequency and severity of the vandalism, violence and mental instability has only worsened in Old Town over the past three to four weeks. On a single day in September, three staff members at the Lan Su Chinese Garden experienced a combination of physical and verbal assaults."
"Our organizations face costly and consequential choices if the situation does not improve. We remain dedicated to exploring and elevating the rich history, diversity and cultural and civil rights struggles within our city, state and region. We represent the heart and hope of Portland. Right now, our hearts are broken."
Portland Chinatown Museum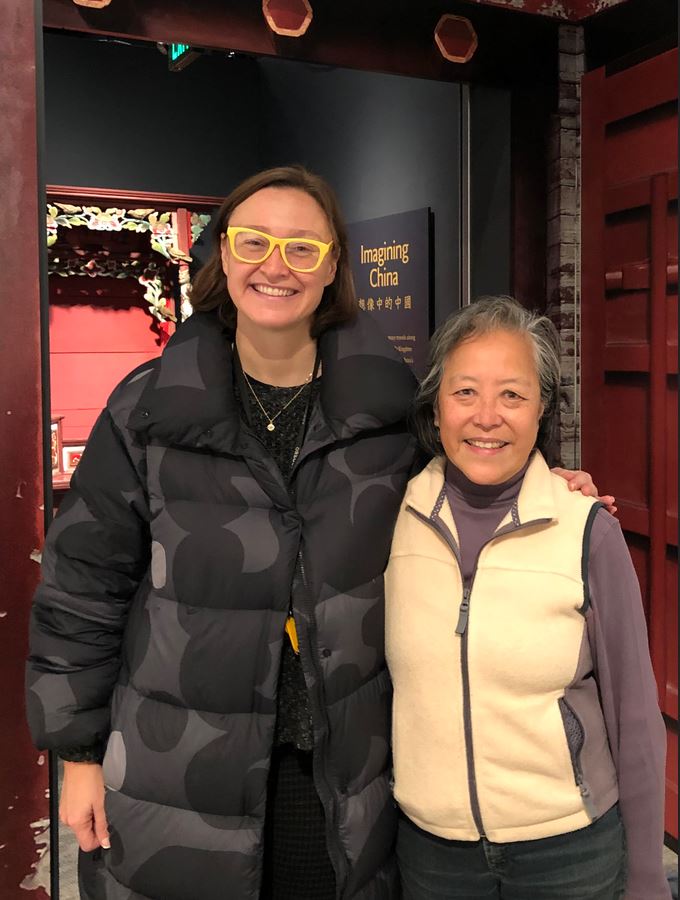 Portland Chinatown Museum has severely suffered with revenue shortfall in fees, dues, and donations.
Portland Chinatown Museum is barely surviving with a dramatic shortfall of revenues. Tourists are not visiting our Museum. Supporters are not renewing their memberships. 

The City of Portland must be held accountable for this terrible situation in Old Town Chinatown that has been brewing for many years and exacerbated now by the pandemic to an apocalyptic juncture.

Sarah Leong Chung, Founding Board Member, Portland Chinatown Museum
Old Town Community Association
Jessie Burke, partner and chief executive officer of The Society Hotel, a boutique hotel, serves as board chair of the Old Town Community Association. A native of Washington, DC, she served on the USA fencing team for ten years from 1995-2004. A Portland resident since 2003, she purchased the building that houses The Society Hotel, with support from Prosper Portland, and together with three partners, opened The Society Hotel.
Burke is clearly saddened and dismayed about the inhumane conditions in the Old Town neighborhood. With absence of public safety, Burke is fearful that organized crime has found a market opportunity. Burke sees very dangerous behaviors and drug deals daily, and believes that we must create order out of this chaos.
A lot of people get upset that the City is not doing what they believe it is supposed to do, but it seems people do not understand the role they play in government. Our city is in crisis, and we must stop asking what our city can do for us – we must ask what we can do for our city.

Old Town is the epicenter of how everything is working (or not) in Portland. So if you wonder if a policy works, go to Old Town. The root of everything in our entire city starts at Old Town.

Jessie Burke, board chair, Old Town Community Association
Action
On November 17, 2021, Portland City Council adopted the 2021-22 Fall Supplemental Budget. The Supplemental Budget allocates $18 million to fund a joint initiative with Multnomah County to boost homeless services and $7 million to reform and restaff the Portland Police Bureau.
After two terrible years, Portlanders may have a faint glimmer of hope for ending the ghastly crisis at Old Town Chinatown of Portland.
AsAmNews has Asian America in its heart. We're an all-volunteer effort of dedicated staff and interns. Check out our new Instagram account. Go to our Twitter feed and Facebook page for more content. Please consider interning, joining our staff, or submitting a story, or making a contribution.