by Erin Chew, AsAmNews Arts & Culture Contributor
December 11 was the auspicious date set for Character Media's Unforgettable Gala – The 19th Asian American Annual Awards at The Beverly Hilton. The event started with elaborate pre-reception drinks, with the floor decked out with a red carpet.
In attendance at this year's gala, are many of the well known and famous Asian American actors, entertainers and influencers, including Simu Liu (actor – Shang-Chi), Adele Lim ( writer – Raya and Crazy Rich Asians), Alex Shibutani (athlete), Daniel Dae Kim ( actor – Keynote), Sean Miyashiro (founder 88Rising), Sandra Oh (actress – The Chair) and many others.
This year's Unforgettable theme was Rise. It represents the ascension of Asian Americans in the face of COVID-19 racism and anti-Asian hate which has plagued the community over the last two years. Acknowledging the contributions Asian Americans have made to arts, entertainment and culture is a way of fighting back and bringing visibility in the face of hardship and disempowerment.
AsAmNews was present at Unforgettable and had the opportunity to speak to some of the awesome Asian Americans strutting their stuff on the red carpet. One of the biggest names we spoke to on the red carpet was Daniel Dae Kim.
At fifty-three years old, he didn't look like he has age beyond thirty, and asides from seeing him on Lost, Hawaii Five-0 and many other shows, Kim has been a publicly outspoken community activist on the anti-Asian hate crimes which have happened across the country. Kim was a keynote speaker at Unforgettable and spoke to AsAmNews about how Asian Americans need to be united against the anti-Asian hate and why he lent his voice to this issue.
"I have been around for a long time, and I have seen and experienced many things," Kim said. "I know how it feels to be racially discriminated and to see others around me experience the same things."
"The past two years have been very hard on everyone especially on our Asian American community with the anti-Asian hate crimes which have led to trauma, injury and death. Despite all this, we are now even more united and it is important that we stay united in order to empower and raise our voices."
"This is why I wanted to speak up. I am lucky to have a name and have huge platforms, so it is my responsibility to use it to speak up and advocate for our community's safety and the issues we face in America."
Twelve-year-old Jayden Zhang, who played a young Shang-Chi, was one of the winners at Unforgettable for his acting in the Marvel film. Zhang spoke about how he never expected to have the opportunity to play a superhero character, and that he felt honored and chuffed to be awarded at Unforgettable:
"Playing Shang-Chi was so much fun," Zhang said. "Not only did I get to play a young superhero in the making, but I also learned so much from working with Simu Liu, so in many ways we were in sync. I never expected to have such an opportunity."
"I never got into acting to get awards, so this was totally unexpected and I feel so honored and nervous at the same time."
Korean Soul is a musical gospel choir/soul group hailing from South Korea. It is not a K-Pop and BTS group, and they sing soul and R&B songs. They made their name in the US after making it to the semi-finals of America's Got Talent, and they were present at Unforgettable to perform.
One of the group members Sooyong Yoon spoke on behalf of the group and mentioned that despite being Korean, they felt proud and honored to be able to share their music with both Asian and Korean Americans.
"We are so excited and grateful to be invited to perform at this event tonight, and even though we are not Korean American, we are "Korean Korean", but it means a lot for all of us because now we can make more than just Korean people proud and we get to share our music with Asian Americans," Yoon said.
For many young Asian girls, the Babysitters Club was a book that was well read. Japanese American Claudia Kishi who is both quirky and artistic was the character young Asian girls could resonate with. In the Netflix adaptation, Momona Tamada, who plays Claudia in the series talked about how playing her is a dream come true for her because of how iconic the character is.
I feel as though I have just woken up from a dream. To have the opportunity to play such an iconic character and one many of us Asian Americans grew up wanting to be like is just amazing. Claudia is very bold, artsy and breaks all stereotypes, and that is why it is such an honor for me to play such a character who is a role model for young Asian American girls.
Rock M. Sakura who is well known for competing on the twelfth season of RuPaul's Drag Race, was decked out in a flowing and elaborate dress which had anime style images. Sakura spoke about the inspiration behind they dress and touched on issues Asian American LGBTIQ community faces.
"My dress was inspired by a runway I had seen in Paris a while back, and the pattern on my dress was inspired by a Japanese Manga comic from the mid 1970s who are known to do highly stylized Shouju art, and so I wanted to wear an outfit which is very indicative of the things I love about Asian culture," Sakura said.
"Being an Asian drag artist, I definitely feel that more needs to be done to acknowledge the existence of LGBTIQ in our community. Drag actually forms part of our Asian culture, but despite all this there is a lack of acknowledgement that LGBTIQ Asians exist."
The animated film Raya and the Last Dragon showcased South East Asian culture, mythology and gave South East Asian American visibility. Adele Lim, was the writer for this film, and if her name sounds familiar, well, she was also the writer for 2018's Crazy Rich Asians.
Lim was a winner at Unforgettable and spoke to AsAmNews about how the Asian American representation movement is picking up momentum despite the pandemic, and her excitement about wrapping up filming an Asian female-led romantic feature film – which is her directorial debut.
"The Asian American community were getting so much momentum in terms of our programming and visibility and this continued and persevered despite the pandemic hitting," Lim said. "This is something we need to celebrate despite all the difficulties our community has experienced with the anti-Asian hate."
"And in talking about representation, I am so excited about the film wrap up of my first feature film – which I am directing ( I can't reveal the title yet), and it is the first R rated Asian American led comedy, so more to come on this soon. We are now in post production after months of shooting in Vancouver."
Dhruv Uday Singh is an actor who plays Raj Patil on Freeform's series Good Trouble which is a spin-off of The Fosters. Singh spoke passionately about his South Asian background, and how he hopes he can contribute to the change of seeing more South Asians on American TV.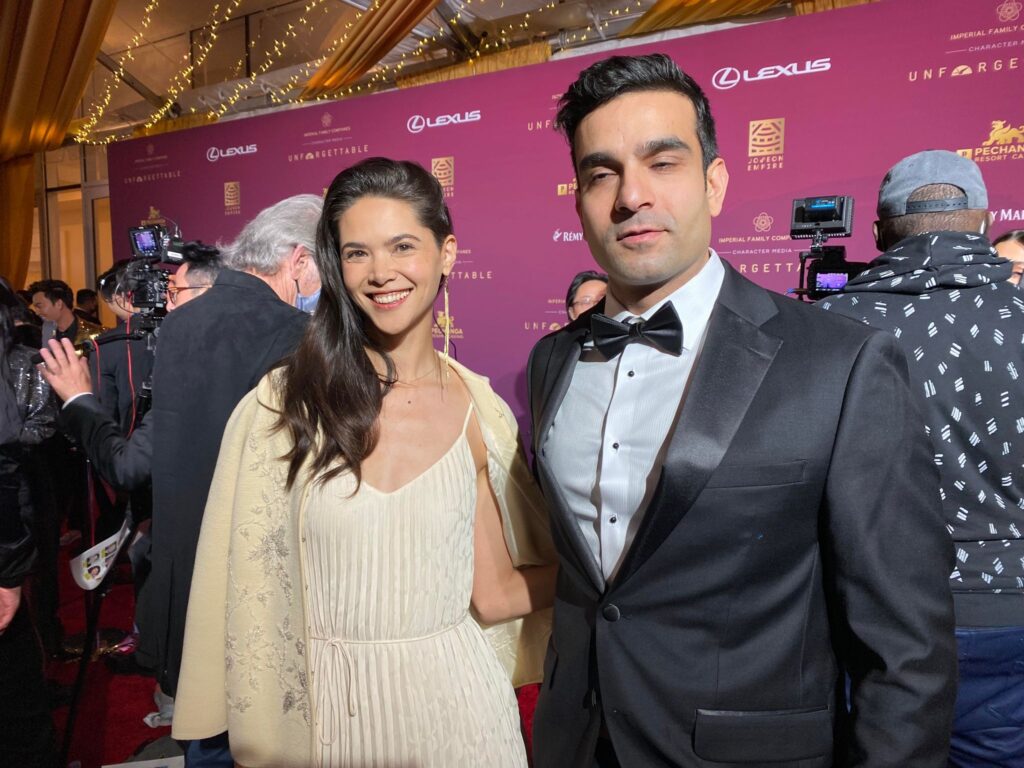 "I am proud of my South Asian background, and to be able to be here at Unforgettable and to represent both my Asian and South Asian background, is such a proud moment," Sing said. "As South Asians for a long time, we were very invisible on American TV asides from the dreaded "Apu" character from The Simpsons. But now, we see more and more of our faces, and I hope I can at least contribute a small part to this change. I love who I am, my culture and being American."
There were many more walking the red carpet at Unforgettable and/or who attended the event. To find out more about Character Media and Unforgettable, please check out their website.
AsAmNews has Asian America in its heart. We're an all-volunteer effort of dedicated staff and interns. Check out our new Instagram account. Go to our Twitter feed and Facebook page for more content. Please consider interning, joining our staff, or submitting a story, or making a contribution.