By Jessica Xiao
The Fresno Hmong Cultural New Year Celebration begins today, at the Fresno Fairgrounds, returning after being canceled due to the COVID-19 pandemic last year. This year's celebration runs from December 30 – January 2, four days instead of the usual seven, and is expected to draw a lower turnout than in previous years, when upwards of 100,000 attendees were attracted to participate.
The Fresno Hmong New Year celebration is usually the finale in a series of Hmong American celebrations of Hmong New Year starting in October across the United States. Events are organized around American Thanksgiving or Christmas and January 1 to take advantage of holidays when people are more likely to have time off and can travel to convene and celebrate. The Hmong calendar year ended December 4, 2021, with the new year beginning on December 5.
"Traditionally Hmong New Year celebration occurs at the end of the harvest season and is a time of the year for cultural rituals and family gatherings. It is also a time of courtship as young people meet. Different villages or locations will host a new year's festival attended by relatives and visitors in America over the last 45 years," said Seng Alex Vang, lecturer in Asian American Studies at California State University-Fresno and managing editor of the Hmong American Experience, to AsAmNews.
KVPR reports other changes to this year's festivities include walkways that will be expanded to allow for more social distancing, and fewer contact sport and contact activities will be offered; Kaiser will also offer free COVID-19 vaccinations inside the Fresno building. 
Besides the cultural significance of the new year, Vang's favorite part of the new year is seeing family and friends, as well as the young people today who are proud to be Hmong Americans. But he wasn't always excited about Hmong New Year: "Parents would often ask us to wear Hmong clothes and go to new year celebrations, but we didn't feel proud or sometimes were ashamed of our culture and the poverty that we were in."
Vang was born in Nam Yao refugee camp in Thailand and arrived in the U.S. in 1980 when he was just 1 year old. He recalls growing up feeling disconnected from his own Hmong identity: "Due to poverty, my family moved around a lot, trying to follow or stay close with relatives in the 1980s and 1990s. I grew up in segregated K-6 schools in Milwaukee, WI, until I moved to Stockton, CA. Growing up like many Hmong youth in the 1980s, it was hard to identify positive things with Hmong culture because our parents were refugees of war trying to start a new life in America. Many of us were encouraged to speak English, and K-12 schools didn't know how to support recent Southeast Asian refugee students."
The majority of Hmongs in the United States arrived in 1975-1989 as refugees due to the Vietnam War. Many Hmong New Year celebrations are just as old as this wave of immigration. Two last waves of immigration took place after refugee camps closed in the 1990s and in 2004, a final wave of 12,000 Hmong refugees resettled in the U.S.
His pride in Hmong culture and love for Hmong New Year celebrations didn't come until his college years when he took Ethnic Studies and Asian American Studies classes, learning about the "Secret War of Laos," a CIA-led bombing operation and proxy war in Laos combatting Pathet Lao, a North Vietnam-backed communist movement. Tens of thousands of Laos people were killed by these bombs or after the operations, by active, unexploded bombs.
Today he teaches others about Hmong Americans as a university lecturer and through the digital publication Hmong American Experience, which he developed out of a class he teaches on how the Hmong Americans community formed, "from arriving as struggling refugees to becoming Americans." From its website, "It's easy to see all the negative stories about our community in the news and on social media. So as a media consulting organization we focus on sharing positive stories or news to provide education and empowerment to the community. We hope the stories may inspire you to have the courage to follow your own dreams."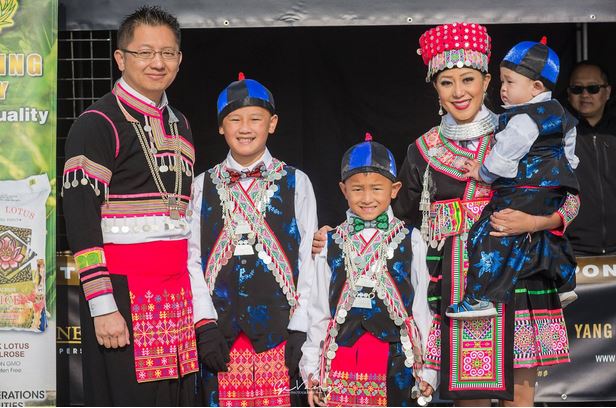 This year's festivities are greatly anticipated, not only as a reunion for Hmong community, but also as an economic boost for the community. "The new year's celebration is also an important economic event for the community so with last year's cancellation many of the families and vendors were impacted," said Vang.
Fewer vendors have registered to participate, both because of the reduced size of the fair and also because some have not financially survived the pandemic–especially food vendors, which often rely on cultural events for sales. (Jewelry and other traditional businesses have had more opportunity to pivot to online shopfronts.)
Due to COVID-19, many of the usual Hmong New Year events have been canceled, in areas with large populations of Hmong Americans (As of 2019, there are an estimated 327,000 Hmong Americans in the United States); Sacramento, which has the second-largest Hmong New Year event in California, canceled their 2021-2022 event in August 2020. Other localities, such as St. Paul, Minnesota, and Madison, Wisconsin, which have the second and third largest populations of Hmong Americans, canceled their events as well. Community organizations and event organizers work closely with county health department boards to plan events, and many canceled events did not receive approval to convene. 
Hmong Americans have also been disproportionately infected by COVID-19. A 2021 report spearheaded by the Coalition of Asian American Leaders (CAAL) and Hmong Public Health Association (HPHA) found that nearly half of Asian deaths (49%) from COVID-19 in Minnesota were from the Hmong community.
AsAmNews has Asian America in its heart. We're an all-volunteer effort of dedicated staff and interns. Check out our new Instagram account. Go to our Twitter feed and Facebook page for more content. Please consider interning, joining our staff, or submitting a story, or making a contribution.