By Jana Monji, AsAmNews Arts & Culture Writer
Just days before Sundance Film Festival began, Jeremy Tran, Gold House's Executive Director, was working with his backup plans for Sundance as this year's Gold List was unveiled. This second Gold List is not just a look at what's happening for Asian and Pacific Islanders in films, but also a means of drawing attention during a busy awards season to often overlooked API actors and creators for a wide variety of award voters.
Last year, was a history-making year for API actors and creators.  A Chinese-born director Chloé Zhao won Best Director Oscar for Nomadland, and Youn Yuh-Jung became the first South Korean woman to win a Best Supporting Oscar. Gold House means to help more creators and actors of Asian descent by raising their profiles during awards season.   
"So much of the awards race is based on the buzz you can generate. You saw this a few years ago with Parasite," said Tran.
Voters for awards face a huge catalog of films to muddle through and some studios are more successful than others at pushing their films. Gold House along with the Coalition of Asian Pacific in Entertainment (CAPE) vote on the list and publicize their selections "to give Asian creators some kind of push for their projects." This year, Shang-Chi and the Legend of the Ten Rings, Drive My Car and the documentary, The Rescue made the Gold List (See below for the full list of winners). 
With the rise of Delta and Omicron variants of COVID-19, many planned in-person events have shut down, including this year's Sundance Film Festival. Originally, Sundance 2022 was going to be a hybrid virtual/streaming and in-person event. Tran had hoped to make his first Sundance and the original plans had been to have a physical Gold House.
Gold House did have backup plans, but regrets there will be no in-person events because "there's that magic that you can't capture in writing, or in a social media post."
Gold House's goals for Sundance were three-fold. First, they would be pushing their Gold List winners. Second, they wanted to highlight AAPI creators and actors in panels and conversations. Lastly, they wanted to be "building those connections with other multicultural communities."
Gold House member Janet Yang (Academy Governor and Chair of its membership committee and Asia Society Advisory Board member) is moderating a series of Asia Society panels with Asian Filmmakers and actors at Sundance on January 25 (Tuesday) from 4 p.m. to 6:15 p.m. (PST). The program is free although there's a suggested donation of $25. The program is open to the global community and will feature the directors of Free Chol Soo Lee, After Yang, and Maika. 
"It's unfortunate we can't be in the same room; It's really challenging over the last couple of years which is why we launched the Gold List to see how we can use virtual mediums, or other means to amplify the films we think are most worthy of awards without having that in-person event, without having that buzz in a room," Tran noted. He, like many of us, hopes that in the future, the Gold House will be able to blend awards season with Lunar New Year's celebrations for an incredible in-person event.  The Gold House will also have a presence at South by Southwest (March 11-20, 2022).  
The full Gold List is below:
Best Picture
Shang-Chi and the Legend of the Ten Rings
Honorable Mentions: Drive My Car and The Green Knight
Best Director
Destin Daniel Cretton (Shang-Chi and the Legend of the Ten Rings)
Honorable Mentions: Cary Joji Fukunaga (No Time To Die) and Ryusuke Hamaguchi (Drive My Car)
Best Actor in a Leading Role
Hidetoshi Nishijima (Drive My Car)
Honorable Mentions: Simu Liu (Shang-Chi and the Legend of the Ten Rings) and Dev Patel (The Green Knight)
Best Actress in a Leading Role
Gemma Chan (Eternals)
Honorable Mentions: Patti Harrison (Together Together) and Maggie Q (The Protégé)
Best Actor in a Supporting Role
Tony Leung (Shang-Chi and the Legend of the Ten Rings)
Honorable Mentions: Benedict Wong (Nine Days) and Steven Yeun (The Humans)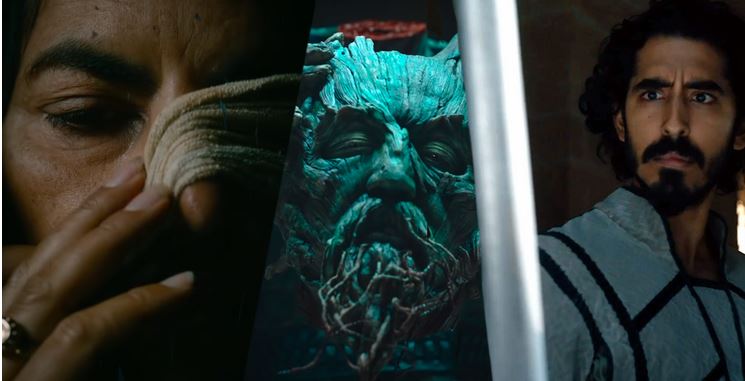 Best Actress in a Supporting Role
Awkwafina (Shang-Chi and the Legend of the Ten Rings)
Honorable Mentions: Sarita Choudhury (The Green Knight) and Jessica Henwick (The Matrix Resurrections)
Best Original Screenplay
Flee
Honorable Mentions: Nine Days and Raya and the Last Dragon
Best Adapted Screenplay
Drive My Car
Honorable Mentions: Eternals and Shang-Chi and the Legend of the Ten Rings
Best Animated Feature
Raya and the Last Dragon
Honorable Mentions: Belle and Flee
Best Documentary Feature
The Rescue
Honorable Mentions: Ascension and Flee
Best Animated Short
Namoo
Honorable Mentions: Step Into The River and Us Again
Best Live Action Short
The Long Goodbye
Honorable Mentions: Americanized and The Little Prince(ss)
Breakout Independent Film
India Sweets and Spices
For more information about Gold List, visit goldopen.com/goldlist.
AsAmNews has Asian America in its heart. We're an all-volunteer effort of dedicated staff and interns. Check out our new Instagram account. Go to our Twitter feed and Facebook page for more content. Please consider interning, joining our staff, or submitting a story, or making a contribution.