By Erin Chew, AsAmNews Staff Writer
If you were a teenager and/or a young adult trekking through life during the mid-2000s, CBS' How I Met Your Mother, would be a show readily watched and a life most would dream of. Who wouldn't want to live in decent-looking apartments in New York City right above a cafe, where you would congregate with your friends after work each day talking about relationships and mindless life things?
For Asian Americans, and really anyone who is not white, where the show would have been enjoyed by all as a dream and fun life, it was not relatable in terms of the friend group demographics.
The 2022 spinoff in Hulu's How I Met Your Father, does challenge the lack of diversity from the original, and we are introduced to a new group of culturally and sexually diverse friends trying to make their lives in Manhattan, with a gender flip.
The first episode of the sitcom presented a familiar set-up as future-Sophie in 2050 relays to her son how younger-Sophie—Younger's Hilary Duff—met his father in 2020. Joining the supporting cast of younger-Sophie are two Asian/Asian Americans. Suraj Sharma plays Sid, a medical school dropout who bought a bar. Tien Tran plays Ellen, a divorced lesbian who came to New York City from a small town in Iowa whose main goal is to reconnect with her brother and re-enter the dating scene.
Starting his acting journey playing Pi Patel on Life of Pi, Indian born actor Suraj Sharma who plays Sid spoke about why he decided to audition for the show and how it was his character Sid who sealed the deal for him in his mind to want to be a part of the sitcom.
"When I first heard that there would be a How I Met Your Father show, I was a little cynical at the start because I loved How I Met Your Mother, and wondered if it was a good idea to create this. After talking to the creators and reading the script and seeing how Sid was written up as, I was convinced," Sharma told AsAm News.
How many of us would have an opportunity to play a crazy Indian American who is in a long-distance relationship, left medical school to buy a bar, and who has no clue on how to run it. What a character to play.
For Vietnamese American comedian and actress Tien Tran, the idea of playing a lesbian farmer who came from a small town in Iowa won her over. Tran told AsAmNews that she connected with her character, because she is an Asian American woman looking to restart her life from scratch, something which Tran herself is familiar with.
"I had originally auditioned for another role and casting came back to me after and they were like 'how about playing this character – a lesbian farmer.' I was like 'Yes, I got this,'" Tran said.
In all fairness, Ellen is more than that, but she is a recently divorced woman who wants to jump back into the dating scene and restart her life from scratch. I definitely know how this feels, and the courage we all need to take the plunge for a fresh start.
Tran's journey into acting started from being a comedian, and she emphasized that she took the plunge to start acting on TV after being inspired by her own sister Tram-Anh Tran, who played Tina Nguyen in PBS' 1992 series Ghostwriter. Without the strength of her sister who got into the TV series world before any talk about representation and visibility of Asians in Hollywood became a mainstream issue, Tran wouldn't be the confident person she is today to take the plunge.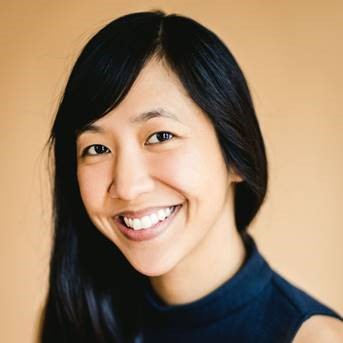 "My oldest sister was in a show called Ghostwriter in 1992," Tran said. "She was already breaking down barriers for Asian American representation back then. Seeing her forge her career inspired me to do the same, and without her paving the way and cheering me on, I would never be the person I am today who is lucky enough to work as a comedian and an actor which is a passion of love."
Sharma echoed that he is proud to be a part of this culturally and sexually diverse show as Tran stated and that as an Indian actor he hopes to see more visibility on and off the screens with not just Asian representation, but more specifically South Asian representation.
"As an Indian and more broadly as South Asians, we have so much more to give on and off the screen," Sharma said. "I am always happy seeing any and all different Asians on TV or on the screen, but when I see the growth of South Asian faces, I just feel that much more love, because that is my face."
"But I am also mindful that where it is important to have people who look like me in front of the screen it is just as important to see this diversity in the film/TV show making process, such as in the creative rooms, the writers and those who are making the actual decisions."
You can catch season 1 of 'How I Met Your Father' on Hulu streaming service, and the word is Hulu has given a green light to renew the series for a season 2.
AsAmNews has Asian America in its heart. We're an all-volunteer effort of dedicated staff and interns. Check out our new Instagram account. Go to our Twitter feed and Facebook page for more content. Please consider interning, joining our staff, or submitting a story, or making a contribution.