a column by Rhiannon Koh, AsAmNews Contributor
One year ago, six women went to work. To them, it was just another day of working hard, providing for their loved ones and striving towards the American dream. They were immigrants—mothers, daughters, sisters. They were somebody. They would never return home.
On March 16, 2021, Robert Aaron Long went to three different Atlanta-area spas, and killed eight people, including six Asian women: Xiaojie "Emily" Tan, 49; Daoyou Feng, 44; and Delaina Yaun, 33; and Paul Michels, 54; Suncha Kim, 69; Soon Chung Park, 74; Hyun Jung Grant, 51; and Yong Ae Yue, 63. The other victims included Delaina Ashley Yaun, 33; and Paul Andre Michels, 54.
Authorities said Long acted with the intent to "punish people" who were the objects of his sexual obsession, angering Asian American communities who felt the police ignored the racism involved in the case.
These murders sparked national debates over what constituted a hate crime, and the ever-increasing number of attacks against the AAPI community. It also tapped into the country's ugly legacy of anti-Asian violence, women especially suffering from a double burden of race and gender.
Rallies and social media posts cropped up in the days leading up to the March 16 anniversary. On Saturday, March 12 nearly 200 people gathered near the Young Girls Peace Monument in Brookhaven, Georgia, to remember the victims of the shooting, NPR reports.
Other organizations will also host gatherings today. A larger rally addressing anti-Asian hate and violence called "Break the Silence" will be held in Atlanta on March 16. There are also rallies planned in major cities like San Francisco, New York and Washington D.C.
On social media platforms like LinkedIn, Jerry Won, the Founder & CEO of Just Like Media, an Asian American storytelling company, wrote:
"Next week marks the one year Remembrance Day of the 8 people who were murdered in a racist massacre in Atlanta. There will be many events to remember them but also lots of triggering events from the media as well… your Asian American colleagues, especially women, are continuing to deal with trauma and living with heightened anxiety and fear."
Won also provided a toolkit shared by the Asian Leaders Alliance.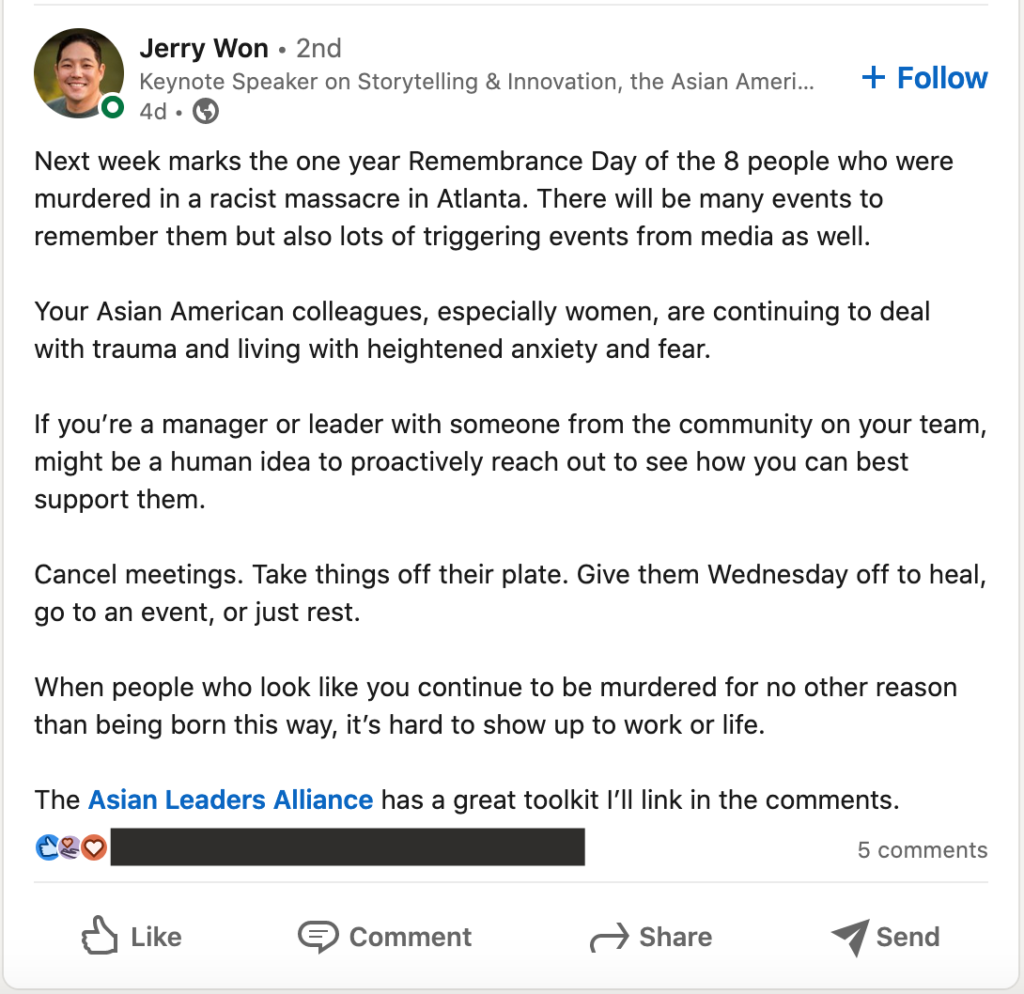 At the heart of this tension is the insidious role the mainstream media has often played in covering—or not—the AAPI community.
"Mainstream media covered a lot of [the attacks' for two to three months, but all of a sudden it's like they don't care anymore," James Torio, the founder of Asians with Attitudes, told NBCU Academy.
Where legacy media failed to answer the call, AAPI-centered sites like Jenn Fang's Reappropriate stepped up to the plate and disseminated videos and information that prevented the issue of anti-Asian violence from being swept under the rug.
AsAmNews spoke to Manjusha Kulkarni, one of the co-founders of Stop AAPI Hate, about this issue.
"Our data at Stop AAPI Hate indicates that Asian Americans and Pacific Islanders not only are racialized but have also been victims of racism," Kulkarni said. "We want to make sure that the mainstream media are covering these stories appropriately, so that lawmakers also are aware of it and so they take action."
Indeed, during the 2021 elections, Asian American politicians clinched many positions across the country. The White House also dedicated its Initiative on Asian Americans, Native Hawaiians, and Pacific Islanders to specifically address issues surrounding these communities. This growing visibility and the demand for resources accessible to AAPI communities is a hopeful sign of the things to come.
"Our population continues to grow and push for greater representation and for policies that address our issues," Kulkarni said. "I think what we've seen in the past year in terms of the API activism is one that's going to produce results."
AsAmNews has Asian America in its heart. We're an all-volunteer effort of dedicated staff and interns. Check out our new Instagram account. Go to our Twitter feed and Facebook page for more content. Please consider interning, joining our staff, or making a financial contribution to support us.