By Janelle Kono, AsAmNews Contributor
The future is now at the Japanese American National Museum (JANM) in Los Angeles where an interactive exhibit allows visitors to interview the late Lawson Iichiro Sakai. Sakai fought in WWII in the 442nd RCT, the unit of Japanese Americans that fought for the US despite rampant anti-Japanese racism. During his decorated military career, Sakai received two Bronze Stars, a Combat Infantryman Badge, and four Purple Hearts.
While an interview with an ornamented veteran might not seem like a feat in itself, it is more poignant now that Sakai passed away in 2020. Because of the innovative technology of Storyfile, Sakai's story has been captured for generations to continue to learn from him firsthand. Kristin Hayashi, Curator at the JANM, remembers the VIP opening of the exhibit where several distinguished guests highlighted the power of this exhibit.
"It was really moving to see one of Lawson's WWII veteran buddies interacting with the AI." This exhibit allowed Yosh, who was 97 at the time, to reminisce with his old friend in a unique way. Also in attendance were Sakai's family. Hayashi pointed out, "Not only is this an invaluable experience for JANM visitors, but it is a really nice memento for his family. They've been learning so much about his life because we were able to ask so many questions."
Indeed Hayashi is not exaggerating when she refers to the sheer number of questions they were able to ask Sakai. Over one week Sakai answered over 1,000 questions, covering a tremendous scope of this incredible man's life.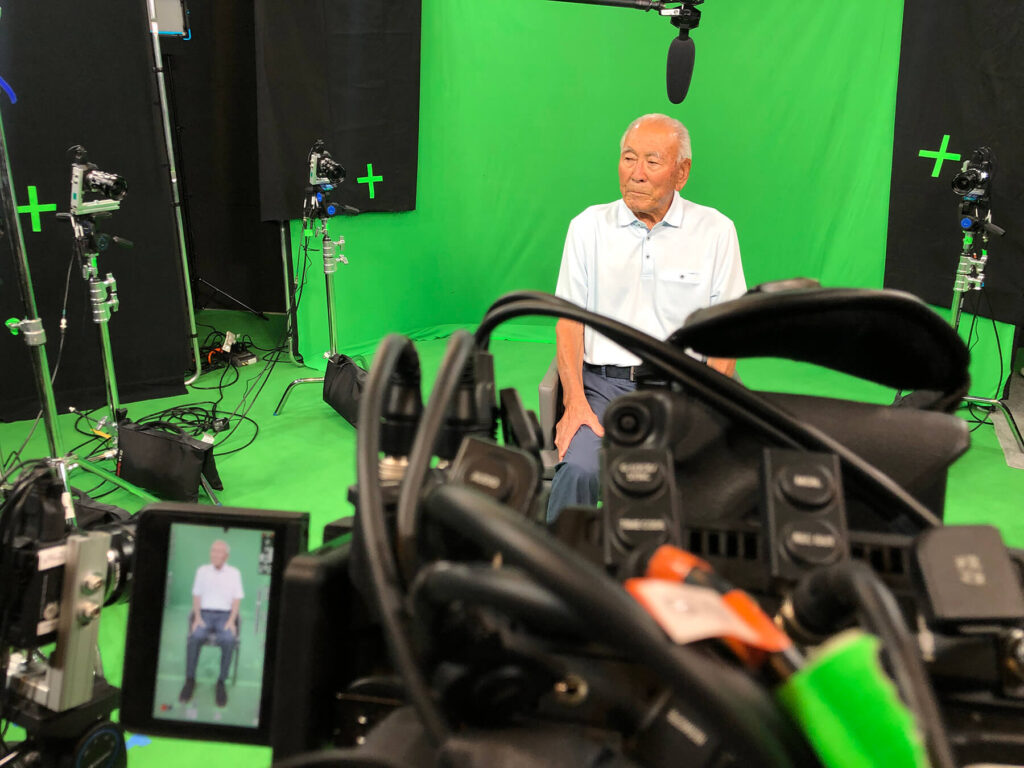 What sets this exhibit apart is that instead of passively watching an interview, visitors get to drive the conversation with Sakai either by asking their questions orally or by typing their questions into an iPad provided by the museum. A large monitor is mounted in a room resembling a living room, giving the feel of an intimate conversation in a home.
Heather Maio-Smith, Co-founder, President, and Concept Creator of Storyfile explains the difference between interacting with a Storyfile exhibit versus simply watching an interview.
"It adds a whole other layer to the experience. It makes it a lot more real, a lot more present." This idea is encapsulated by the term user-led education, or when people direct their own learning instead of passively taking in information. "When you're actually doing something and you let your curiosity drive it, there's a difference."
The significance of capturing Sakai's experiences cannot be understated. Maio-Smith emphasizes the importance of preserving these stories before they are lost as this generation ages. Having previously worked on recording the stories of Holocaust survivors, she is all too familiar with stories being lost as individuals pass away or begin to lose their memories. "These stories – we're losing them every single day," she says with urgency.
In attendance of the VIP opening was Sakai's young granddaughter. Through the exhibit, she was able to interact with her grandfather for the first time since his passing. As she grows older and gains an appreciation for the man her grandfather was, the exhibit will grow with her and allow her to continue learning more about her grandfather, directly from Sakai. This is the importance of capturing these stories before they are gone forever.
JANM hopes to capture the story of others like Lawson Sakai. If you would like to donate to JANM, you can donate here.
AsAmNews has Asian America in its heart. We're an all-volunteer effort of dedicated staff and interns. Check out our new Instagram account. Go to our Twitter feed and Facebook page for more content. Please consider interning, joining our staff, or submitting a story, or making a contribution.