A National organization dedicated to advancing the careers of Asian Americans and Pacific Islanders in politics and public affairs Sunday named AsAmNews the recipient of its Torch Award.
The honor from the National Association of Asian Pacifics in Politics and Public Affairs recognizes "outstanding trailblazing news media platforms that support and promote AAPI political and issue-based news content."
AsAmNews received the award along with the political newsletter, The Yappie.
"All the volunteers and interns at AsAmNews are ecstatic to receive this honor," said Randall Yip, founder and editor of AsAmNews. "For ten years, we have worked hard without compensation to bring the Asian American Pacific Islander community interesting and relevant news stories to advance AAPIs in all areas of life. We know we can do even better. This award gives us the motivation to strive to be the best for our community."
This is the second award AsAmNews has received this month. The Asian Hustle Network, an entrepreneur support group of 200,000 members, named Yip the recipient of its Unsung Heroes Award for working for the betterment of the community with little recognition.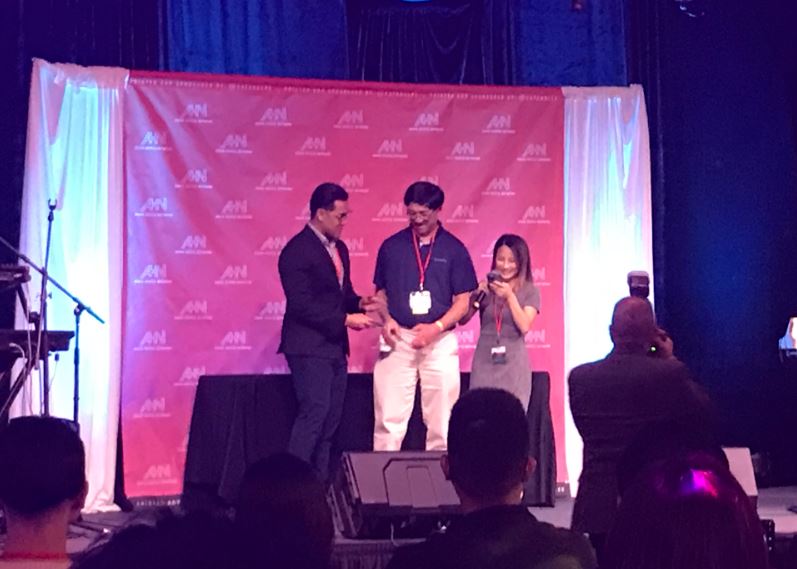 AsAmNews recently incorporated as Asian American Media Inc. It has an application pending for non-profit status. Contributions can be made here to support our news coverage and scholarship fund. Tax-deductible donations can be made through our fiscal sponsor, the Asian American Journalists Association, while we wait for final approval to become a 501c3. For information on how to make a tax-deductible donation, please email info at asamnews dot com.
The NAAPPPA also named several other award winners.
NAAPPPA's Annual Forward Award went to Ron Wong, CEO of Imprenta Communications and the Executive Producer of the award-winning Race Epidemic documentary for his work mentoring and promoting young AAPI professionals in the political and public affairs arena.
The National Association of Asian Pacifics in Politics and Public Affairs also announced its 2022 list of the top 40 AAPI political operatives and public affairs professionals under 40.
"NAAPPPA established this bipartisan list to highlight emerging AAPIs in the professional unelected side of politics. They're breaking the model minority stereotype by excelling in the rough and tumble, rule-bending, bare knuckle world of American politics," stated Bill Wong, veteran campaign strategist and co-founder of NAAPPPA.
NAAPPPA's 2022 40 Under 40 List (list with photos and bios at this link) in alphabetical order:
1. Mary Lou Akai-Ferguson, Political Activist & Organizer
2. Michelle Alexander, Charter School Growth Fund
3. Jessica Caloza, Deputy Chief of Staff, Office of Attorney General Rob Bonta, California Department of Justice
4. Vivian Cao, District Director, Office of Senator Shannon Grove
5. Gregory Allan Datu Cendana, President and Co-Founder, Can't Stop! Won't Stop! Consulting
6. Linette Choi, District Director, US Rep. Young Kim
7. Ricky Choi, Director of Government and Community Relations, San Gabriel Valley Council of Governments
8. Tiffany Chu, Chief of Staff to Mayor Michelle Wu, City of Boston
9. Sonali Desai, Chief of Staff, CAPAC Chair Rep. Judy Chu
10. Alisa Finn, Managing Director, Targeted Victory
11. Mason Fong, Director of Government Relations, Peregrine
12. Jassy Grewal, Legislative Director, United Food and Commercial Workers (UFCW) Western States Council
13. Gina Hwang, Vice President, Targeted Victory
14. Samuel Hyun, Political Director, Sonia Chang-Díaz for Governor
15. Andrew Jiang, Principal, AJ Campaigns, LLC
16. Nainoa Johsens, Director of Asian Pacific American Media, Republican National Committee
17. Nic Jordan, Executive Director, ASPIRE PAC
18. John P.B.Jose, Director of APA Engagement, Republican National Committee (RNC)
19. Noah Kim, Senior Account Executive, AL Media
20. Nancy Lê, Chief of Staff, City of San José Councilmember Sylvia Arenas
21. Allison Lim, Chief of Staff, Assemblymember Alex Lee
22. Denise Luu, Assistant Vice President, Communications and Media, East West Bank
23. Caeli Mahon, Vice President, Targeted Victory
24. Paulette Maskarino, Senior Field Representative/Legislative Aide, Office of Assemblyman Phillip Chen
25. Lindsay McLaggan, Public Policy Advocate, California Cattlemen's Foundation
26. Bijan Mehryar, State & Local Government Affairs Manager/Salesforce
27. Andrew Mendoza, Legislative Director, California State Assembly
28. Tommy Nguyen, Professional Staff Member/US Senate Select Committee on Intelligence
29. Peter Oh, Field Representative, Assemblymember Steven Choi
30. Jas Sajjan, San Francisco 49ers
31. Ghazal Seino, Field Representative, Assemblymember Phillip Chen
32. Samantha Seng, Policy Advisor & Legislative Director, NextGen
33. Rina Shah, Principal & Founder, Rilax Strategies
34. Shreya Singh Hernández, Data Programs Manager, Planned Parenthood Federation of America
35. Oliver Truong, Executive Outreach Director, Lead PA
36. Kevin Wen, Government Affairs Manager, Edison International
37. Nancy Xiong, Executive Director, Hmong Innovating Politics
38. Yee Xiong, Associate Consultant, Lam Consulting Group
39. Nkauj Iab Yang, Executive Director, California Commission on Asian and Pacific Islander American Affairs
40. Jack Yao, Founder and Principal, SC Strategies
NAAPPPA also named the recipients of its Diversity, Equity, and Inclusion Champions
California Assembly Speaker Anthony Rendon retained an unprecedented number of senior AAPI staff in the state Assembly, appointed a historic number of AAPIs to chair, vice chair, leadership positions, and board and commission appointments, and dedicated many hours to speaking to AAPI youth and young professionals about careers in politics and public service.
California Faculty Association for its outstanding work on anti-racism and social justice, as well as recognizing the strong representation of AAPIs in their leadership, at the senior staff level, and its active support of the efforts of the CFA APIDA Caucus.
East West Bank for its outstanding efforts to support and promote AAPIs at the senior executive level and its active support of the AAPI community. Headquartered in California, East West Bank is a top performing commercial bank with teams of experienced, multicultural professionals that have helped guide businesses and community members on both sides of the Pacific looking to explore new markets and create new opportunities.
AsAmNews has Asian America in its heart. We're an all-volunteer effort of dedicated staff and interns. Check out our new Instagram account. Go to our Twitter feed and Facebook page for more content. Please consider interning, joining our staff, or submitting a story, or making a contribution.