By Puneet Bsanti, AsAmNews Intern
The path to becoming the first Asian American mayor of Livermore, California is not an easy one, but Mony Nop is taking up that challenge despite the obstacles he may face.
When Nop is going in and out of Livermore businesses, from coffee shops to stores, he often takes the time to say hello to anyone nearby, whether they are a familiar face or not. He says he hopes to bring positivity and joy wherever he goes, wanting to sit down and listen intently and asking questions to get to know them better. 
Nop survived the Killing Fields of Cambodia when he was a child. He and his family escaped Cambodia when he was six years old and walked to Thailand. They spent the next five years at refugee camps in Thailand and the Philippines before their arrival in the United States.
He arrived in the United States in 1983, where he lived in Arizona for a year before moving to Stockton, California. During this time, Nop endured harsh conditions without any money or English speaking skills.
"Living in Stockton was very, very difficult. Being first generation is hard, you know? You're pretty much thrown into the ghetto because you didn't speak English and didn't have any money. You're living in a poor neighborhood with drugs and violence as a way of life," Nop recounted to AsAmNews.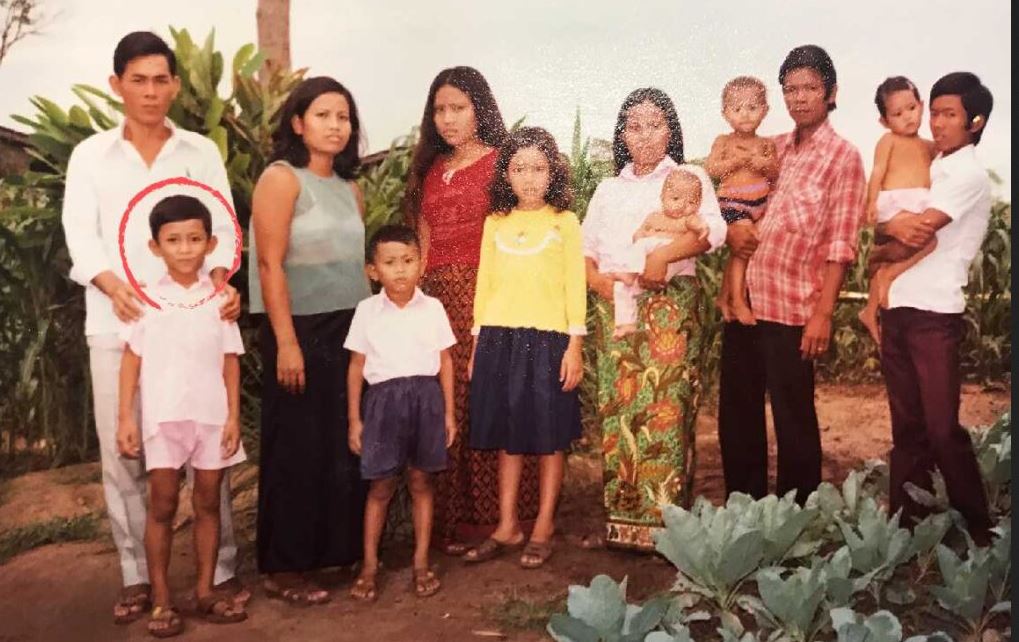 Nop began his life in America by "dumpster diving" for aluminum cans and working in the farmland of Stockton, picking fruits and vegetables to make ends meet. He became a Livermore police officer in 1995.
In January, the Lowell City Council in Massachusetts selected Sokhary Chau as mayor, making him the first Cambodian American mayor in the United States. Nop is determined to become the first Cambodian mayor elected by the people.
A former policeman and now a successful realtor, Nop could also become the first-ever Asian American Mayor of Livermore. He previously ran in 2020 but lost to Bob Woerner who is not running for reelection. Nop is determined to win and bring about positive change while representing the AAPI community. 
He'll be facing John Marchand who served as mayor for eight years until he termed out in 2020.
According to the U.S. Census, Livermore has a White population of 70.7% with Asian alone being 13.2%.
"I believe in leadership and representation, being at a table, and being part of the decision-making process. I think you're either on the menu or you get to decide what to put on the menu. So when you think about it, it's an opportunity to represent the community and I think that Livermore has grown diverse enough to allow that to happen," he said. 
Coming from manual labor jobs, Nop has made it far from his difficult start in life. While he was battling poverty, Nop was faced with a troubled home life. However, despite the challenges he dealt with while growing up, he made sure to work hard for a brighter future.
Nop said, "I didn't speak a word of English when I arrived in America, but I've done well for myself and my family. It wasn't luck, all of this had to be earned."
Nop went to night school at St. Mary's College, where he received his bachelor's degree in business management, while he was raising two boys as a single father and working full time as a policeman in Livermore.
After becoming a realtor and president of his company, Mony Nop Real Estate Inc., he became involved in the community and led nonprofits to give back to those in need.
"The first and foremost reason [I want to become mayor] is that I love this community so much that I just want to have an opportunity to serve. When you look at my life, it has always been about service. Being able to help people in some way makes me happiest," Nop said, "I helped start a few nonprofit organizations and one of them is called the Tri-Valley Nonprofit Alliance, uniting nonprofits together in the East Bay."
He co-founded the organization along with Kathy Young. He dedicated seven years to the organization which now serves over 400 nonprofit organizations in the East Bay. While Nop is not on the board anymore, he is still supporting them by working behind the scenes to help wherever he can. 
"It's always been about service, even when I first arrived in Stockton, where I served the homeless community," he said.
For Nop, the community service continues as he likes to help host nonprofit events with his wife, Sophie. They help pay for events and food while providing a venue in their backyard.
"We never forgot where we came from. We love hosting nonprofits in our backyard several times a year just to give back and we don't ask for anything. This is our way of paying back to the community that gave us so much," Nop said.
Some other nonprofit organizations that Nop and his wife support and help out with are Culinary Angels, Tri-Valley Haven and Goodness Village.
One event that Nop helped bring alive was the Mony Nop Turkey Drop, which is done around the holidays, to support the Tri-Valley Haven, a local shelter in Livermore. Residents can drop off a frozen turkey, gift cards or cash for a local family in need.
According to Christine Dillman, the associate director of Tri-Valley Haven, the fundraiser was started around 2016 when the organization ran out of turkeys to give out and they had to scramble.
"Mony heard about it and he was really touched and upset that families wouldn't have food during the holidays, so he offered to do a turkey drive. He helped coordinate it, contribute to it and used his connections to get other people involved like Grocery Outlets in Livermore and Pleasanton," she said.
They collected over 300 turkeys and raised thousands of dollars in gift cards and cash annually. To make it even more entertaining, Nop likes to dress up in a turkey costume for the fundraiser.
"We can say now that no one in the Tri-Valley will go without food or gifts to celebrate traditions. If businesses and corporations did what Mony did, we could really end poverty in our community or significantly reduce sexual assault and homelessness," Dillman said.
Nop said his efforts to help those in need will continue if he gets elected as mayor. One of the first moves he will make if elected would be to donate his entire mayoral salary to four nonprofit organizations for the first term. He would also like to bring in more representation in the city and wants the voices of citizens heard.
"There's a lot of talent in this community and a lot of voices that haven't been heard from. I would like to represent through collaboration, through engagement, hopefully, through inspiration too," Nop said, "I want people to come out and share their voice, their thoughts, their opinions, their concerns, and how I can help them as Mayor."
If elected as mayor, Nop would want to see Livermore's first-ever AAPI celebration at city hall.
"Part of my want to run and to serve and also to represent is because of one of the people I look up to, Secretary Norman Mineta," he said. "Secretary Mineta has done so much for the community. When you look at the AAPI celebration in the month of May, someone else started it before him but he made it bigger. It used to be one week and now it's a whole month of AAPI celebration thanks to Secretary Mineta."
For now, Nop plans to campaign and show people who may not know much about him who he is and why he wants to serve as mayor. With Livermore being a small, more traditional town, Nop knows people will question his qualifications more intensely.
"It's harder [as a Cambodian American running for mayor], I'm an outsider. But firstly, I don't have any baggage and I am not a career politician," Nop said. "If you want change, you have to begin by endorsing different people and really look at the one vote (your vote) you have. Who you vote for to represent you matters greatly. In order for others to engage people, a leader must get out there and meet the people and then ask them what their needs and concerns are. Only when knowing the people's needs, does a leader understand where people are coming from and then bring the resources from the city/community to meet those needs."
Nop said he would love to meet with Livermore residents over coffee and said he is always available by phone call. He said anyone can drop by the headquarters for his campaign in Downtown Livermore, where the Mony Nop Real Estate office is located.
Nop is hosting a campaign kickoff on July 21 at 7 p.m. at the Purple Orchid Wine Country Resort and Spa. Everyone is invited to attend to learn more about him and his vision for Livermore.
For more information, check out http://monyformayor.com/.
AsAmNews is incorporated in the state of California as Asian American Media, Inc and has an application for non-profit 501c3 status with the IRS pending. Check out our Instagram account. Go to our Twitter feed and Facebook page for more content. Please consider interning, joining our staff, or submitting a story, or making a financial contribution. We are committed to the highest ethical standards in journalism. Please report any typos or errors to info at AsAmNews dot com.