By Nina Ha, AsAmNews Contributor
"When I was growing up and seeing theatre, I only saw room for one and that there was only a token. So, it's very inspiring to see more room at the table and people advocating for more room and to see progress, however incremental."
– Actor, Screenwriter Daniel K. Isaac
The first in-person BroadwayCon since 2020 wrapped up Sunday with Asian American representation at the forefront of several panels. The 6th annual gathering of musical theatre enthusiasts (2021 was virtual) featured special guests from Secretary Hillary Rodham Clinton to KPOP's lyricist and composer Helen Park. The three-day event, founded by Anthony Rapp (Rent) and Melissa Anelli (CEO of Mischief Management), featured a screening of ENSEMBLE produced by Broadway leading man Telly Leung and featuring Asian American artists Aaron J. Albano (Hamilton/Newsies) and Karla Puno Garcia (Noir/Hamilton).
TikTok star Katherine Lynn-Rose spoke on a panel about the symbiotic relationship between Broadway and the TikTok platform.
Actress, writer, and singer Erin Quill moderated two panels focused on the experience of Asian American diaspora in the arts. Friday's panel, "RISE: AAPI's and Pop Culture," featured Shoba Narayan, the first South Asian to play Jasmine in Aladdin on Broadway, and Kelvin Moon Loh, a writer, actor, and activist currently appearing as Otho, a role he created, in Beetlejuice.
Quill's Saturday symposium, "Writing Our Way Out: AAPI Playwrights," featured Helen Park (KPOP), Daniel K. Isaac (ONCE UPON A (korean) TIME, and Ralph B. Peña (Ma-Yi Theater Company).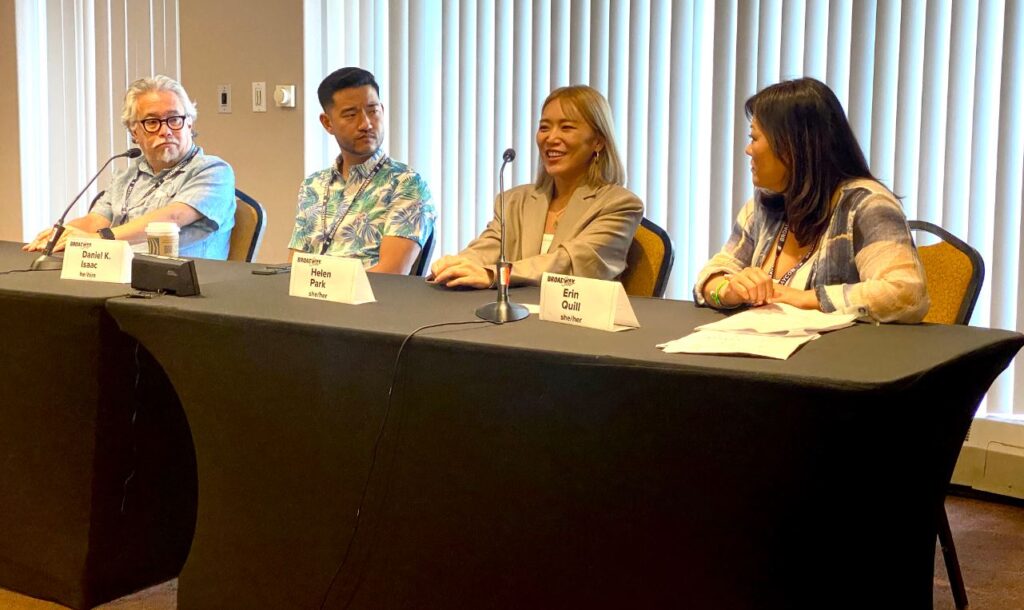 Asian American multi-hyphenates populated the discussions and ballrooms throughout the convention. Nicole Kyoung-Mi Lambert shared the stage with her Six the Musical co-stars on an alternates panel. Cherie B. Tay participated in "A New Era in Stage Management" and "Show Spotlight: A STRANGE LOOP." 
On Sunday, Marc delaCruz, the first Asian American Alexander Hamilton on Broadway, joined his fellow cast members on a panel discussing Ham4Progress, their social justice initiative aimed at supporting organizations through advocacy. 
In light of the myriad Asian American projects on the horizon, AAPI creatives on various panels urged audience members to show their support by buying tickets to films, musicals, plays, etc. created by, featuring, and performed by AAPI and fellow BIPOC artists.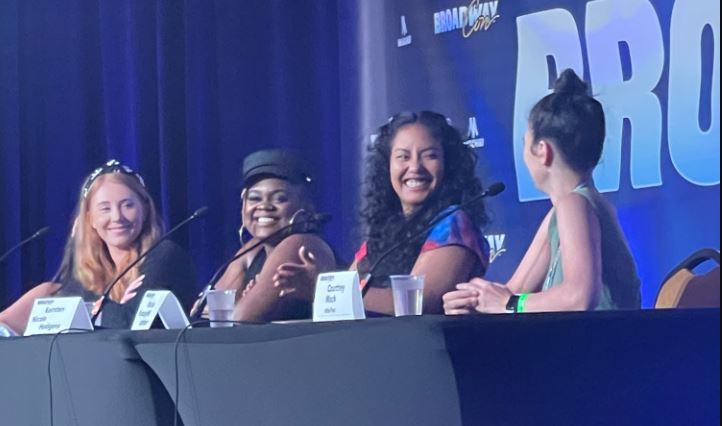 Quill said, "We talk about people being able to go to a show and see people who look like them, and all that is based on ticket sales. Ticket sales, ticket sales, ticket sales."
Optimistic about the future of Asian Americans in the arts, actor and screenwriter Daniel K. Isaac said, "There's an audience and a hunger and a community for it, supporting one another and showing up for one another. That feels hopeful."
BroadwayCon is held each year in New York City.
AsAmNews is incorporated in the state of California as Asian American Media, Inc and has an application for non-profit 501c3 status with the IRS pending. Check out our Instagram account. Go to our Twitter feed and Facebook page for more content. Please consider interning, joining our staff, or submitting a story, or making a financial contribution. We are committed to the highest ethical standards in journalism. Please report any typos or errors to info at AsAmNews dot com.