Two-time Olympic gold medalist Eileen Gu won two ESPYs Wednesday night at the Dolby Theater in Los Angeles.
She won best breakout athlete and female action sports athlete following her gold medals in the big air event and women's freeski halfpipe competition. The freestyle skier also won a silver in the slopestyle event.
"This is insane," she declared. "Winning an ESPY for doing flips with wooden planks on my feet and flying around on rails…wow. Thank you guys so much."
She said she wanted to be an ambassador for young girls. She thanked those women who came before her and dreamed of inspiring those who will come after her "who will be changemakers and push it one step closer to equality." She also thanked her "passionate, selfless and kind mom" who taught her what it means to be a strong empowered woman.
The model from San Francisco who represented China in the Olympics also generated some controversy both at the Olympics and the ESPYs for choosing to become a Chinese citizen.
According to the GAA Times, podcaster Derek Hunter said "The best communist sell to a genocidal regime for a pile of cash goes to…Eileen Gu!"
"Nice job @ESPYS. Big propaganda victory for the guys running forced labor camps," commentator Matt Whitlock wrote on Twitter.
Suni Lee received nominations in two categories, best athlete women's sports and best Olympian, women's sports, but lost to swimmer Katie Ledecky in both categories.
Actor Simu Liu also made an appearance as a presenter.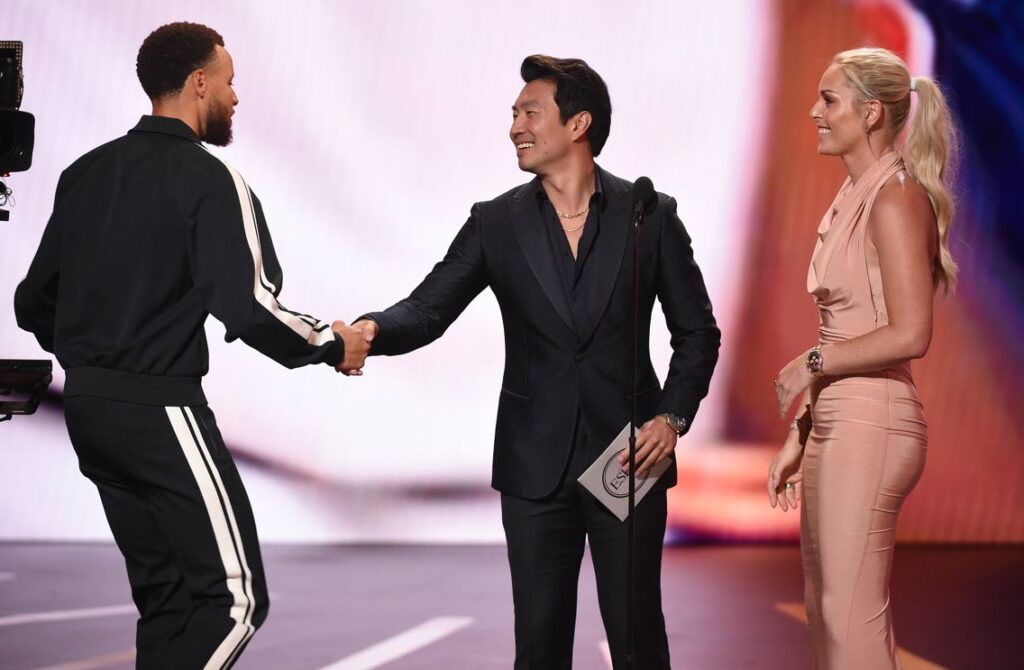 AsAmNews is incorporated in the state of California as Asian American Media, Inc and has an application for non-profit 501c3 status with the IRS pending. Check out our Instagram account. Go to our Twitter feed and Facebook page for more content. Please consider interning, joining our staff, or submitting a story, or making a financial contribution. We are committed to the highest ethical standards in journalism. Please report any typos or errors to info at AsAmNews dot com.