By Ti-Hua Chang, AsAmNews Staff Writer
Inside the massive Federal courthouse in downtown Brooklyn, where mobsters, international terrorists and drug kingpins have stood trial, there is now a different kind of justice — one made of images.
In the rear of the courthouse lobby, on the walls of the Sifton Art gallery, there is, for Asian Americans, some photographic justice. Since May and until November the works of 30 Asian American photographers will line the gallery's walls.
The exhibit is entitled "Photographic Justice a Tribute to Corky Lee." Lee devoted 50 years to photographing and chronicling the Asian American stories ignored by the United States; pictures ranging from garment workers to civil rights demonstrations to fundraisers for AAPI charities. Lee described himself as the "undisputed, unofficial Asian American photographer laureate." He was also a mentor and inspiration to many of the photographers in the exhibit. Photographing Asian Americans was his full-time, but largely unpaid crusade.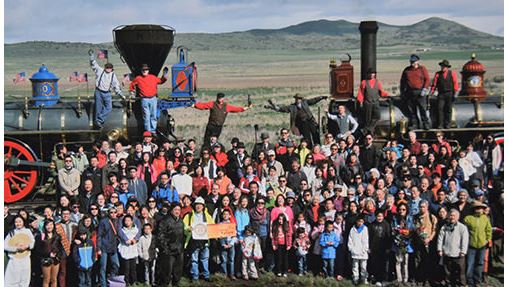 TRANSCONTINENTAL RAILROAD REENACTMENT JUSTICE
One colorful photograph on display shows dozens of people by a locomotive in Promontory Point, Utah. As an activist photojournalist, Corky Lee gathered some of the Chinese American descendants of railroad workers for that picture. In 1869 the transcontinental railroad was completed there. Its completion cemented the development of the United States' national economy. But Chinese workers, who built the rail lines over the treacherous Sierra Nevada Mountain range, were intentionally excluded from the formal portrait. Lee's photograph was colorful justice for the Chinese workers previously erased from American history.
COLLECTIVE VOICES BY IMAGERY
Exhibit curator, and photographer Chee Ng Wang, noted to AsAmNews, "This exhibition is bringing the collective voices and statement of our communities literally and figuratively to the Federal courthouse. The works shown are what is most important for the last 2 difficult years
for the Asian American Communities. Photography is most democratic in showing humanity with no language barrier as manifested by Corky's ideal and philosophy, and he still holds court in Photographic Justice: A Tribute to Corky Lee. Corky's passion lives on in the photo
of over 30 photographers who participated in this show."
The exhibited photographs include images of demonstrations against the recent and continuing anti-Asian hate to intimate portraits of Asian families, Sikh Americans wrapped in the stars and stripes and AAPI war veterans.
CORKY'S BROTHER AND FITTING JUSTICE
During the exhibit opening in May, John J. Lee described how his brother Corky viewed his camera as his sword of justice noting,
"It is remarkably fitting that this first public exhibit of some of Corky's hundreds of thousands of images should be here in a building dedicated to the pursuit of the very same thing he sought — that is justice. Photographic justice was what he saw, and photographic justice will always be his legacy."
CORKY LEE'S LAST FACEBOOK POST WAS ABOUT ASAMNEWS
Also displayed is a photo of the last Facebook post Corky Lee issued before he died of Covid in January of 2021. It shows the flowers AsAmNews founder and Executive Editor Randall Yip sent to Lee in his hospital room. The two shared a special camaraderie. Like Lee, Yip is unpaid for his decade-long efforts to tell AAPI stories.
Photographic Justice A Tribute to Corky Lee is the first Asian American exhibit displayed in a federal court house on the East Coast. It is free and open to the public Monday to Friday during business hours. The courthouse is located at 225 Cadman Plaza and is easily reachable by subway.
(Editor's Note: A previous version of this story indicated Lee's last tweet was about AsAmNews. It was actually his last Facebook post. We apologize for the error).
AsAmNews is incorporated in the state of California as Asian American Media, Inc and has an application for non-profit 501c3 status with the IRS pending. Check out our Instagram account. Go to our Twitter feed and Facebook page for more content. Please consider interning, joining our staff, or submitting a story, or making a financial contribution. We are committed to the highest ethical standards in journalism. Please report any typos or errors to info at AsAmNews dot com.