by Erin Chew, AsAmNews Contributor
It seems unlikely that a simple animated movie about kids getting lost at sea in an old apartment complex could also tackle issues like moving away from home and coping with grief. But that's the magic of Netflix's anime film Drifting Home.
The anime film follows protagonists Natsume and Kosuke who grew up together and were cared for by Kosuke's grandfather Yasuji. Natsume comes from a traumatic childhood seeing her mother get abused by her father and hence she was taken up by Yasuji. All three shared many fond memories of pure bliss and happiness, but this all changed after Yasuji passed away. Kosuke blamed Natsume, believing he was unable to see Yasuji in the final moments of his life due to her antics.
As time passes, Natsume and Kosuke move out of their old apartment complex (which is about to be demolished), leaving behind treasured memories. They attend the same school but find themselves with other friends searching for their own truths back in the old apartment complex. The only oddity is, the apartment is floating out at sea with no end of safe landing spot in sight.
The themes of grief, friendship, acceptance of differences and teamwork are all encompassed in this film. It is a film about children that deals with mature issues and themes. AsAmNews spoke to Director Hiroyasu Ishida and Producer Hibiki Saito, who both say the anime was based loosely on their own experiences growing up in Japan.
"Grief, friendship, acceptance that we are all different and sharing our burdens are all moments each of us go through in life. As an animator myself, the inspiration to include these in this anime comes from my own life experience growing up," Ishida said.
The inspiration for the film came from a single drawing.
"It all started when I drew this image of apartment buildings floating along the waters and then drew from the town, scenery and friends who I grew up with. From there, we fleshed out the story, with the challenging part on dealing with erupting emotions within myself, as this film is all about the emotional journey of being young and going through the motions."
Saito echoed the sentiments expressed by Ishida. He added that working on this film with Ishida gave him a sense of nostalgia and appreciation for his childhood home as he has moved around and lived in different cities across Japan.
"Working on this film as the producer, I think I gained a stronger sense of nostalgia towards certain places which remain deep in my memory – namely my hometown," Saito said.
"I have moved and traversed across various cities and towns throughout my life. Even though I live in Tokyo now, I still visit my hometown as my family and childhood home is still there as are so many memories playing in certain spots as a kid. It is very hard to bring myself to a sense of closure and I think that is what I bring to Drifting Home."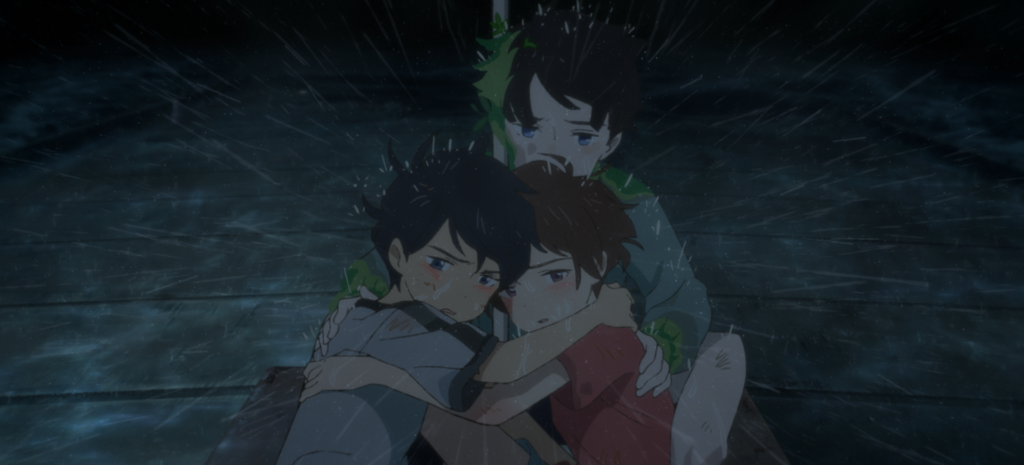 Creating a Japanese animated masterpiece is not an easy feat. There are a lot of expectations riding on an anime feature film considering the high standards in the Japanese animation industry. There is also pressure to live up to the work of household names like Hayao Miyazaki, co-founder of Studio Ghibli and many others.
"Being inspired is not easy, nor is executing an idea into a Japanese anime feature. So for me to do so, I look to my animation heroes stemming from my childhood like Hayao Miyazaki and get influenced by their work and ideas," Ishida said.
"I wanted to create something multi-layered which can be enjoyed by both young kids and adults – that was the challenge and one where I really had to draw from my childhood heroes in this industry," he continued. "Anime should be enjoyed by all ages. Young kids feeling the excitement and adults searching for the anime's deeper meaning – that is what we want to achieve with Drifting Home."
When asked to choose their favorite characters, Ishida said he resonated most with main male protagonist Kosuke because of how reflective he is in all situations but courageous when it was needed.
"I love all the characters, but if I had to choose one, it would be Kosuke because of how much he treasures his memories and how in an instant he can take the lead and make everyone else around him feel at ease and safe," Ishida stated.
Saito chose Reina who is one of the supporting characters and goes through the motions of being the mean girl to one which found her own inner peace at the end.
"For me, Reina is my favorite. She is not a very likable girl and is and says mean things but in the end she discovers her special place which was the Ferris wheel at the amusement park. I feel she goes through the most dramatic changes", Saito said.
A worthwhile anime film to check out, Drifting Home is now available to watch on the Netflix streaming service.
AsAmNews is published by the non-profit, Asian American Media Inc. Please fill out this 2-minute survey which we will use to improve our content. We are supported in part by funding provided by the State of California, administered by the California State Library in partnership with the California Department of Social Services and the California Commission on Asian and Pacific Islander American Affairs as part of the Stop the Hate program. To report a hate incident or hate crime and get support, go to CA vs Hate."