By Shirley Ng, AsAmNews Staff Writer
You could not have missed Little Amal when she made a visit through Chinatown on Wednesday.  She is a 12-foot puppet symbolizing a 10-year-old Syrian refugee looking for her mother, fleeing war and violence.
In Arabic, her name means "hope" and Little Amal has become a big representative of human rights since the summer of 2021.
Little Amal made her visit to the Lower East Side and Chinatown on Wednesday when she appeared suddenly and magically from the corner of Orchard and Broome Streets. She began walking and gazing at everything around her. Her visit was hosted by the Tenement Museum on the opposite corner of the street, located in a community built on the immigrant experience. The surrounding streets of the museum were known to have many European immigrants living there in the 1800s, a neighborhood that ties in with Little Amal's story.
Little Amal's story is about migration. After traveling over 5,000 miles across 12 countries, she arrived at JFK airport on September 14 with a large suitcase, looking for her mother. She is in the US for the first time and with a very important message, "Don't forget about us."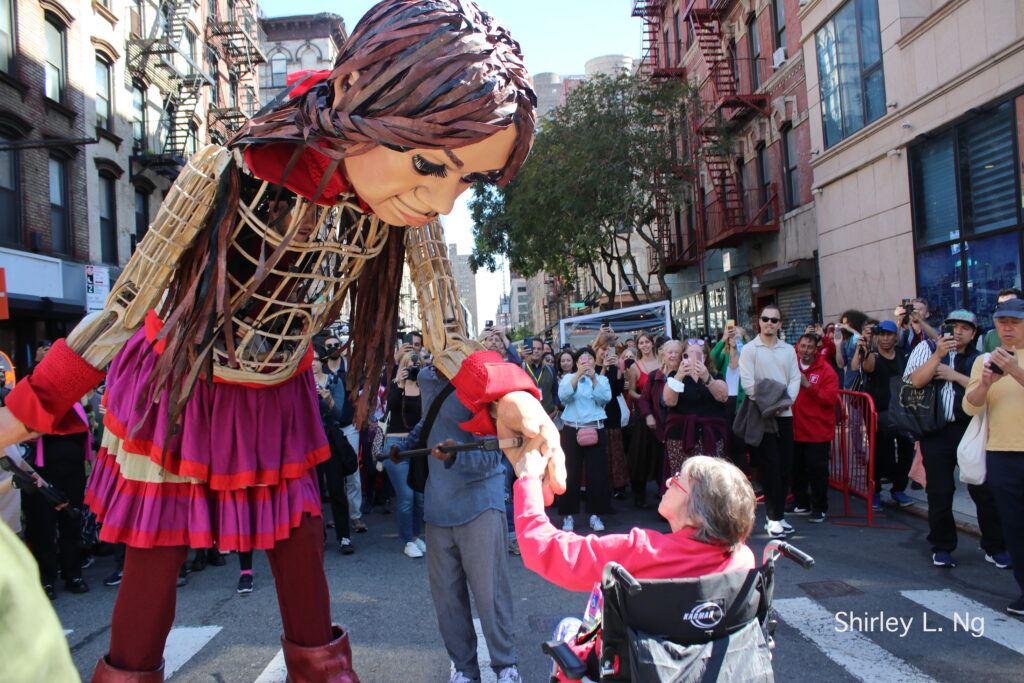 May Chen of the Lower East Side told AsAmNews, "I'm very happy living in and around Chinatown to welcome Little Amal as a symbol of hope and sanctuary for immigrants and refugees. I think in Chinatown, everybody has a story in their family about the hardships they face coming to America, struggling and surviving. So, I think this is the newest generation and I welcome this wonderful piece of artwork and symbol of the immigrant community."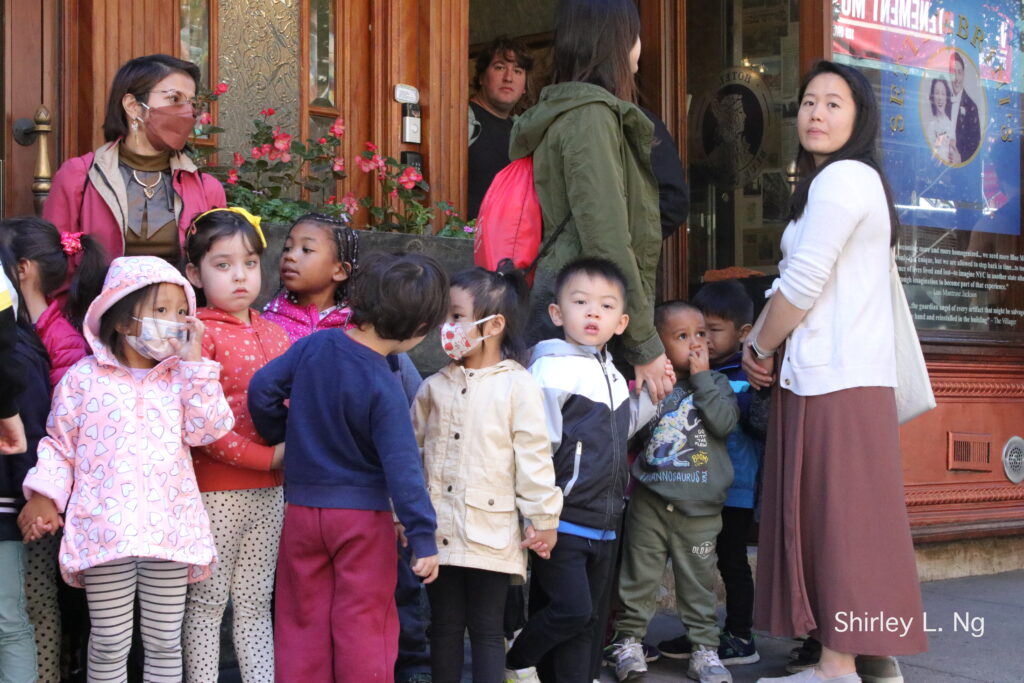 Ricky, an Asian American from Queens, felt happy about Little Amal's story. "I think it's great, because her creators are trying to share her story and by visiting all these neighborhoods it's a great way to get it out there."
Little Amal walked towards Chinatown from Orchard St. with banners hung high above her head in Yiddish and Chinese as if to appear as a clothing line, clothes hung to dry in the sun. There were about 300 people that walked with her, to support her global message. She stopped several times with a look of wonder and curiosity, "Where am I?," as she spun around looking at her surroundings against the backdrop of century-old tenements and small businesses. Visitors young and old greeted her warmly. Little Amal shook their hands and even danced as a band played music during her visit.  
Amir Nizar Zuabi, the Artistic Director in an interview with CNN said, "In New York, we are engaging with the five boroughs creating fifty-five events in the city, where communities can meet Little Amal and show her their welcome, and by showing her their welcome maybe they can extend their welcome to real people that are coming to this city as we speak and need support and empathy, need their help."
"This is one of the historic neighborhoods. It has welcomed immigrants from all over the world," said Rocky Chin of Chinatown. "NYC really welcomes being seen as a sanctuary city and pro-immigrant. My grandfather came here in the late 1800s. Clearly, we had anti-Chinese laws at that time. So we are here, we are going to stay and we welcome other people to come here to make this their home," he told AsAmNews.
Fang of Brooklyn said she learned about Little Amal from the Chinese newspaper. "I was curious about her so I came to see her. I like her story."

As Little Amal crossed Allen Street to Chinatown's Forsyth Street, she was greeted with a song about friendship sung by a Chinese choir waving excitedly as she approached them. Little Amal appeared delighted and swayed as they sang. When the choir finished their song, the distant beating of drums caught Little Amal's attention. She followed the New York Choy Lay Fut Lion Dance Team, which led her further into Chinatown with the beat of their drums.
She danced and continued to receive warm greetings including children that stood at a high ramp at Sara D. Roosevelt park so they could see her almost eye to eye. Little Amal's height was created to be 12 feet tall with a purpose, part of her human rights message to the global community.
"Refugee and immigrant children are invisible, it's when we think about refugees we omit the fact that half of them are children. Refugee children, unaccompanied minors and immigrant children are invisible in our society and giving them visibility was a big part of this project. So making her as big as we could technically was what we wanted to create. It was important for us that she is not a mechanical thing. She is operated by people, she's nimble and she's quick and you can see her breathing," said Zuabi.
Little Amal went on to be greeted by more people in Chinatown, spreading her message about young refugee children, searching for a new home, fleeing war and being accepted as a migrant and also about her struggles. Many in Chinatown with an immigrant history, such as myself connect with that message. If Little Amal was human, the current New York City would no doubt welcome her to stay unlike it was for my Chinese ancestors, but for now she is welcomed until her journey in the city ends on October 2.
AsAmNews is incorporated in the state of California as Asian American Media, Inc, a non-profit with 501c3 status. We are currently funded by our readers and the California Library Commission's Stop The Hate program under the State Dept of Social Services. See their funded resources for direct, prevention and intervention services here. Find additional content from AsAmNews on Instagram , Twitter, Tiktok and Facebook. Please consider interning, joining our staff, or submitting a story, or making a tax-deductible donation.