By Randall Yip, AsAmNews Executive Editor
About 200 community leaders from across the country gathered in San Francisco Thursday to set aside turf battles and call for greater unity and concrete action to fight for the Asian American and Pacific Islander communities.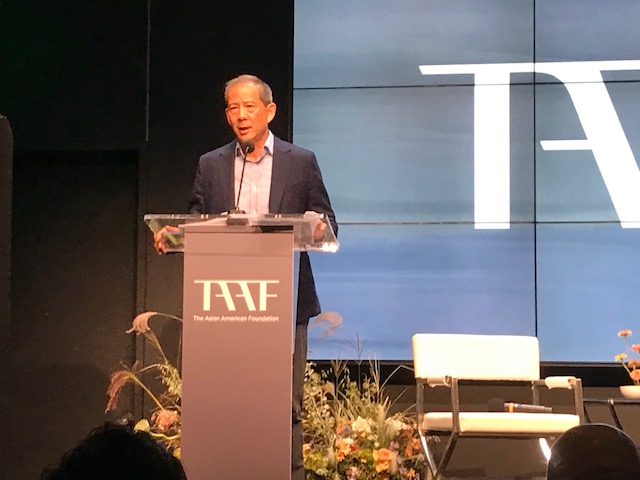 The summit organized by The Asian American Foundation or TAAF tackled issues ranging from anti-Asian racism, civic engagement, cross-racial and intra-Asian community solidarity, cultural narrative change, AAPI philanthropy and leadership representation.
"We come together to build a better future," Norm Chen, Chief Executive Officer at TAFF said to open the conference held at the Commonwealth Club.
He urged attendees to reconnect and collaborate, be bold and creative and build on the energy.
Activist and author Helen Zia gave the first keynote address.
"When other Americans were rounding third base and heading home, we weren't even allowed to grab a bat, she said.
Zia warned of both anti-Blackness in the Asian community and anti-Asian sentiment in the Black and Brown communities and called for a cohesive infrastructure on safety and prevention. She said the Asian community can no longer be ignored.
Several speakers said its only through persistence and solidarity, that there can be gains made.
Manjusha P. Kulkarni, executive director of AAPI Equity and co-founder of Stop AAPI Hate, said it's imperative for the community to demand what should be theirs.
"We need to move away from the scarcity mindset. There's never enough," she said. "But when we push back, we were able to get 160 million from the State of California."
David Eng, a tenured professor at the University of Pennsylvania said "parents are getting activated" by their children who are "talking to parents about issues" of importance to the Asian American community. He credited student activism for the doubling of Asian American tenured professors to six at Penn, a school with a student population that's 30 percent Asian.
Phil Yu, who founded the blog Angry Asian Man, declared that "a lot of people are discovering that the Asian community exists and our history runs deep," a stark contrast to when he began his Peabody-award-winning blog in 2001.
Others urged attendees to better recognize the need for greater diversity even within the Asian American and Pacific Islander communities.
Tamae Samuelu, director of the Pacific Islander Initiatives of the AAPI Civic Engagement Fund, pointed out that just 2 of the attendees at the summit are Pacific Islanders. She questioned the concept of the Asian American Pacific Islander community asking "are you actually including us?"
"Drop the P-I when it's not inclusive of us," she demanded.
Fatima Angeles of the Levi Strauss Foundation, urged attendees to "stand together and be powerful. We all need to be rebels right now. We stand together."
Erik Kim of Goodwater Capital agreed.
"We need to flex. We don't want people to get beat up. What's the plan guys? We are smart. You cannot outrun racism, You cannot outachieve racism."
Attendees broke into break out groups and a report is expected to be released by TAFF on some of the suggestions that came out of the sessions.
The summit ended with a sneak preview of 38 at the Garden, a documentary from director Frank Chi which debuts Oct 11 on HBO and HBO Max. The film highlights the significance of Jeremy Lin and Linsanity and was well received by the attendees.
"Anything is possible," said Chi. "That's the point of the movie. I hope we tell this story over and over."
AsAmNews is incorporated in the state of California as Asian American Media, Inc, a non-profit with 501c3 status. We are currently funded by our readers and the California Library Commission's Stop The Hate program under the State Dept of Social Services. See their funded resources for direct, prevention and intervention services here. Find additional content from AsAmNews on Instagram , Twitter, Tiktok and Facebook. Please consider interning, joining our staff, or submitting a story, or making a tax-deductible donation.