By Ferry Baylon, AsAmNews Intern
On Oct. 31, the Supreme Court will be hearing oral arguments on two cases regarding university admissions based on race-conscious practices- an issue that has divided the Asian American community.
Students for Fair Admissions(SFFA) has brought up claims against the affirmative action policies at Harvard University and the University of North Carolina. During a national news briefing on Friday, equal opportunity and diversity were critical issues tackled by several speakers in a presentation by Ethnic Media Services in partnership with Asian American Advancing Justice.
AAJC President and CEO John C. Yang spoke out against the belief that Asian Americans are discriminated against by affirmative action in universities across the nation.
Yang says that a majority of Asian Americans support affirmative action, dismissing some claims that push to divide the collective thoughts of many Asian Americans.
His assertion has been backed by numerous polls, including one by AAPI Data which found that 69% of Asian American registered voters support affirmative action.
According to Yang, the spike in anti-Asian hate in these trying times should not be conflated with the SFFA's refusal to recognize the benefits of affirmative action.
In the complaint against Harvard University, SFFA alleged intentional discrimination against Asian Americans. Yang addressed this by saying that AAJC has not seen this discrimination. He adds that AAJC would be the first to sue Harvard for that discrimination if this were a real issue.
"At the end of the day, when we looked at the evidence, when the district court looked at the evidence, when the appellate court looked at the evidence – all came to the same conclusion that there was no evidence of discrimination against Asian Americans," Yang said. He added that SFFA and others who suggest that such discrimination exists are selecting specific evidence to tailor their claims.
"It's also important to remember that discrimination against a particular group is fundamentally different than admissions policies as a whole that expand educational opportunities for all communities of color, including many Asian Americans," Yang said.
High-ranking colleges and universities across the nation are highly-competitive. Thousands of students from all walks of life are turned away yearly by huge universities such as Harvard and UNC.
Data has shown that Asian Americans make up nearly 28% of Harvard's most recently admitted class. But in a broader spectrum, they only comprise approximately 7% of the American population.
Yang said that the plaintiffs – SFFA and Edward Blum, in particular – feed off the stereotype that Asian Americas are model minorities. He says they use this narrative to justify their claims against affirmative action and divide the Asian American community's views on this policy.
Yang believes that if Harvard stops considering race as a factor in the school's admission, racial diversity on its campus will significantly decrease.
The share of Black students in the admitted class, for example, will probably decline from currently 15% to 6%, and the share of Latinx students would decline from approximately 12.6% to 9%, Yang asserted.
The landmark 1978 Supreme Court decision to uphold affirmative action in the case of Regents of the University of California v. Bakke considered race, among many factors, for a student to be admitted to a university.
In the case of the University of North Carolina, David Hinojosa, the director of the educational opportunities project at the Lawyers' Committee for Civil Rights Under Law, said there had been a long history of excluding Black people from the institution. He said that SFFA claims that race is being used as more than a factor to admit students of color to the university.
Furthermore, Hinojosa said that SFFA alleged that UNC did not consider race-neutral alternatives and made a preference for students of color to be admitted to the university. He added that in addition to those claims, SFFA suggested that Harvard used racial balancing so the school could have similar figures over the years.
In the two separate district court trials, no students, alums, or faculty testified on behalf of SFFA in the cases they filed against Harvard and UNC. According to Hinojosa, the judges scrutinized every record and found that those cases did not deserve merit.
"They found that all students who were admitted were well qualified and talented. These schools are very highly selective – you have a lot of competitive students applying to these schools, and unfortunately, not everybody gets in," Hinojosa said.
Michaele Turnage-Young of the Legal Defense Fund said that all students deserve a fair shot at coming to college regardless of their racial, ethnic, and economic status, among other things.
She added that affirmative action is necessary because research has shown that colleges rely on standardized tests in their admissions processes. However, these tests do not accurately predict how all students will perform in college.
Turnage-Young says that some standardized tests were developed at a time when the population of the United States was 90% White.
"Decades of research demonstrate that Black and Latinx students experience bias from standardized tests administered from early childhood through college, regardless of their intelligence or potential," Turnage-Young said.
Turnage-Young highlights that studies found that due to cultural bias, test scores for Black students were "artificially depressed by as much as 200 or 300 points."
"A 2010 study showed that the SAT 'favors one ethnic group over another,' and calls into 'question the validity of SAT verbal scores for Black examinees,'" she said.
Turnage-Young points out that Black, Latinx, Native American, and Pacific Islander students are three to six times more likely than White students to attend high-poverty schools.
"High-poverty schools have less experienced teachers, less advanced courses, inadequate facilities, less extracurricular activities, less arts instruction, less recess, and fewer resources," Turnage-Young said. She added that many of those schools have a large minority population.
"Students of color continue to experience systemic and interpersonal racism that detrimentally affects their educational opportunities," she said. Turnage-Young added that these students often have "less opportunities to amass the credentials colleges consider in admissions."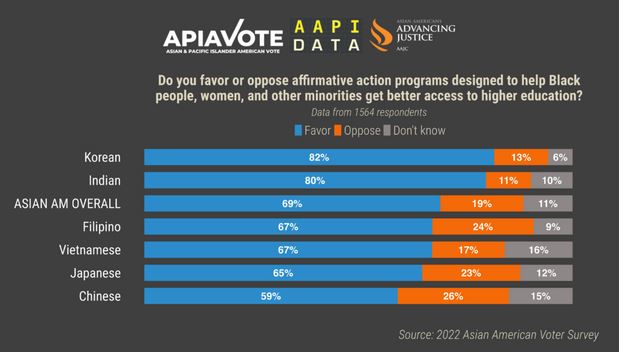 Sally Chen is a Harvard graduate and one of the student amici in the Harvard case. Chen said affirmative action allowed her to tell her story about human dignity and the reality of race in the country. One of the reasons she decided to testify in support of affirmative action is her direct experience of race-conscious admissions.
"I had a counselor in high school who said 'don't tell an Asian immigrant story; it's overdone, it's not compelling," Chen said. "I think about how hurtful and harmful that was about what that kind of advice that sort of imposes to a student to make them feel that their backgrounds and stories aren't valuable."
Chen said that Harvard acknowledged how she navigated hardship and her leadership potential. She said those who read her essay left comments saying she had the "potential to contribute to campus life in a way that can be truly unusual."
Another reason Chen supports affirmative action is that she saw first-hand the impact of race-conscious admission on her educational experience.
"I very much feel the real benefits of a Harvard education was in learning and organizing with other students of color on campus, she said. In particular, Chen identifies Black and Latinx students among those who were part of advancing common issues.
"Having diverse perspectives at the table really made our education stronger," she said. "It is an asset to the work that I do today, where cross-racial coalition building is really key to what I do, whether that is on language access issues across the immigrant communities or the many other issues that we work on," Chen said.
Yang believes that considering race as one of many factors in the admissions process remains necessary to "ensure that equally qualified students from communities of color have the same access as privileged White students."
Turnage-Young says that without affirmative action, college admission will likely only reproduce privilege.
"If we see that our institutions are not representing the entire population – that is an unfair process that undermines the very legitimacy of our country's promise that everyone will have equal opportunity. It's incredibly harmful," she said.
Hinojosa added that those who are against affirmative action are against equality. "They're betting against fairness and opportunity. But the history is on our side; the constitution is on our side, the law's on our side, and so are the facts," Hinojosa said.
AsAmNews is published by the non-profit, Asian American Media Inc. Please take advantage of a $30,000 matching grant challenge. An anonymous donor has offered to match dollar for dollar every tax-deductible donation made to Asian American Media Inc from November 1, 2023 until the end of the year. The money will be used to fund the addition of a new reporter and to produce content for limited English-speaking Asian immigrants. We are supported in part by funding provided by the State of California, administered by the California State Library in partnership with the California Department of Social Services and the California Commission on Asian and Pacific Islander American Affairs as part of the Stop the Hate program. To report a hate incident or hate crime and get support, go to CA vs Hate.