By Janelle Kono, AsAmNews Staff Writer
Netflix's recent series about serial killer Jeffrey Dahmer sheds light on a Lao family tragically intertwined with Dahmer's string of murders. The Sinthasomphone family's horrific introduction to Dahmer began when their son Somsak, one of eight children, went home with Dahmer under the guise of posing for photos for $50. Instead, Dahmer molested the young boy. Dahmer attacked Somsak with a rubber hammer and only allowed him to leave once convinced he would not go to police.
"He told me he didn't want me to leave, that's why he attacked me," remembers Somsak according to the Milwaukee Sentinel. He was only 13 at the time. He did eventually go to the police about the traumatic event.
In the Netflix show Monster: The Jeffrey Dahmer Story, Dahmer faces the Sinthasomphone family in an emotional court hearing. Somsak's father gives a passionate speech which is cut short by a judge who clearly does not care what he has to say.
In reality, the family knew nothing about Somsak's case. They were not alerted when sentencing occurred on May 24th, 1989, nor were they informed on the outcome of the sentencing. Police promised the family that Dahmer would go away "for a long time." Somsak's oldest brother Anoukone told the Milwaukee Sentinel, "that's what we thought they did… Nobody let us know anything. We didn't even know what he (Dahmer) looked like."
Instead of the multi-year prison sentence prosecutors requested, Dahmer was instead placed on a five-year probation.
Unfortunately, this was not the end of the Sinthasomphones's interaction with Dahmer. On May 27th, 1991, just two years and three days after Dahmer was convicted for child molestation, Somsak's youngest brother found himself similarly in Dahmer's clutches. It is unclear how Dahmer got Konerak Sinthasomphone back to his apartment after the recent situation with his brother, but regardless, Konerak too attempted to escape from Dahmer's place. Dahmer later admitted to police he did not know the two boys were brothers.
Glenda Cleveland, a neighbor of Dahmer, called 9-1-1 to alert police to a young man who was naked, beaten up, and stumbling around while speaking incoherently. That young man, of course, was Konerak. She recalls the incident to the Milwaukee Journal saying, "Nobody who would have seen that boy would have said he was OK. He had been running around naked and couldn't really talk. All he could do was mumble, 'No.'"
Shortly after the call occurred, Dahmer showed up and took control of the situation, letting onlookers and police know that this seeming boy was actually 19 and was his boyfriend. According to the Milwaukee Sentinel, Nicole Childress, niece of Cleveland, immediately felt something was wrong. "He (Dahmer) was stuttering to the police. He couldn't even give them (the boy's) name right off. He was twisting his arm and yanking him up. There were cuts on his elbows and knees."
Police did not heed Smith or Childress' concerns and ushered Dahmer and Konerak back to Dahmer's apartment. Once in Dahmer's apartment, police saw photographs of Konerak, and this convinced the police of Dahmer's story. Soon after, they left. Had they looked around the apartment, they would have found the dead body of Tony Hughes in Dahmer's room. Had they run a simple check on Dahmer, they would have discovered he was on probation for child molestation.
Cleveland, worried about the alarming situation, called the police back after the incident to get an update on what happened to Konerak. She was told repeatedly that the boy was in fact an adult. On the police transcript, she questioned the officer seven times to confirm Konerak was an adult and not a child. Konerak was only 14 years old.
"He had a 100% chance to be alive if they'd done something that night."

– Anoukone Sinthasomphone
Racial undertones lined the police action that night. "I was Black, and he was White," Childress states to the Milwaukee Journal, "Every time I would talk to him (a police officer), he would turn his head and talk to Dahmer." After leaving the apartment, the official police transcript shows that the officers joked about the incident. One officer is quoted as saying "Ah, the intoxicated Asian naked male (laughter) was returned to his sober (pause) boyfriend (laughter in background)."
Once Dahmer was arrested and Konerak was identified as one of his murdered victims, Cleveland spoke out about the incident. The public was enraged, resulting in many marches and protests, and a police inquiry that resulted in two of the three responding officers losing their jobs, and the last one receiving a one year monitoring period.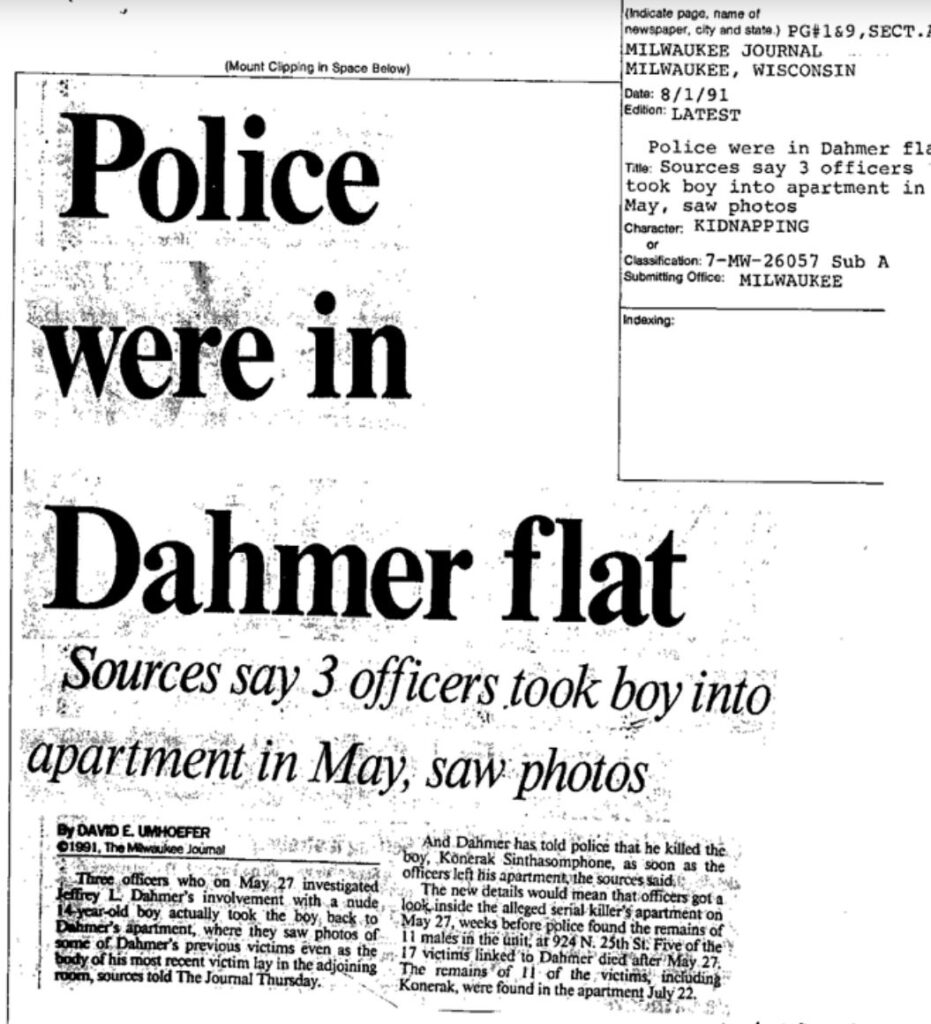 Regardless of why police behaved the way they did, one thing is clear: Had police apprehended Dahmer, Konerak would not have been murdered and possibly many other lives would have similarly been saved. According to the timeline released by the Milwaukee Sentinel, at least four lives would have been spared, plus the traumatic scarring of Dahmer's last victim who escaped, Tracy Edwards, had Dahmer been apprehended when police were called about Konerak.
Anoukone lamented to the Milwaukee Sentinel, "He had a 100% chance to be alive if they'd done something that night, if they (the police) had arrested (Dahmer) or done something to help Konerak. Then he wouldn't have been able to kill the others too."
AsAmNews is incorporated in the state of California as Asian American Media, Inc, a non-profit with 501c3 status. We are currently funded by our readers and the California Library Commission's Stop The Hate program under the State Dept of Social Services. See their funded resources for direct, prevention and intervention services here. Find additional content from AsAmNews on Instagram , Twitter, Tiktok and Facebook. Please consider interning, joining our staff, or submitting a story, or making a tax-deductible donation.