by Shirley L. Ng, AsAmNews Contributor
Lunar New Year can not be celebrated without firecrackers to ward off evil as Chinatown rings in Year of the Rabbit.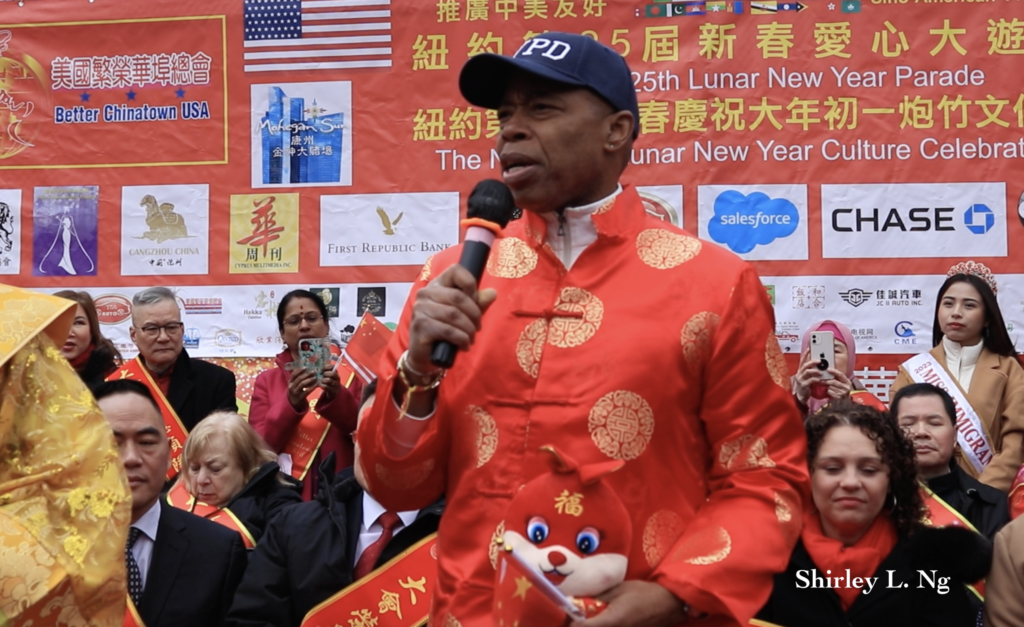 About two thousand people gathered at the Sara D. Roosevelt Park in Chinatown to watch musical performances, lion dancing, a calligraphy demonstration and more, but it was the many rows of long firecrackers that would be lit up and crackle like small explosives that many came to watch.
The event was also well attended by elected officials to celebrate the Lunar New Year including Mayor Eric Adams. NY State Senator, Iwen Chu, the first Asian American woman to be elected to the state senate, representing the 17th State Senate District in Brooklyn and NY State Senator, and John Liu, representing the 16th district in northeast Queens also attended.
Mayor Eric Adams to the spoke to the crowd about the mass shooting in Monterey CA. that occurred Saturday night.
"We are all here in this important community of Chinatown, all of our hearts go to the terrible display that took place earlier. We are in prayers of those who are lost and injured. This a very important community for so many years coming out, being with you, standing with you and celebrating with you. We are going to continue to move forward together. All of those who are elected who represent this community, they have been a strong voice for this community and there is great hope and prosperity for Chinatown."
When the firecrackers were lit, a huge cloud of smoke filled the park. Some people covered ears from the loud crackling. When the crackling stopped and the air began to clear, any evil spirits in the area were gone.
AsAmNews is published by the non-profit, Asian American Media Inc. Please consider making a donation and following us on Facebook, Twitter, Instagram and TikTok. Information about interning, joining the staff or volunteering is here. We are supported by a grant from the California Library Commission and its Stop the Hate program. You can find more resources here.