By Randall Yip, AsAmNews Executive Editor
Vice President Kamala Harris spoke exclusively to AsAmNews about her mixed-Asian-Black identity and the state of race relations in the United States Friday during a visit to San Francisco Chinatown.
She is the daughter of Shyamala Gopalan, an Indian immigrant, cancer researcher and civil rights activist. Her father, Donald Harris, came to the US from Jamaica and is a professor emeritus of economics at Stanford University.
The two divorced when the Vice President was just seven. Her mother died of cancer in 2009.
"I think that when you have had the experiences that I've had with many cultures, you realize how much we all have in common," said Harris to AsAmNews at the Chinatown Him Mark Lai Library. "When you realize how much for example, we care about family, care about investing in our young people and think about the traditions, how we honor our ancestors. These are commonalities across these cultures."
Harris has spoken glowingly in the past about her years at Howard University. She told AsAmNews that she felt fully accepted at the historic Black college and has been embraced by both the Black and Asian communities. Unlike many of mixed race heritage, she says she has not had to choose between being Black and being Asian.
"I'm familiar with these cultures to know that we all have so much more in common than what separates us," she said. "In a moment where there are so many forces that are trying to spew hate and divide the nation, I think it's important to have leaders at the highest levels who understand the that we all have so much in common."
Last month, Republican Rep Lance Gooden (R-TX) questioned the loyalty to the United States of Rep Judy Chu (D-CA), the first Chinese American woman elected to Congress. Gooden accused Chu of having ties to the Chinese Communist Party and suggested she should be denied access to classified materials.
Again, Harris chose to see the good in the United States rather than the bad.
"I think that when you look at how we are, we have so many people to celebrate who have been elevated to positions of power who come from diverse backgrounds, that tells you the empirical evidence tells you there are more people who support that approach than those who are spewing hate and trying to create that kind of division."
Without mentioning Gooden by name, she said there are some who are "supposed to be a role of leadership, who misuse and abuse those rules in a way that is intended to divide our country and create that kind of disharmony."
She says those that know better need to speak out and that no one should have to fight alone.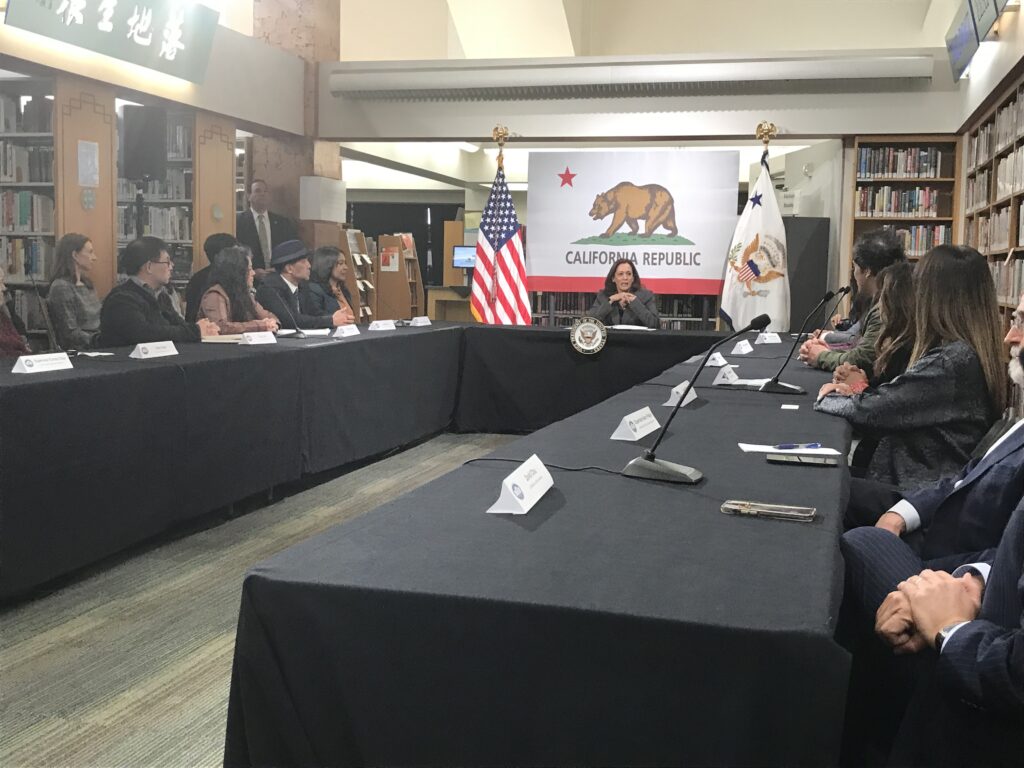 Harris is one of 5 Asian Americans in the last three presidential races to run for President. The others are Andrew Yang, Bobby Jindal, and in 2024 Nikki Haley and Vivek Ramaswamy. She says despite the visibility, there's still much work to be done "to make sure that our elected representatives reflect the communities that they serve."
Harris says she fully expects President Biden to once again name her as his running mate. She also says Julie Su, who Biden recently nominated as his Labor Secretary, has "got to be confirmed."
The two worked together when Harris served as California's Attorney General and Su was Secretary of the California Labor and Workforce Development Agency.
If confirmed, she would be the first Asian American at the secretary level in the Biden cabinet.
"She is a fighter for working people," said Harris about Su. "She is so committed. She is smart. And she is someone who as the Secretary of Labor, I think is going to be a very strong voice on behalf of the dignity of work, and the importance and the value of workers in America."
AsAmNews is published by the non-profit, Asian American Media Inc. Please take advantage of a $30,000 matching grant challenge. An anonymous donor has offered to match dollar for dollar every tax-deductible donation made to Asian American Media Inc from November 1, 2023 until the end of the year. The money will be used to fund the addition of a new reporter and to produce content for limited English-speaking Asian immigrants. We are supported in part by funding provided by the State of California, administered by the California State Library in partnership with the California Department of Social Services and the California Commission on Asian and Pacific Islander American Affairs as part of the Stop the Hate program. To report a hate incident or hate crime and get support, go to CA vs Hate.