By Mimi Chen, AsAmNews Staff Writer
You will never forget this guy. Not only because he has distinguished himself as an award-winning comic book author and TV writer of hit shows, but it's mostly because he has the unforgettable name of Pornsak Pichetshote. His first name is pronounced exactly how you think it is pronounced. And to all queries, in spite of having been born in America, Pornsak Pichetshote asserts he will never try to anglicize the name his Thai-Chinese parents gave him or change it to a more pedestrian name nobody will remember.
"My name being distinctive has helped me out, has been a pain in the ass in some ways, and has helped me out in other ways," he noted, because people, well, remember him whenever they encounter his name.
Nowadays, Pichetshote doesn't need a distinctive name for people to remember him.
A win at the 2022 Harvey Awards and Eisner Award, the comic industry's oldest and most prestigious awards gave him enough recognition that he recently revealed his graphic novel The Good Asian was given the green light for adaptation into a live-action TV Series.
The Good Asian is based on a genre he calls, 'Chinatown noir.' "It's a detective story in the style of Sam Spade or Philip Marlowe, but featuring one of the first Chinese American detectives in America in classic noir fashion, who goes looking for a missing girl, stumbles on murder, then stumbles on conspiracy," he said. "But what it's really about is that he's traversing through 1936 Chinatown, which was the biggest population of Chinese Americans in America at that time. And it was during a time when there was an immigration ban against Chinese entering the country. And it's about that generation of Asian Americans who had to live during that time and their sense of self during that time, what is their sense of community, what is their sense of being American and how do they navigate that. And part of the reason why I wanted to choose 1936 to talk about is because I felt there were a lot of parallels between that experience then and our experience now."
In the book, he incorporated many questions Asian Americans have. "We try to ask what does even that mean, the term Asian American? What are Asian American themes which is a question that's very close to my heart. And also, too, we talk about respectability, politics. What is the good Asian?" He notes.
The lead character of Edison Hark, was inspired by the historical detective known as Chang Apana, also the inspiration for Charlie Chan.
It was actually moving to Thailand which caused his increased interest in comic books. Pichetshote notes that he was born in New York and raised on the Eastern Seaboard. "During that time, I was into comics. Maybe more so than the normal kid, but not like an enormous amount. I would say pretty average. And when I was twelve, my parents decided, like, hey, we're going to move to Thailand for a year."
But it wasn't until several years later, he and his sister realized, "Oh, we just live in Thailand now instead of it just being a long vacation." He thinks his parents called it a 'long vacation' because they didn't want any arguments about moving. Due to being "ripped out of a culture that he knew," he had to find ways to connect himself to American culture, which he says were "few and far between." noting that when he lived in Thailand, they would get one English language movie a week on TV, and just like in a drive-in theater, you had to tune in to the radio to get the English soundtrack.
It was during his time in Thailand that he got more into comics because a comic book "was something cheap" he could buy, and then read them over and over again. "And that would kind of be my lifeline to this life that I left and I didn't have access to anymore." He notes. Eventually, a move back to America for college made him realize he wanted to tell stories for a living.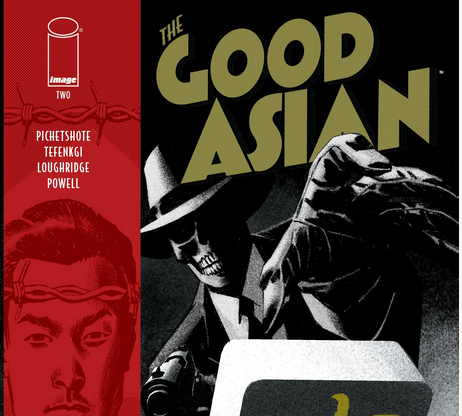 Being a kid in Thailand, though, he never dreamed of becoming a comic book and TV writer. He states, " I've been writing since high school, just short stories, but also journal entries. When I got to college, I found out I was good at it, but always saw it as a phase that I was going through. I had to really keep my nose to the grindstone because I didn't know anybody in this industry. We didn't even have literature classes in my high school because I went to high school in Thailand."
But the devotion to comics led to a fateful interview and a job with a well-known comic book editor, which apparently set off a whirlwind of promotions. A friend of his told him Karen Berger, the executive editor of DC Comics Vertigo Imprint at the time, was looking for an assistant editor. After the interview, he landed the job. Seven years later, the CCO of Warner Brothers reorganized the department and started what would become a media think tank on the West Coast. The head of the think tank recruited a bunch from publishing to be a part of it, with Pichetshote one of the recruits.
"All of a sudden, I was recruited because I knew stuff about the comic side. And then I would end up becoming part of that think tank and I would slowly end up being sort of DC Comics' head of television. I would help develop The Arrowverse on The CW and a bunch of other shows. And that happened for a while."
But apparently, Pichetshote always wanted to tell his own stories and made the decision to step away to focus on his own writing, writing for TV and comics. He would write his first comic, a book called Infidel. Coincidentally, he also started writing for television, noting that "I went through a period of, like, two years where nothing happened and then both of them happened at the same time. And I've sort of been trying to juggle these two careers ever since. The Good Asian was this nice thing where I kind of converged my two careers and The Good Asian was a book I very, very much wanted."
The Good Asian was a significant graphic novel for Pichetshote, because not only it was a book he wanted to write, but it also broke ground in the comic book community by including the Asian American experience, which he agrees has had little coverage in the comic book universe.
A discussion on his graphic novel ensued with Pichetshote giving nods to many literary giants and by doing so, lends a literay aspect to his book. Pichetshote acknowledges that that was a "goal." "The goal is to make a comic book that has all the aspirations of a novel, that has all the aspirations of literature. It's just got pictures in it too. If you look at the roots of American prose fiction, they started with genre writers having to argue that they were in fact as literary as the poetry that was coming out from England and all the other poetry that was happening. So what I'm doing and with comics is all a part of that tradition of this canon of like, this is real literature and then other things kind of sneak in."
He notes he felt there was an uncomfortable and surreal sensation when the book was announced because it came out during the height of the anti-Asian hate conversation. "That same week where it [the anti-Asian hate] was getting national news coverage was the same week we were announcing the book. And so it became sort of this weird. I remember at the time it felt very serious, but also very uncomfortable because obviously the themes are very close, but it's not like I wrote this to talk about that because that hadn't happened yet, right?"
He explained that when his first book Infidel was optioned, other screenwriters were brought in, but now that he has enough experience as a TV writer, with work that includes Marvel's Cloak & Dagger for Freeform, Two Sentence Horror Stories for the CW, and Light as a Feather for Hulu, his experience was enough so that the producers acknowledged he could write the adaptation.
"And that's what brought us to sort of where this moment that we're at now, where I put this book out, it came out in, I want to say 2021. The book has won some awards and all of that sort of helped adapt, moving it to TV and working with James Wan's company, Atomic Monster.
When asked about his goals for the TV version of The Good Asian, Pichetshote answered, "I hope to do everything we did in the book. I hope we ask sort of the same questions. I hope that fans of the book find it just as satisfying, but also are still surprised by it. It's really taking the projects of the book and bringing it to a bigger audience without losing the original audience along the way."
Pichetshote is currently busy writing the sequel to The Good Asian, the graphic novel. He's also writing a book for DC, a spin-off of The Sandman Universe, called Dead Boy detectives, which is about two British ghosts classified in the Young Adult Horror section. "There's going to be a Dead Boy detective show on Netflix, I think, sometime next year." he adds. "But I'm using this opportunity to introduce Thai, Chinese, Thai-Chinese American mythology into the Neil Gaiman sort of Sandman sort of mythology so that that audience can kind of be exposed to that."
And since comic books have art, Pichetshote is enthusiastic about the artist he's working with, artist Alexandre Tefenkgi, a French comic book artist of Vietnamese Djiboutian descent. "I think the beauty of his art and design work is self-evident on the page, but his secret weapon is how good he is at his characters' acting. He loves drawing eyes, and you can tell by the amount of emotion and conflict there is in them. The characters in The Good Asians have so much soul and that is directly a result of Alex's work."
AsAmNews is published by the non-profit, Asian American Media Inc. Please consider making a donation and following us on Facebook, Twitter, Instagram and TikTok. Information about interning, joining the staff or volunteering is here. We are supported by a grant from the California Library Commission and its Stop the Hate program. You can find more resources here.