By Erin Chew, AsAmNews Contributor
Magnum P.I. is back on a new network as the reboot of the beloved 80s crime series of the same name, has found a new home on NBC after four seasons on CBS. Jay Hernandez returns as the ex-Navy SEAL turned smooth-talking private investigator, Thomas Magnum. Currently in Season 5, this series aims to show a slew of adventures on the Hawaiian horizon, picking up where Season 4 left off.
This season also sees the return of Gordon Katsumoto (Tim Kang) reinstated to his detective status, after losing his badge for coordinating a prison break of a convict in Season 4 to save his ex-wife who was held hostage. Katsumoto is a hard-working and suave detective who is sun-kissed by Hawaiian culture and is passionate about policing and detective work.
Katsumoto, as a character is a positive representation of Asian men and demonstrates that Asian men can be portrayed as badass detectives and not just awkward sidekicks. It also joins the movement of films and shows which are gradually changing this emasculating negative stereotype, including Crazy Rich Asians, Shang-Chi, John Wick, Always Be My Maybe, Love Hard, Beef and others.
In a recent interview with AsAmNews, Kang spoke about the topic of Asian male portrayals and mentioned that this issue is something close to his heart as he has spent a long time in the entertainment industry trying to change it.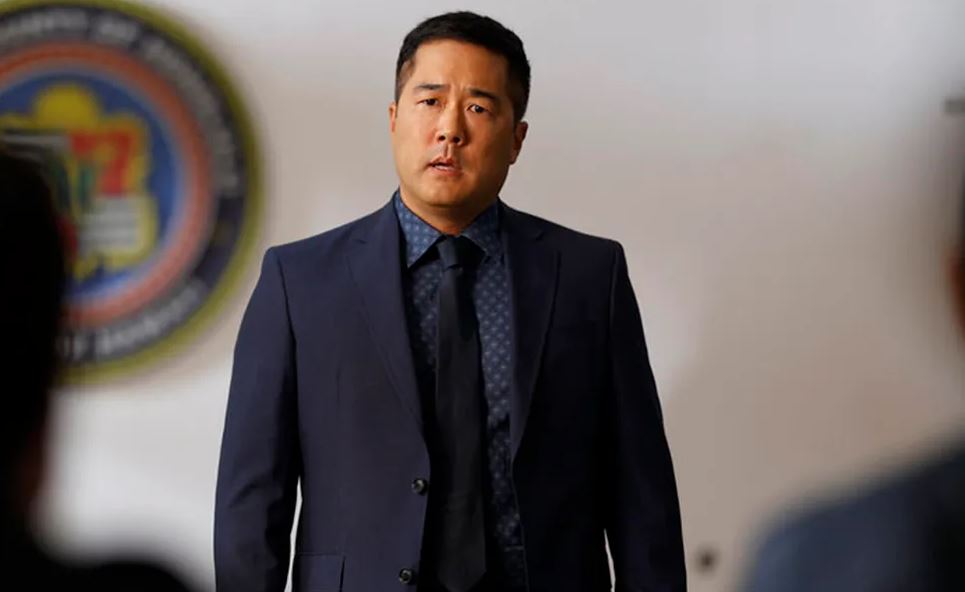 "I am glad you bought this up, because growing up I never really saw positive Asian male representation. Asides from martial arts stuff, we were always the first to get our butt kicked or presented as some awkward sideshow. My aim with Gordon is to throw the negative stereotypes out and show audiences that Asian men are charming, can be main role detectives and are also just the regular guy".
Playing Detective Katsumoto is no easy feat considering the fame of this reboot. Being Magnum P.I. which was a major series in the 80's means that this new version needs to keep some old attributes of the original, but also add value for the present day with new characters and how they interact and engage with each other.
Kang specifically mentions this and that the pressure is on to show that a series of the same franchise can shine on its own merits and still interest audiences from young and old. In saying that, he knew playing Katsumoto meant he had to inject some of his own personality traits to create a character that is layered and interesting.
"Magnum P.I. is a big name to live up to. For me personally, I put all I could into Gordon Katsumoto and for him to seem real, I had to give him a part of my real self. Growing up, I was a huge fan of the original, and now being a part of it, I wanted to ensure my acting would contribute to keeping the fame of the original, but also show something different and substantial that is relevant in the present", he stated.
Finally, as this reboot is into its fifth season, Kang spoke about what he hopes fans and new audiences can expect to enjoy and take away from watching the show. Where he personally felt blessed to be able to film on location in Hawaii, he wants audiences to see that the show is more than island fun, sun, police and detective work.
"I hope audiences watching this season can read into the overarching theme of Ohana – which is the native Hawaiian term for family. In Magnum P.I. this family extends beyond blood and it's about forming strong bonds and relationships with the community around you. That is the message I feel this season puts out in addition to all the action and island landscapes audiences will all see."
Magnum P.I. Season 5 can be viewed on Sunday evenings on NBC.
AsAmNews is published by the non-profit, Asian American Media Inc. Please fill out this 2-minute survey which we will use to improve our content. We are supported in part by funding provided by the State of California, administered by the California State Library in partnership with the California Department of Social Services and the California Commission on Asian and Pacific Islander American Affairs as part of the Stop the Hate program. To report a hate incident or hate crime and get support, go to CA vs Hate."