By Erin Chew
The Los Angeles Asian Pacific Film Festival (#LAAPFF) has come to a close. This year's festival featured a robust programming lineup, with films that tackled social issues and told important stories. A few interesting films which were shown in the last half of the festival included Starring Jerry As Himself, Jamojaya and a special presentation of the first two episodes of the animated series Gremlins – Secrets of Mogwai.
Directed by Law Chen and written by both Law and Jerry himself, the film Starring Jerry As Himself, follows Jerry, a recent retired immigrant father, as he finds himself recruited by the Chinese government to uncover an international conspiracy – or so he thinks as he empties his bank account as part of the sting. What starts out as some major covert spy operation, where Jerry is at the center turns into a major financial scamming operation, which leaves Jerry penniless and having to start up his life all over again.
It's a very interesting premise that keeps audiences on the edge. However, its most important message is for everyone to watch over their parents, particularly as they get older and enter retirement. This warning was also emphasized by Chen in a recent interview with AsAmNews, who added that scams on the elderly and in this case the Asian American elderly is a major issue and his hope is that this documentary film is a lesson for all.
"I felt this story had to be told, and what struck me about Jerry Hsu's experience was that these type of financial scams is very sadly an ordinary experience perpetrated on elderly people. As the children and family members around our elderly, it is our responsibility to ensure they are not stuck in a situation like Jerry, and if that means constant contact then that is what must be done", Chen said.
The film itself was marketed as a documentary, and essentially that is true, as it is an entire recreation of Jerry's own experience. The other family cast members are all Jerry's actual family, and according to Chen, Jerry had a lot of input and opinions in how his story and his experience would be presented. He wanted authenticity because that is the only way to show the world the severity of scams on the Asian American elderly.
"There are a lot of rules in documentary filmmaking – like ethical boundaries that you can and can't cross. In making this documentary film we broke all the rules and mutually agreed that we would make this film as Jerry saw fit. Let's not forget when this happened, Jerry kept this from his entire family so essentially we are examining all his flaws and every aspect of his life as a lesson on this serious situation."
In addition to its screening at #LAPFF on May 11, Starring Jerry As Himself will be doing the film festival rounds.
Written and produced by Justin Chon ( Pachinko, Blue Bayou, Gook), Jamojaya follows the relationship between a young rapper and his father, who also happens to be his manager. Filmed with lush, enchanting cinematography in Hawaii, Jamojaya is a meditative spotlight on father-son relationships, exploring those unique complexities with principles and humanity.
The film is quite abstract as it shifts between the father-son-relationship and uses loose references to Indonesian mythology to highlight culture and tradition and the struggles father and son go through. In a recent interview with AsAmNews, Joseph Dang, a producer for the film spoke about this intertwining of mythology as a skill Chon brings to this film.
"Justin, believe it or not, is a very spiritual person. The tree in the film according to him was all about invasiveness- when it was planted and now that it's grown – it is symbolic of a father's love and relationship with his son, with the invasiveness of the tree representing his smothering over his son. Very abstract but it is based on Indonesian folklore which Justin wanted to incorporate to give the film an Indonesian vibe", Dang mentioned.
The protagonist of Jamojaya, played by Rich Brian is in fact a very accomplished rapper himself in real life and the actor who played his father, Yayu A.W. Unru, is a famous actor in Indonesia. Dang discussed how the collaboration to create this film happened between Chon, Brian and Unru, and how it was a process to get this filmed as it all happened at the height of the pandemic.
"Rich Brian and Justin have been talking about collaborating for a very long time, so the decision to start filming Jamojaya happened and then America got hit with the COVID pandemic. Luckily at that time, the pandemic didn't hit Hawaii hard yet, but we were careful and it was prickly adhering to changing rules. Bringing on Yayu was all on Rich, and his experience of many years in front of Indonesian screens really made this collaboration easier than expected."
In addition to its screening at #LAPFF on May 12, Jamojaya will be doing the film festival rounds.
Developed by Tze Chun (Children of Invention, Gotham), Gremlins: Secrets of the Mogwai, takes viewers back to 1920s Shanghai where the Wing family first meets the young Mogwai called Gizmo. Sam Wing (future shop owner Mr. Wing in the 1984 Gremlins film – played by Isaac Wang) accepts the dangerous task to take Gizmo home and embarks on a journey through the Chinese countryside. Sam and Gizmo are joined by a teenage street thief named Elle, and together, they encounter—and sometimes battle—colorful monsters and spirits from Chinese folklore.
All the voice actors for this series are well-known names with Ming-Na Wen playing Sam's mother Fong Wing, B.D. Wong playing his father Hon Wing and James Hong playing Grandpa Wing among other big-name actors coming in as guest roles. The screening of the first two episodes of this series was a special screening event at the #LAAPFF, with Chun, Hong and Wang present at the screening.
In a recent interview with AsAmNews, both Chun and Hong spoke about the importance of this animation and how it can be an inspiration for all generations of Asian Americans who loved the original Gremlins films and the new generation where this is still all new.
"We are all very excited to show the world what we have been working on over the past few years. Gremlins: Secrets of Mogwai is a prequel series to the original Gremlins films. We hope it will appeal to all audiences young and old, and being the origin story that has a Chinese flare, we hope it will bring in new audiences of entire Asian American families", Chun expressed.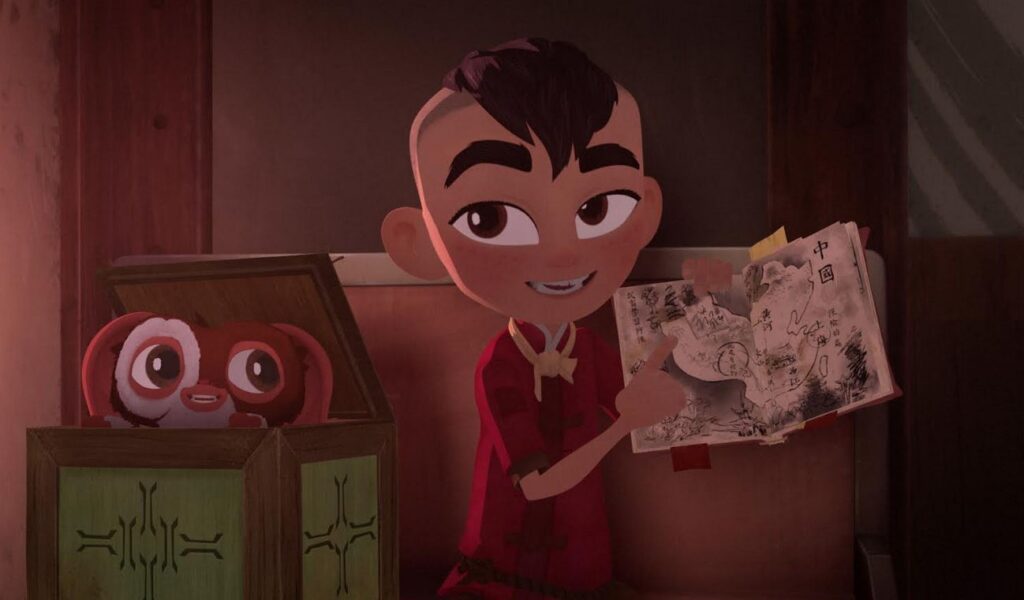 "I have been in the industry since the 1950s, and it really has only been the last few years that I have seen changes in the stories being told on film and TV. Being involved in this project is special as it takes me back in being a young Chinese American kid and the story being based in 1920s Shanghai, will interest our community from young to old", Hong said.
In addition to its screening of the first two episodes at #LAPFF on May 12, its official debut on HBOMax will be on May 23, with the Cartoon Network also airing it as part of the ACME Night block
AsAmNews is a proud sponsor of the Los Angeles Asian Pacific Film Festival.
AsAmNews is published by the non-profit, Asian American Media Inc. We are supported in part by funding provided by the State of California, administered by the California State Library in partnership with the California Department of Social Services and the California Commission on Asian and Pacific Islander American Affairs as part of the Stop the Hate program. To report a hate incident or hate crime and get support, go to CA vs Hate.