By Erin Chew
Add iconic Chinese mythological deities and the clash of parallel worlds to the usual trope of culture and identity in film and TV, and you would definitely have something different.
This describes the premise for American Born Chinese, an upcoming action comedy television series debuting Wednesday, May 24, based on the 2006 graphic novel of the same name by Gene Luen Yang. Starring Michelle Yeoh as Guanyin (Goddess of Mercy), Daniel Wu as Sun Wukong (The Monkey King), Ke Huy Quan as Freddy Wong, Yeo Yann Yann as Christine Wang, Chin Han as Simon Wang, Jim Liu as Wei-Chen, Sydney Taylor as Amelia and the primary protagonist Ben Wang as Jin Wang, the cast is star-studded with well known Asian and Asian American actors.
They are featured in an unexpected storyline, but one which piques interest, and educates both Asian and non-Asian audiences about Chinese mythology, Gods and deities. For those familiar with Chinese Mythology and the Journey to the West story- where the mythological characters in American Born Chinese derive from, it is a reminder of childhood memories and Chinese parents conveying moral lessons and spiritual insights.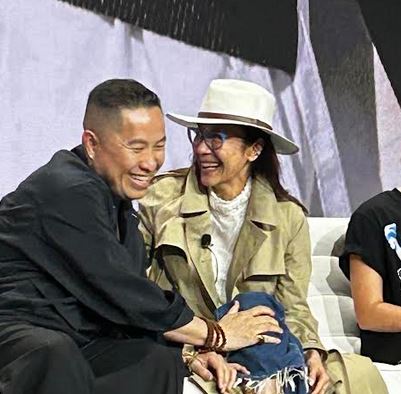 Recently, at The Asian American Foundation Summit in New York after a screening of American Born Chinese's first episode, Yeoh and Philip Lim, the series creative director (who designed the costumes for the series), spoke about how it is time for a Western/American audience to understand and appreciate Chinese mythology and culture.
"Playing these characters demonstrates how old and real our culture, traditions, history and mythology is. It is up to us on how we impart our knowledge to our Western friends and learn to embrace different personas as it is an opportunity to learn more about the people around you", Yeoh said.
"This mythology is all about a way of life. It teaches us and can trigger us so much as we all grew up with these stories and characters. It is time to embrace our Chinese culture and get everyone to watch and learn about it", Lim expressed.

For Wu, who plays the iconic Sun Wukong (The Monkey King) in American Born Chinese, it is the close relationship and familiarity with the mythological character which made it more natural for him to play. In a recent interview with a number of the cast members from the series with AsAmNews, Wu said that The Monkey King and the Journey to the West stories were what he grew up with and it is the hero he most relates to in life.
"When I was a kid, my parents gave me the comics which had all the Sun Wukong stories, and I also remember watching all the cartoons. Growing up I have watched many renditions of Journey to the West and in fact I made the staff Sun Wukong uses with a broomstick I cut and painted. I was pretty much a hyperactive kid and that is how I relate to this character. This is why it is such an honor to play Sun Wukong in American Born Chinese".
Wang, who plays the main protagonist Jin Wang, sees the Chinese mythological characters in the series as something which has been ingrained in his DNA, and as a proud Chinese American, he was unable to think about a time in his life when the moral lessons these characters represented were not practiced in his daily life.
He plays an average teenager balancing high school and home life. When he meets a new foreign student on the first day of school (Wei-Chen), even more worlds collide as Jin is unwittingly entangled in a battle with Chinese mythological gods.
"To play Jin who is intertwined in this world of Chinese mythology, is an absolute privilege for me. The Journey to the West story is such an intrinsic part of Chinese culture, and it is more than just folklore but it is about a way of life we should all lead. In the West, such as the USA, this mythology is not as well known in its pure original form, so if anything, I hope American Born Chinese can be the start for many to be interested to further explore this mythology and understand our culture", Wang discussed.
Taylor concurred with what Wang said and added that she wished she grew up with these stories. As a non-Asian on the series, Taylor, who plays Amelia ( Jin Wang's friend and love interest), stated that where she had no idea about Chinese mythology, being on the series has allowed her to learn and appreciate Chinese culture, traditions and stories so much more.
"I have never heard of Journey to the West stories or any of the characters in Chinese folklore. This is what made filming in this show so fun and informative, that I got to learn about these stories and what it meant to all the other actors in the show. When I asked questions to Ben, Daniel, Ke, Michelle and others, about this mythology, their answers enhanced my knowledge and interest in it all."
Both Yeo and Han, who play Jin Wang's VERY Chinese parents – Christine and Simon Wang, stated that playing their characters reminded them of their own upbringings. Yeo is an actress from Malaysia, and American Born Chinese is her first project in the United States, whilst Han is Singaporean, but has been involved in many projects in the United States including films such as Mortal Kombat and television series such as Marco Polo and The Blacklist. Both discussed their upbringings and how it felt to be a part of the American Born Chinese cast.
"Christine reminds me of my own mother – independent, strong, opinionated and dedicated to her children. Playing her definitely was me playing my mother and I could not be prouder. American Born Chinese is the first time I have worked in the United States as most of my work is in Asia, so the idea of more Asian faces is not new to me. However, working with this team on this series has taught me to look broader and being back in Asia has inspired me to do more than I have ever done", Yeo expressed.
"Playing Simon, I am reminded of my own father – who worked hard to maintain and sustain his family. Like my own father, Simon is a man of few words and keeps his emotions all inside. I also feel this is similar to many other Chinese fathers in America. In terms of working with more Asian faces, I can say it feels great to be a part of this. Not only are our faces in front of the camera, but we are also making the decisions behind – production, direction, costume design etc – this is what should happen more often", Han discussed.
American Born Chinese as stated earlier is based off the graphic novel created by Yang. Yang also served as series writer and executive producer for the series. Melvin Mar is also another executive producer for the series among a few others – all Asian Americans, making the decisions behind the scenes. Both Yang and Mar shared how creating the novel and series was inspired by their love for Chinese mythology and their love and respect for their parents.
"My 2006 graphic novel was the start of it, and really the inspiration all came from my own life growing up as an American Born Chinese. Trying to find myself as a teenager and going through all the feelings about fitting in overwhelmed most of my youth. I guess writing the novel was a way to work through my own issues that I have had since I was a kid, as well as pay love to my mother who introduced The Monkey King and the power of Guanyin (even though we are a Christian family) as part of who we are as Chinese Americans", Yang said.
"I had a very strong attachment to The Monkey King and his entire world growing up. It reminds me of my grandmother's house where she would have TVB on all day with the different versions of Journey to the West always playing. Both my mom and grandmother would also share the different stories from Journey to the West with me as bedtime stories, so really it is an honor to work on this project and show my family what I learned from them", Mar mentioned.
Finally, some words of wisdom from veteran actors of Yeoh and Wu – both having had successful careers in both Asia and in the United States. At The Asian American Foundation Summit in New York, Yeoh spoke about being confident and believing that Asian faces deserve and do belong in America and Hollywood. In addition, it is time Asian culture and mythology be exposed so everyone can enjoy it.
"We deserve to be here and we have every right to create equal opportunities here in Hollywood. Our mythology and culture are important stories and it is our responsibility as Asians in entertainment to be the storytellers so all audiences can relate. This is my role and I do not see it as a job but something that I love doing and where everyone has told me winning an Oscar means I have reached the top, I hope I will never reach it because really, there is only one way down".
Wu hopes that his portrayal of Sun Wukong – The Monkey King, will inspire a new and younger generation of Asian Americans to get interested in Chinese mythology and get engrossed in it like he did growing up.
"In American Born Chinese audiences will see a different Sun Wukong – one who is more older and mature. The intertwining with Jin's real world with this mythological heaven world will hopefully encourage younger Asian Americans to want to learn more about Journey to the West because it is one of the four classic Chinese literature pieces. It's one of the best ways to learn more about culture and traditions, and I feel so special to be able to share this character with them", Wu said.
The supporting cast is also star-studded which includes James Hong as Jade Emperor, Jimmy O.Yang as Ao Guang, Ronny Chieng as Ji Gong, Stephanie Hsu as Shiji Niangniang, Leonard Wu as Liu Mowang and Lisa Lu as Ni Yang among many others.
American Born Chinese will stream on Disney Plus beginning on May 24th, 2023.
AsAmNews is published by the non-profit, Asian American Media Inc. We are supported in part by funding provided by the State of California, administered by the California State Library in partnership with the California Department of Social Services and the California Commission on Asian and Pacific Islander American Affairs as part of the Stop the Hate program. To report a hate incident or hate crime and get support, go to CA vs Hate.