By Randall Yip, AsAmNews Executive Editor
It's been a busy month for Vice President Kamala Harris, from filling in for President Biden to participating in a number of events for Asian American, Native Hawaiian and Pacific Islander Heritage Month.
While President Biden attended the G7 Summit in Japan, Harris oversaw negotiations with Republicans on a debt ceiling deal.
She also came to California's Silicon Valley to advance President Biden's economic agenda during a visit to the chip maker Applied Materials.
With her approval rating at 37.8%, according to fivethirtyeight, the Vice President has been trying to increase her visibility. Axios reports that Republicans plan to make an issue of Biden's age, 80, despite their leading candidate, Donald Trump, being just four years younger, 76.
The GOP will point out should something happen to Biden, Harris would become president.
She began the month headlining the White House Forum on Asian Americans, Native Hawaiians and Pacific Islanders.
There she encouraged an audience of hundreds of AANHPI influencers and community leaders to be proud and not hold anything back.
"You walk in with your chin up and your shoulders back. Knowing that when you model that, you are representing the voice of so many people who are so darn proud that you are getting that opportunity," she urged.
A week later, Harris and the second gentleman hosted a breakfast to celebrate the Smithsonian's National Museum of Asian Art's 100th year anniversary. The over 100 guests included actors, songwriters, community leaders and advocates, Members of Congress, diplomats and other Administration officials.
Among them was actress/producer Mindy Kaling who serves on the board of the museum. This wasn't the first time the two have met.
Prior to the November Presidential election in 2020, the two produced a YouTube video together cooking masala dosas. The video to date has generated nearly 6 million views.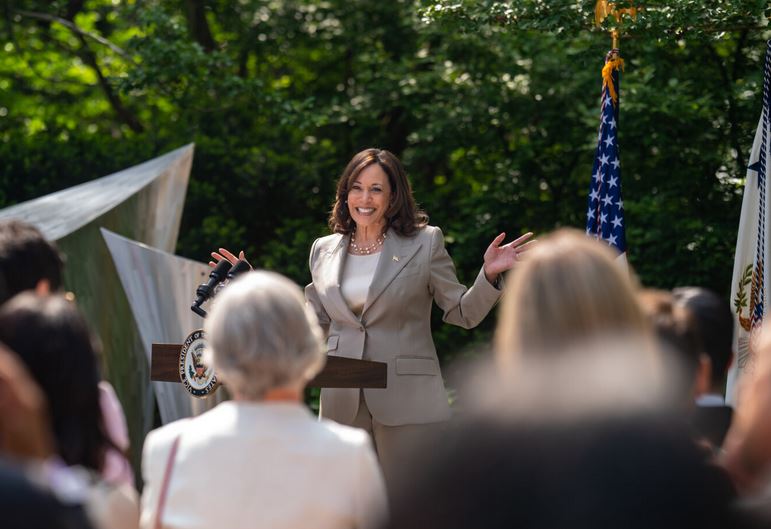 The following week, the Vice President invited members of the Congressional Asian Pacific American Caucus to dinner at her Washington DC residence.
Harris emphasized the partnership between the Biden Administration and CAPAC and warned that there was much more work to be done to strengthen the AANHPI communities.
Dinner featured food from executive chef Kevin Tien who leads his modern Vietnamese restaurant, Moon Rabbit and the kitchen at the Intercontinental Washington, DC-The Wharf.
Last week, the Vice President posed for her annual picture with members of the White House staff who identify as Asian American, Native Hawaiian, or Pacific Islander. Well over 100 people joined the Vice President for the photo.
Some of the criticism of Harris has centered around the high staff turnover she has experienced. A headline in the Washington Post in December 2021 read A Kamala Harris Staff Exodus Reignites Questions about her leadership style and her personal ambitions.
AsAmNews invited a spokesperson for the Republican Party to comment for this story. He declined, but said he would be open to future invitations.
Bill Wong, a retired political consultant who has worked on behalf of Democrats both nationally and the state of California, did comment. He is also the author of Better to Win, Hardball Lessons in Leadership, Influence and the Craft of Politics.
He says high staff turnover is not unique to Harris.
"Burnout is high. Compensation is low. It's a stressful environment," he told AsAmNews speaking about politics. "It's unfair to single out Harris particularly."
The approval rating among Asian Americans of President Biden is among the highest of all ethnic groups, second only to Black voters.
An Emerson College Poll conducted January 19-21 found 69 percent of Asian Americans surveyed approved of the way he is handling the presidency.
Both Biden and Harris have made it a point to reach out to the AANHPI community. In March, Harris met with small AANHPI business leaders in San Francisco to hear their concerns and offer support.
"As far as I know, she had a lot of interaction with Asian Americans in San Francisco (where she serviced as District Attorney) and when she ran statewide (successfully for both Attorney General and U.S. Senator)," said Wong.
AsAmNews is published by the non-profit, Asian American Media Inc. Please fill out this 2-minute survey which we will use to improve our content. We are supported in part by funding provided by the State of California, administered by the California State Library in partnership with the California Department of Social Services and the California Commission on Asian and Pacific Islander American Affairs as part of the Stop the Hate program. To report a hate incident or hate crime and get support, go to CA vs Hate."