By Erin Chew
Shortcomings is a humorous film that focuses on the quandaries of life and what it means to be Asian in America. Directed by the ever-engaging Randall Park, who starred in Fresh off the Boat, WandaVision and Always Be My Maybe, this is his first time working behind the camera and calling the shots.
The film is based on the graphic novel of the same name by cartoonist Adrian Tomine, and it was this story that Park felt was important to tell for the big screen as it was an accurate portrayal of the life and experiences of his younger self.
"The graphic novel Shortcomings, was something that resonated with me when it came out back in the mid-2000s. It was a frank and honest story about what we as Asian Americans experience and told the story of our community which is hardly told. The characters are all flawed, riddled with problems and questions and look for new ways to change their lives", Park discussed in a recent interview with AsAmNews.
The film revolves around Ben (Justin H.Min), a struggling filmmaker who lives in Berkeley, California, with his girlfriend Miko (Ally Maki), who works for a local Asian American film festival. When he is not managing an arthouse movie theater as his day job, Ben spends his time obsessing over blonde women, watching Criterion Collection DVDs, and eating in diners with his best friend Alice (Sherry Cola), a queer grad student with a serial dating habit. When Miko moves to New York for an internship, Ben is left to his own devices and begins to explore new horizons.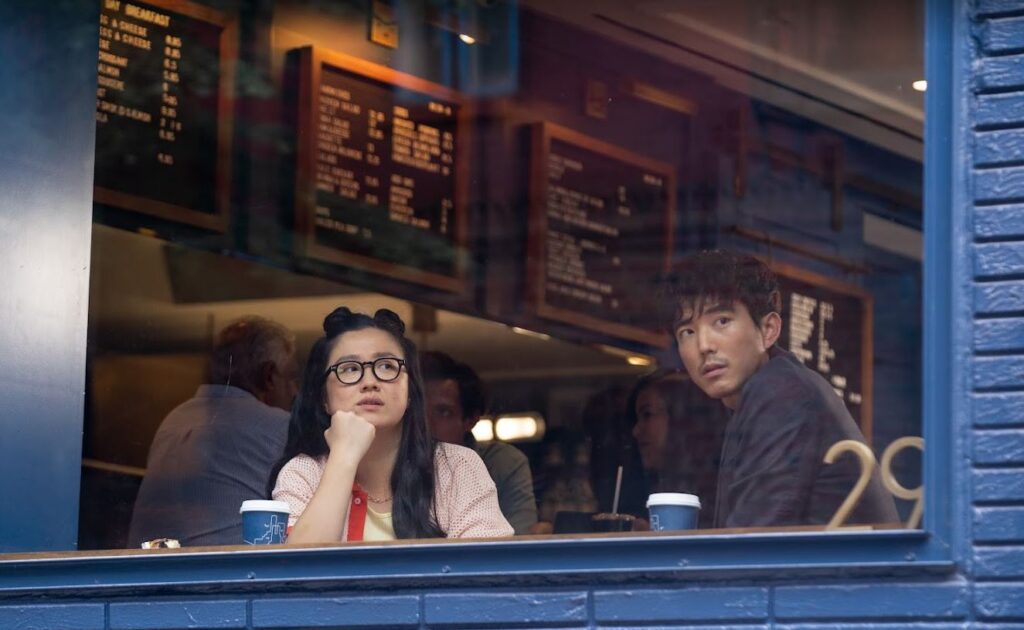 This storyline is one which will touch a nerve for many Asian Americans due to how realistic the themes and characters' lives are in terms of their journey in search of identity and belonging. For Min, his character Ben struggles with this as he deals with self-doubt and issues around his masculinity and relationships.
"Ben is very insecure about himself due to stereotypes out there about Asian American men and their masculinity. He has a lot of self-doubt, has fears regarding his career as a filmmaker and is unsure about his current relationship with Miko. I think all this causes him to lash out which in turn makes him face the consequences of his actions," said Min.
The issues Ben faces are different from the issues his current girlfriend Miko faces. Both face their own struggles. Maki describes Miko as the yin to Ben's yang, as she confronts her issues in a more passive way.
"Miko is a very repressed person and deals with her issues and struggles the opposite of how Ben deals with his. Throughout the movie, you realize that she has her own issues of self-doubt/hate, but doesn't really know how to express herself in a way that is real and true. I think Miko is someone who is obsessed with being perfect but under the surface is deeply unhappy, and as a result, she makes a number of poor choices," Maki said.
The fact that Ben desires to date a blonde woman brings up the issue of Asian men defining their masculinity and the negative stereotypes surrounding Asian men in Hollywood and Western pop culture. This issue is close to Park's heart and is a stereotype that he has worked hard to dispel in his own way. However, he stated in directing Shortcomings, he was less invested in the issue itself and more focused on portraying different opinions from this debate, as it is more important for audiences watching the film to make their own conclusions on this issue.
"The most important part of my job was ensuring the characters and their own struggles were accurately portrayed. I feel we have had a lot of films and TV shows which point out the issue of Asian men and their masculinity. Of course, this is an issue I am passionate about, but instead of presenting this as a one-dimensional issue, I wanted audiences to understand where these stereotypes stem from and the impact it has on our community. It is basically bringing out the essence of this issue to the limelight."
Min echoed the sentiments Park made and added that he felt his role as one of the main protagonists for the film was to ensure he was nuanced and multi-dimensional in his acting. That way different perspectives on the same issue can be presented. As an Asian man, he too is passionate about dispelling these negative stereotypes and believes this can only be done by offering different perspectives on the issue itself.
"I don't think the film is trying to change the stereotype per se, but it is presenting three different characters with three different distinctive points on the issue. In playing Ben, I wanted to ensure that he was not a one-dimensional character who just lusts for a blonde woman, but there are legitimate and true reasons as to why he got to that frame of mind. Each character faces their own demons in dating and stereotypes, and it is more about how they dealt with it rather than just talk about the issue", Min stated.
Finally, Maki and Park passionately discuss how they hope audiences will see the film as more than just a comedy about the lives of three Asian Americans. Each of the three characters – Ben, Miko and Alice represent three different types of Asian Americans who have different love and relationship ideals and who identify differently with their sexuality. Where Ben and Miko are heterosexual, Alice identifies as being part of the LGBTIQ community, and this is a major conversation starter.
"I hope audiences will watch the film and understand that our struggles as Asian Americans are real. I don't just want them to laugh whilst watching the film, but I want them to cry and reflect. I hope they see themselves in these characters who are all different from one another, and understand that we need to accept that our community, their dating ideals, and their sexuality is not something which fits into a square box", Maki explained.
"For me, I want audiences to identify with one or all of the characters in the film. Ultimately, the film is all about personal growth and change and how each character has a unique way of seeing themselves and the world. I don't want this movie to be about making grand statements, but I want audiences to see the process of how their struggles and insecurities happen and to know that it is okay to not be okay", Park mentioned.
In addition to the main cast, Shortcomings also stars other big name Asian Americans including Sonoya Mizuno as Meredith (Alice's girlfriend), with Stephanie Hsu and Ronny Chieng having cameo roles as Mrs and Mr Wong. In addition to directing the film, Park also has a cameo role as Ji-Hun, a restaurant waiter.
Shortcomings will be released in theaters across the United States on August 4, 2023.
AsAmNews is published by the non-profit, Asian American Media Inc. Please fill out this 2-minute survey which we will use to improve our content. We are supported in part by funding provided by the State of California, administered by the California State Library in partnership with the California Department of Social Services and the California Commission on Asian and Pacific Islander American Affairs as part of the Stop the Hate program. To report a hate incident or hate crime and get support, go to CA vs Hate."