by Shirley L. Ng, AsAmNews Contributor
For almost a century, some Chinese Americans have called Bradley Beach, New Jersey, their summer home. As summer drew to a close this year, Bradley Beach held a special celebration to formally recognize its "Chinatown By The Sea."
On Saturday, August 26, many Chinese Americans gathered at the Fire House Banquet Hall to celebrate. The event was a part of broader festivities for Bradley Beach's 130th anniversary. It was organized by the Bradley Beach Historical Society with the help of the Museum of Chinese in America (MOCA) and the Mei Hua Society, an organization that supports Chinese culture.
At the celebration, Mayor Larry Fox read a proclamation that Newark Avenue and Cliff Avenue were to be recognized as, "Chinatown By The Sea," a community that began in the borough in the 1930s. The proclamation was passed in their most recent council meeting to coincide with the town's anniversary,
In the proclamation, it described Newark Avenue as "equivalent to Mott Street," said Mayor Fox. See the video of Mayor Fox reading the proclamation on "Chinatown By The Sea".
The origins of "Chinatown by the Sea"
Paul Neshamkin, president of the Bradley Beach Historical Society and Museum told AsAmNews that Chinese Americans have been visiting Bradley Beach since the 1920s for a week or two at Cliff Villa, a property owned by the Church of All Nations, a Methodist settlement house located on the Lower East Side in New York.
The church worked with the Fresh Air Fund, a non-profit that provides low-income children from New York City with trips to outdoor experiences. The organization began with a parish in Pennsylvania that helped immigrants escape tight living conditions and get some fresh air for several days during the tuberculosis epidemic. The Church of All Nations brought the Chinese to Bradley Beach in June, the Italians in July and the Russians and Ukrainians in August, according to Neshamkin.
Generations of Chinese Americans made the journey to Bradley Beach from New York City's Chinatown to escape the tight quarters of tenement apartments and to relieve tired feet and legs from standing for long hours working in a restaurant. For many of their children, it was a wonderland of living in a house, swimming in the ocean, enjoying the open space to ride their bicycles and be with family for a few weeks.
As word spread about Bradley Beach, the Chinese American community, who were mainly of Toisan descent began to grow in the Jersey shore town. Over time, they began to rent their own summer homes and eventually purchased their first summer homes.
As the home owners' children grew older, the homes were passed down to them and the next generation and so on. Some adult children also purchased their own summer homes too. For some, Bradley Beach is no longer just a summer refuge, but now their permanent residence.
It was in a 1998 New York Times article that reported the early Chinese Americans at Bradley Beach calling the area where most of them lived, "Chinatown By The Sea." A new community was born.
A reunion years in the making
On August 26, many Chinese Americans who spent their early childhood summers at Bradley Beach were reunited with old friends. Some traveled from New York and other parts of the surrounding area to attend the reunion. Now, many of them are in their retirement. Their grown children and friends have gathered together at the celebration to reminisce their summers from Chinatown at Bradley Beach with their families and friends.
The celebration included a guided tour of the neighborhood that comprised of streets that became the community, "Chinatown By The Sea." There was a live dumpling demonstration, items and photos from MOCA, an enlarged map for past and present Chinese American residents to mark the location of their homes and the option to scan old photos by the Bradley Beach Historical Society and Museum. They hosted the event at the local firehouse and provided hot dogs, drinks, watermelon, ice cream and a special cake to mark the celebratory occasion.
According to Neshamkin, the planning for the celebration began merely six months ago, although it had been an idea for a very long time.
Janette Lau helped organized the celebration with the Bradley Beach Historical Society and Museum after she purchased her home there. It was her friend that introduced her to Bradley Beach when she came for a visit and fell in love with the shore town. Lau didn't have a long family history in Bradley Beach as some of the attendees at the celebration. She only learned about "Chinatown By The Sea" in a book about Bradley Beach written by Shirley Ayres, a town historian.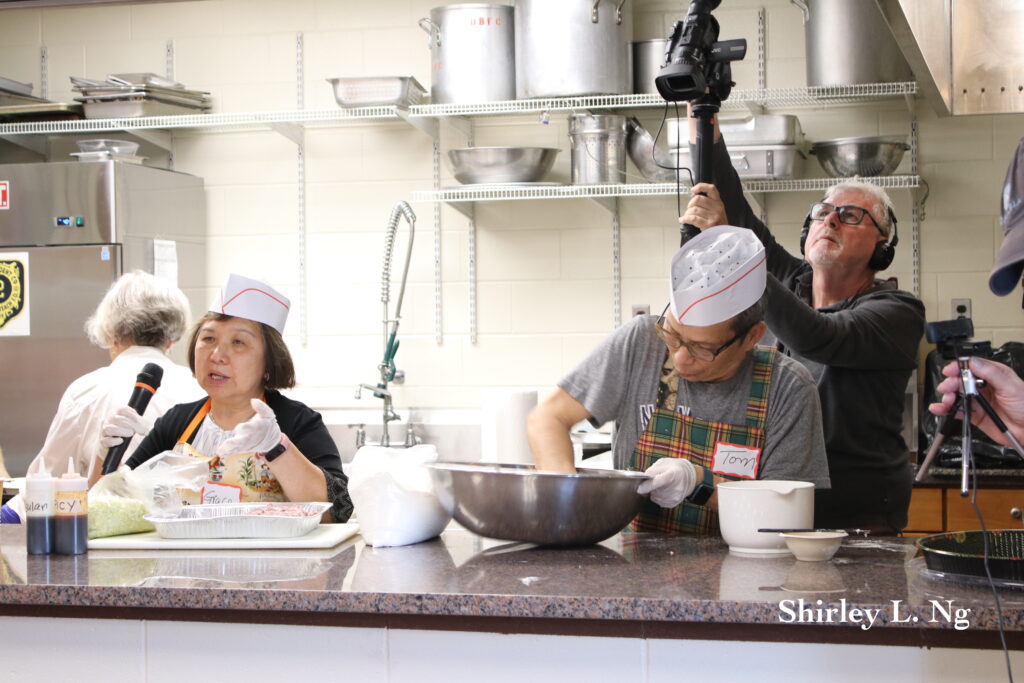 "I split my time between Bradley Beach and NYC. Now that I am retired, I am spending more time in Bradley Beach enjoying the ocean air, walking on the promenade and getting to know the wonderful people that live in this community," Lau, told AsAmNews. Her experience as a volunteer with MOCA and a member of the Mei Hua Society, led her to the Bradley Beach Historical Society and Museum.
Lau discovered the Bradley Beach Historical Society and Museum through her volunteer work with MOCA and her participation in the Mei Hua Society. Earlier this year she was discussing a potential Chinese American reunion at breakfast with Jayne Mackta, Vice President of the museum.
Mackta said the museum knew of the Chinese American history in Bradley Beach for many years when Shirley Ayres wrote the book and have always wanted to organize some sort of event on the Chinese Americans, but it was not she till met Lau that the idea of a reunion was finally becoming a reality. They got to work quickly organizing the celebration to coincide with Bradley Beach's 130th anniversary.
Summer memories
The one thing that fascinated the Chinese American children, (now adults) was the beach. The waves, the breeze, swimming in the ocean and the feeling of the wet sand, which was all impossible in the city. At Bradley Beach many were able to ride their bicycles because the space that allowed them to do so.
Mackta told AsAmNews life at Bradley Beach was pretty good back then.
"The Chinese Americans were very well received. Everybody enjoyed the same thing, which was the common denominator of life at the shore. The children loved the beaches, loved to go fishing and to Asbury Park. For the most part, people got along," Mackta said.
John Mok's, grandmother, Lee Ng Shee was the first to purchase a bungalow on 104 Newark Avenue in 1943 for $2000 dollars. He was one of the panelists at the celebration and spoke about his experience growing up in Bradley Beach and how much fun he had with his family. His extended family also bought homes nearby the bungalow. He grew up in Chinatown and attended Public School 23 where his mother was a teacher. John's grandfather owned a store at 32 Mott St. and it was in the family for over 100 years. He lives with his wife Lulu permanently in Bradley Beach since 2012.
Many other Chinese American families soon followed in Shee's footsteps purchasing homes, which led to the growth of the Chinese American community "Chinatown By The Sea."
Tim Pon, now lives at Bradley Beach year round. He knew Mok since the 5th grade and they both worked at nearby Asbury Park when they lived here for the summer. Pon remembers his bike ride from his summer home took only six minutes to get to Asbury Park. There have now been five generations of Tim's family enjoying Bradley Beach, which began with his grandfather and now his own grandchildren.
There are stories that fathers would drive their family from Chinatown to their summer home, then stay a day or two then drive back to Chinatown to work. Mainly the women and the children would stay at the summer home and the fathers would visit when they could. They would go fishing, play mahjong or visited the nearby Asbury Park Casino. The children would play with extended families, cousins, make friends with children of other ethnic groups and attended dances organized by the town.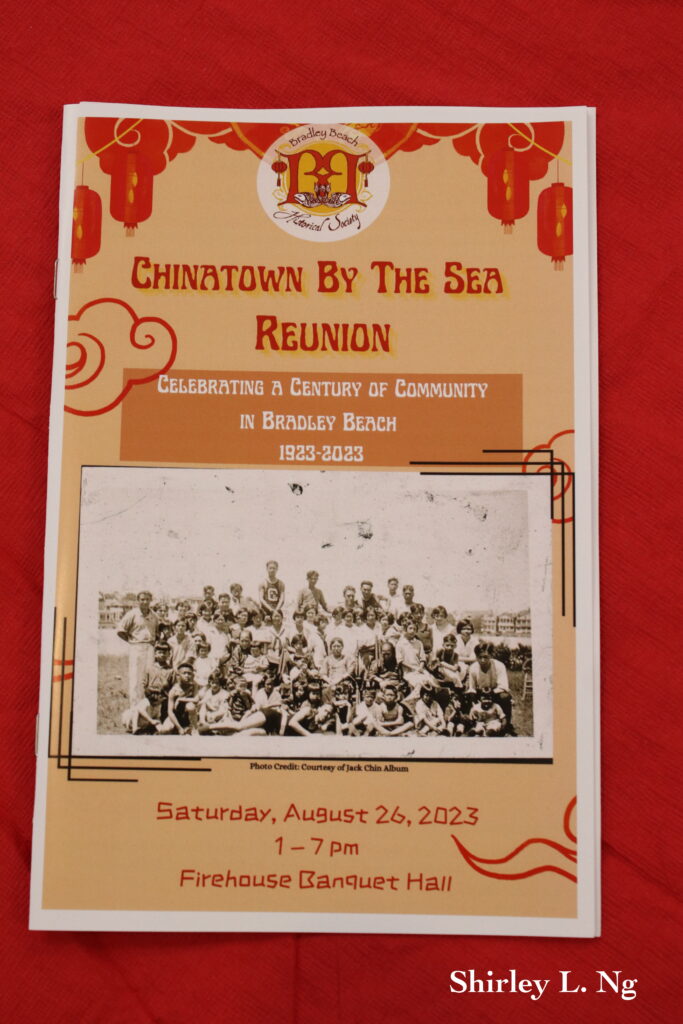 Prior to the drive to Bradley Beach, the families would purchase groceries in Chinatown and several brought bags of produce and goods they would need to prepare the family meals for the summer. They almost always ate in, although there were some conversations that when they were young, they ate pizza too, probably when they were out on their own with other kids during the day.
A guest asked the panelists, "Why didn't any of the Chinese families decide to open a restaurant in Bradley Beach?" John admitted, "It was nice to not eat Chinese food all the time," and the audience chuckled. He reminded everyone that Bradley Beach was just a summer home back then, so it would not have been feasible to open up a seasonal Chinese restaurant.

Ava Chin, one of the panelists and author of "Mott Street: A Chinese American Family's Story of Exclusion and Homecoming," shared with the attendees at the reunion how an entire generation of the Chin family learned how to swim in a local saltwater pool. She said, "For me, Bradley Beach offered me a chance to reconnect with my family, my roots and my family's legacy."
She also spoke warmly of her Uncle Jack who shared many stories with her when she was young at Bradley Beach.
A long time Bradley Beach summer resident, Jennifer Lee was at the celebration with her husband, Warren Wong, the owner of the popular coffee shop, Ho Wo Bake Shop at 146 Hester Street in New York's Chinatown. He sells the high demand shrimp rice rolls, "ha mei churn," a long time Chinatown favorite.
Jennifer told AsAmNews her first visit to Bradley Beach was in 1977. She has been enjoying the summers here with her family and cousins that lived down the street and now her own family. It was her Uncle Joe that introduced her parents to Bradley Beach when he told them there was a home was for sale.
"Now my children enjoy the beach with their friends. It's a great family oriented town that offers so much enjoyment for so many generations. We plan on continuing to come down here and hope the kids enjoy the house in Bradley Beach for many years to come," Jennifer told AsAmNews.
It was her "uncle", her mother's second husband that introduced Bradley Beach to Jodi Long, an actress that grew up in Queens to parents that performed on stage and even on the Ed Sullivan Show. Jodi played "Mrs. Chen," Katy's mother in the 2021 Disney Marvel film, "Shang-Chi and The Legend of The Ten Rings." Katy was played by Awkwafina.
Jodi spoke cherishingly about her experience with her "uncle" at the beach and learning to body surf as she still does today. She read from her autobiographical play, "Surfing My DNA," memorializing her experience at Bradley Beach when she was young.
Elaine Eng told AsAmNews her family didn't own a home at Bradley Beach, but visited with friends and family.
"When I was a young child, my parents used to bring us here. My father worked in a restaurant and the restaurant rented a house for the summer. The workers would take turns bringing their families. I was fascinated with the beach. I lived in Chinatown and there were no beaches. The evenings were nice, there was camaraderie with the people in the house, Elaine said.
One woman told the audience since she was a child (she's now a senior) she always felt welcomed, that there was never any racial tension with anyone at Bradley Beach. That's a welcoming sign, which was not always the case in New York during the Chinese Exclusion Act and frequent raids in Chinatown looking for the undocumented.
Eydie and her husband Joe (not Chinese) heard about the celebration at Bradley Beach's recent 130th anniversary festival and decided to attend the celebration. Eydie has been coming to Bradley Beach since she was a very young child every summer and still does. She is now approximately in her 70's. Joe told AsAmNews he recalls seeing Chinese men at their home playing mahjong outdoors and he could hear noise of the mahjong tiles.

Everyone that attended felt it was a lovely reunion of friends and family. Those that live there now or still own a summer home, do not plan on leaving Bradley Beach at all. It's the beach and the memories that were created for so many over the years and in addition, the common bond of family history from New York's Chinatown that has established Bradley Beach a special place in their heart.
AsAmNews is published by the non-profit, Asian American Media Inc. Please take advantage of a $30,000 matching grant challenge. An anonymous donor has offered to match dollar for dollar every tax-deductible donation made to Asian American Media Inc from November 1, 2023 until the end of the year. The money will be used to fund the addition of a new reporter and to produce content for limited English-speaking Asian immigrants. We are supported in part by funding provided by the State of California, administered by the California State Library in partnership with the California Department of Social Services and the California Commission on Asian and Pacific Islander American Affairs as part of the Stop the Hate program. To report a hate incident or hate crime and get support, go to CA vs Hate.