By Jia H. Jung, California Local News Fellow
Twenty-five members of the El Monte Thai Garment Workers case were inducted into the nation's Labor Hall of Honor in Washington, D.C. on Monday.
The Department of Labor honored the workers nearly three decades after they won their freedom from modern-day slavery in 1995.
Authorities rescued them from cramp quarters in the El Monte suburb of Los Angeles during a raid at dawn on August 2, 1995.
72 Thai garment workers – 67 women and 5 men – had been held captive, some as long as seven years.
The U.S. Department of Justice prosecuted eight sweatshop operators charging them with conspiracy, involuntary servitude and the smuggling and harboring of undocumented immigrants.
It was the first legal action against slavery since the abolition of African American slaves following the ratification of the 13th Amendment.
The bemedaled honorees received an extended standing ovation as they walked into a room attended by 300-some supporters, including acting U.S. Secretary of Labor Julie Su.
In 1995, Su was a 26-year-old staff attorney of the Asian Americans Advancing Justice-Los Angeles, known then as the Asian Pacific American Legal Center. Just out of law school and fresh off of a Peace Corps post in Belize, she represented the Thai garment workers in a successful civil case that went on to define her career and stoked demands for increased protection of vulnerable workers in California and the rest of the country.
In a phone call with AsAmNews shortly before the ceremony, Secretary Su recalled standing in the waiting area of a concrete prison building in downtown Los Angeles in August 1995, holding a roll of quarters. She and her team broke the pay phones by ringing the back of the detention center repeatedly, demanding to be let in to meet the Thai workers who had the right to legal representation but were not being provided it.
When she finally got into the building, she met dozens of Thai women in orange jumpsuits.
Former garment workers Nantha Jaknang, Maliwan Radomphon Clinton, and Praphaphon Pongpit, also on the line with AsAmnews, shared memories of how they each kept a toothbrush and a wad of tissue paper always on their person. They shared a single toilet and took turns holding blankets up for one another for privacy in the exposed shower.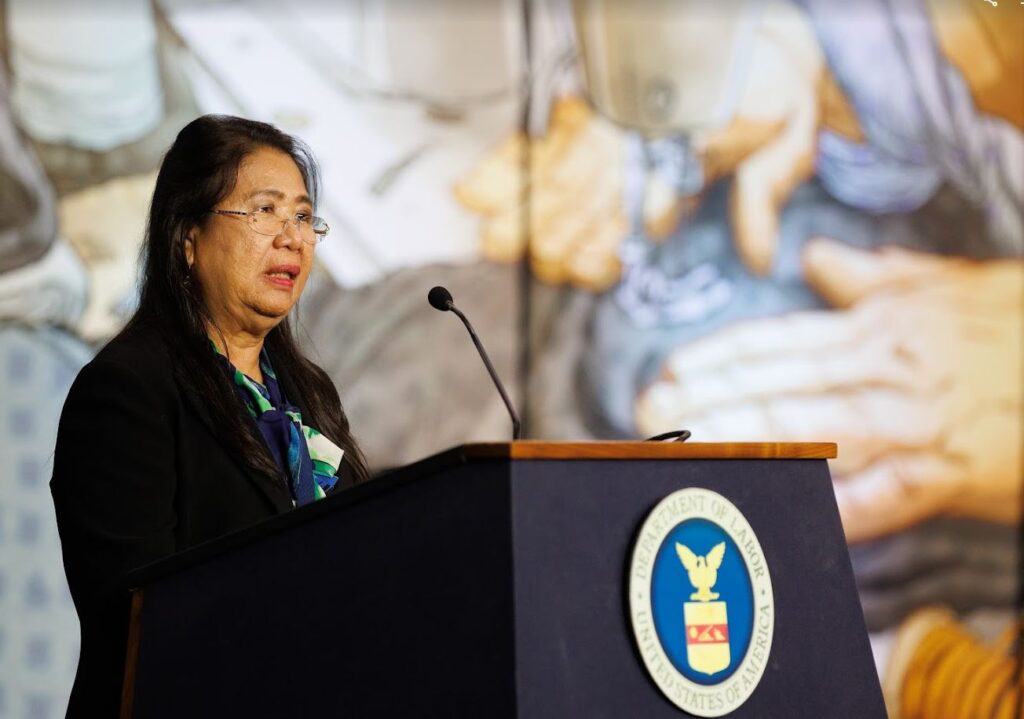 Jaknang and Clinton recalled their experiences in Thai and in English during the induction ceremony.
Recruiters had approached them in their villages in Thailand, promising better lives, good working conditions, and time off. The traffickers also promised perks like annual trips to Universal Studios, Disneyland, and Las Vegas.
Upon arrival to the United States, new workers were taken straight from the Los Angeles International Airport (LAX) to a seven-unit suburban townhouse at 2614 N. Santa Anita Avenue in El Monte. Their passports were confiscated.
Clinton noticed something was off as soon as she saw the complex but she was already there and there was nothing she could do.
The units, lettered A through G, each contained about 16 workers who toiled daily from 7 a.m. until past midnight, earning pennies as a piece rate. They made clothes for popular brands such as Anchor Blue, High Sierra and B.U.M. International, for sale by retailers like Macy's, Mervyn's, and the now-shuttered Filene's.
The workers slept on the floor right above their workspaces, sometimes 10 to a room. They had one day off a month but could not leave the complex under 24-hour surveillance by armed guards. There was no access to medical care. The workers waved and signaled through the small spaces between the wood planks covering the windows if they heard an elevator or airplane, even though rescue seemed increasingly unlikely.
They were for a time allowed to run accompanied errands. But after a person escaped on one of the outings, the El Monte captors began reselling foods and supplies within the complex at inflated prices. This deepened the debts of the laborers, who had come to the U.S. under the scheme of already owing a fee for their transportation and immigration paperwork processing. The figure Pongpit remembers that she was supposed to pay off for freedom was $4,800.
The captors made threats of retaliation to the workers' families back in Thailand to keep the workers in line. They also showed the workers a photo of a man who had tried to escape and had been beaten.
Then came a big break.
Tongkun Kim, then the Senior Deputy Labor Commissioner of Los Angeles received a tip about the conditions there from the boyfriend of a successful escapee. He initiated a thorough investigation and helped coordinate a multi-agency raid.
The workers were initially relieved when help arrived. However, the police officers who transported the workers out of the complex told them that they were illegal aliens and brought them to a holding cell for processing before deportation. There, an INS translator told the Thai workers not to bother punching at a "thick wall" and to resign themselves to deportation.
When the workers were finally allowed to meet Su, they found her to be a warm person but still felt unsure of whose advice to trust.
"We all talked to each other in the room and then said, you know what, we have nothing to lose," Clinton told AsAmNews. "If we lose this suit, we go home. We all go home now or go home later." The workers decided to go up against the multibillion dollar garment industry with Su.
Su negotiated the INS's demand for cash bonds into signature bonds, which allow people accused of crimes to post bail with a guarantee of payment by a third party if they do not show up to court. Asian Americans Advancing Justice and the International Ladies' Garment Workers' Union helped post bail.
The orange-suited workers left the detention center via a donated yellow school bus to their interim housing. As the legal team gathered evidence at the El Monte site, some workers got certain personal belongings back – a cooking pan here, a red blanket there.
Meanwhile, INS Special Agent Philip Bonner utilized a pre-existing S-visa, nicknamed the "snitch" visa. It's meant to protect informants in drug trafficking cases, but he used it to keep the Thai workers from being sent back to Thailand and facing retaliation.
The El Monte civil case won $4 million (equivalent to over $8 million today) in back wages from the sweatshop operators and compensation from the numerous manufacturers and retailers that participated in the web of enslavement of the Thai workers. At the time, the media touted Su, the child of Chinese and Taiwanese immigrants, as the "most celebrated, young, non-O.J. lawyer" of Los Angeles.
Henry Ong premiered a play named Fabric based on the case at the tenth anniversary of the El Monte case and the Smithsonian's National Museum of American History created a collection of images and artifacts to commemorate the workers' stories as a valuable part of overall American history.
Importantly, El Monte also provoked changes in law, such as U and T visas granting legal status to protect undocumented people who have undergone human trafficking, forced labor, violence, and other human rights violations while an investigation is underway. This protects vulnerable people from deportation and other mistreatment over immigration status.
In 1999, the California State Legislature passed Assembly Bill 633, also known as the Garment Worker Protection Act, which held manufacturers and retailers responsible when contractors failed to pay garment workers.
Su continued advocating for laborers, going on to serve as California Labor Commissioner and then California Labor Secretary. In July 2021, she became the first Asian American woman to be confirmed as the U.S. Deputy Labor Secretary of the United States. And February of this year, she was nominated as labor secretary by President Joe Biden in February when Marty Walsh, who had formerly served as mayor of Boston from 2014 to 2021, left the post to lead the National Hockey League Players' Association. Walsh referenced Su as a "dear friend and colleague" in a statement of endorsement of her nomination.
Su has been fulfilling all of the duties of labor secretary ever since but has not yet been confirmed to the position because of party-line opposition by Republicans and signs of indecision from Senator Joe Manchin, (WV-D), Jon Tester (MT-D), and Krysten Sinema (I-AZ). The Biden-Harris administration for now has kept Su as interim chief.
At the Hall of Honor induction ceremony, Secretary Su tearfully returned the sentiments of the honorees, who had said that they would not be here today without having met her in 1995. She added, "To everyone who has been underestimated because of what we look like or where we come from, who take on big battles that people say cannot be won – you are proof of what is possible. And we are capable of even more than we know."
Having explained the impact of the El Monte case on her current goals for the nation in a U.S. labor blog post, Su told the induction ceremony audience that there is still work to be done in protecting the most vulnerable workers.
California governor Gavin Newsom signed SB 62, also known as the Garment Worker Protection Act, into law on Sept. 27, 2021, making the state the first in the country to enforce joint liability by all businesses involved in the chain of garment worker employment to pay by the hour. Any California business not paying garment workers at least the minimum wage ($15.50 per hour as of Jan. 1 of this year) will be held accountable for breaking the law.
In May 2022, U.S. Senator Gillibrand (NY-D) and co-sponsors Cory Booker (D-NJ), Senator Elizabeth Warren (D-MA) and Senator Bernie Sanders (D-VT) introduced The Fashioning Accountability and Building Real Institutional Change (FABRIC Act) to amend the Fair Labor Standards Act of 1938 to prevent wage theft in the garment industry on a national level.
Meanwhile, the global anti-sweatshop movement continues challenging consumers, from individuals to retailers, to remain aware of the human price of their clothing, including items that bear the "Made in the U.S.A." tag. Often, the people making the clothing are non-English speaking immigrants from impoverished backgrounds who are susceptible to exploitation, invisibility, and systemic silencing, such as by denying legal representation or imprisoning or deporting undocumented immigrants.
When addressing the audience, Clinton said, "I know we worked very hard to stand up here for our rights. We changed the law. This is very special for me to speak in front of my family and all of you. I cannot believe that I am going to be remembered in history with my friends."
On the call with AsAmNews, Clinton had also interpreted something Jaknang said in Thai:
"If you buy clothes today, there's a lot of sweat and tears in them. They pay us very cheap but sell it to you for very expensive."
The El Monte Thai garment workers continue making sure they, or others sharing what was once their plight, do not fade away. This August, in addition to gathering for the annual "freedom celebration" reunion of the workers and everyone involved in their case, some of the former El Monte workers attended the grand opening of the Thai Workers' Center in East Hollywood. The center will serve the majority of Thai immigrants who continue to work in the service sector, where they continue to be vulnerable to labor violations, trafficking, and other abuses.
This first-ever center to help low-wage, Thai-speaking workers understand their rights and learn to organize is an extension of the Thai Community Development Center headed by executive director Chancee Montrell. The Thai CDC and Montrell also played roles in making sure the El Monte workers attained freedom.
The center will collaborate with Koreatown Immigrant Workers Alliance and the Pilipino Workers Center with the collective aim of expanding equity for all workers.
At the induction ceremony, Clinton concluded that, though her first experiences in the U.S. were not what she had dreamt of back in Thailand, things have changed.
"Today, I'm standing here. I have a beautiful life. I'm so proud to call ourselves American citizens," she beamed.
During the Hall of Honor induction ceremony, American officials and labor advocates acknowledged and thanked the El Monte survivors for their courage and sacrifices, and for continuing to champion the rights of others after finding freedom, reuniting with their families, and moving on with life in America themselves.
After the speeches, the 25 honorees, Secretary Su, and the audience proceeded to the Hall of Honor, where the El Monte Thai Garment Workers placard was unveiled, joining the Essential Workers of the Coronavirus Pandemic (2022), the Chinese railroad workers (2014), Helen Keller (2010), 9/11 rescue workers (2002), and Cesar Chavez (1998), among others.
AsAmNews is published by the non-profit, Asian American Media Inc. Please fill out this 2-minute survey which we will use to improve our content. We are supported in part by funding provided by the State of California, administered by the California State Library in partnership with the California Department of Social Services and the California Commission on Asian and Pacific Islander American Affairs as part of the Stop the Hate program. To report a hate incident or hate crime and get support, go to CA vs Hate."