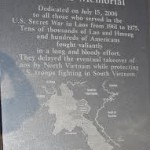 The names of 18 pilots have been added to the Lao, Hmong,  and American Veteran Memorial ( Photo from hmongthoobntiajteb.forumakers.com)  in Sheboygan, WI., reports the Sheboyganpress.com.
It was sponsored by May Bo Lee, whose husband, Major Ying Lee, was a T-28 pilot killed in action during the Secret War in Laos.
The war was fought from 1964 to 1973 during which the U.S. conducted more than 580,000 bombing missions. The CIA organized Hmong tribes to fight the North Vietnamese backed Pathet Lao.
"The Lao, Hmong, Kmhmu and American veterans who fought in that Secret War have earned their freedoms but sadly thousands of them never had the chance to taste the fruit of their freedom," said John Sayavong , a pilot during the Lao Secret War. "Almost every day for the past 40 years, I still have nightmares of my T-28 plane that was shot down … as a result of this crash I lost my right eye but thanks to God I still have my life."
Sayavong was the guest speaker at the dedication of the new panel.
The ceremony followed a traditional Memorial Day parade in Sheboygan.
You can read more about the Lao, Hmong,  and American Veteran Memorial in the Sheboyganpress.com.