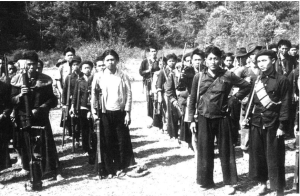 A minor league baseball team near Bristol, CT is raising money to build a monument dedicated to the Hmong who helped the U.S. fight a secret war in Laos, reports the Bristol Press.
The New Britain Rock Cats will honor the soldiers this Thursday before and during its game against the Portland Sea Dogs as part of a fundraising effort for the monument.
A half century ago, the U.S. and France recruited thousands of Hmong people into Special Guerilla Units (SGU) in Laos.  The Hmong fought in a 15-year covert U.S. operation backed by the CIA to push the communist out of Laos.
"This is a wonderful opportunity to tell the story of the SGU to a new generation of Americans and we encourage families to join us at the ballpark," said Pat Nelligan, chairman of the SGU National Monument Committee.
You can read more about plans for the monument in the Bristol Press.