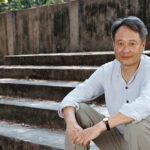 Ang Lee's second career Oscar for Best Director is prompting a debate in China about whether that country's censorship policies are stifling talent, reports The Hindu.
Lee is the latest Taiwan born director to win international recognition.
"Taiwan has Ang Lee, Hong Kong has Wong Kar-wai. And the mainland?" asked one movie fan on the twitter-like Sina Weibo in China.
Of course Taiwan has been considered a renegade island by Chinese officials since it broke off  from China in 1949.
Hong Kong was turned over by the British to China in 1997 and for the most part has been left alone by China.
On Mainland China, the film industry is regulated by the State Administration of Radio, Film and Television (Sarft).
"The same day that a Chinese director, Ang Lee, won an Oscar, SARFT issued new requirements making documentaries, like films and television shows, go through reviews," wrote banker Wang Ran to his 2.6 million followers on Weibo. "The Chinese government", he added, "is only helping Hollywood maintain its global monopoly".
Lee himself has had a tepid relationship with the mainland. His films have angered censors in China. More on that in The Hindu.