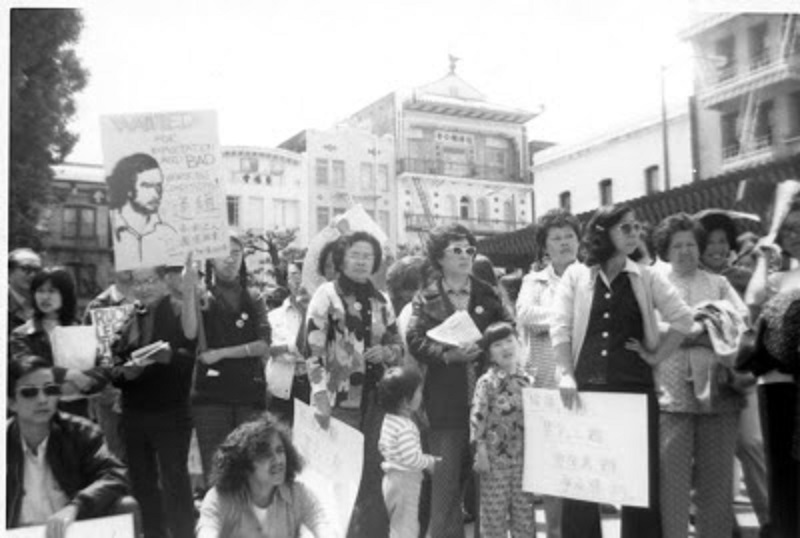 By Cathy Sun
AsAmNews Intern
Almost 50 years after the Third World Liberation Strikes of 1968, students at San Francisco State University are celebrating the Asian American movement and identity through Stomping Grounds, a one-night multimedia event. A series of projections, posters, and photography will recall the struggle of former students who fought for their rights and focus on comparing youth activism in 1960-1970's San Francisco Chinatown to contemporary issues.
The idea for an event like Stomping Grounds originated from Asian American studies graduate student Katie Quan.
"As a third generation Chinese American, I consider myself very much a product of the Asian American Movement," Quan said. "From a very young age, my parents made sure me and my siblings grew up with bilingual education. They were heavily involved with Asian American community organizations such as Self Help for the Elderly, Kai Ming Head Start, and Angel Island Immigration Station Foundation.
"Personally, Stomping Grounds symbolizes a full circle. Not only am I able to reflect on my own journey of identity and 'becoming,' but I also see how all our experiences intersect, diverge, and further complicate this modern definition of "Asian America."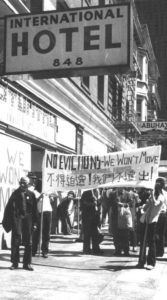 The different installations at Stomping Grounds provide an interpretation of Asian American identity and the politics that follow.
Before Gold Became Yellow is a collection of archival photographs taken during the Asian American Movement in San Francisco Chinatown. "By introducing the origins of an 'Asian America,' the photographs parallel many problems we are facing today," Quan said.
Uprooted: Rights to the City is a collection of posters that juxtaposes activist posters made during the 60s and 70s to contemporary problems such as immigration and climate change. "Inspired by Kearny Street Workshop's silkscreen posters, Uprooted challenges students to think about issues within their communities," Quan said. "Through realization, they are then able to comprehend their ability to create and enact change."
Becoming is a photography collection that captures people, items, or places students believe are representative of the term "Asian American," and it demonstrates the ways in which becoming "Asian American" are relevant and necessary even nearly fifty years later. "Becoming is only the beginning of a national photography project as it challenges participants to show their own understanding of what it means to be Asian American," Quan said. "Through projections, posters, and photography, visitors are invited to look at identity formation and history through different approaches."
How We Build Our Kingdom is a creative take on the idea of Chinatown which challenges normative perceptions of the place as rigid and conservative. Students instead presented Chinatown as a dynamic and safe haven, which allowed for activist renaissance, experimentation and innovation by Chinese American groups in history. The project highlights the necessity of Asian Americans understanding their position in history in order to continue meaningful dialogue and persist against lasting injustices today.
Stomping Grounds is being organized primarily by a team of undergraduate and graduate students, two faculty members, some university staff, and a handful of community advisors.
Jeremy Curimao, an undergraduate in Broadcasting and Electronic Communication Arts, was involved in the planning of Stomping Grounds. He believes the event is just one of many ways to bring to light the intricate histories of Asian Americans and how they connect to the current world.
"Personally, I identify as a Filipino American since I immigrated from the Philippines in 2003," he said. "Apart from it acting as an identifier for myself, I'm not currently part of a larger Filipino American community. I believe that Stomping Grounds can turn that around and provide an opportunity to network with other people."
Carmen Liu, an undergraduate in Child Development and a member of the planning team, described Stomping Grounds as a way for Asian Americans to better define and reclaim their identity.
"Stomping Grounds does not only allude to the misrepresentation of Asians in literature, history, and media. These are some key issues in which the Asian American community is still facing today," Liu said. "The exhibits depict a counter-narrative of how the American society perceives the Asian American community. With the help of the exhibits displayed in Stomping Grounds, Non-Asians can then visually see similarities and differences between Asians as they connect back to their personal lives and experiences."
Other members of the organizing team for Stomping Grounds include faculty advisors Valerie Soe and Wesley Ueunten, and students Vernon Piconotti and Vivian Pham-Nguyen.
AsAmNews has Asian America in its heart. We're an all-volunteer effort of dedicated staff and interns. You can show your support by liking our Facebook page at www.facebook.com/asamnews, following us on Twitter, sharing our stories, interning or joining our staff.