By Sophia Whittemore
AsAmNews Staff Writer
Merle Oberon was a glowing image of classic Hollywood grace. There might have been a reason she was so good at acting.
She'd been acting and living a lie for almost her whole life.
An article from Vanity Fair delves into the background of  Oberon. She claimed to have been born in Tasmania like another dashing cinema contemporary, Errol Flynn. Her publicists touted her fake heritage, born to an honorable British officer and raised by aristocratic grandparents.
But it was all a lie.
Even young Oberon wasn't quite sure who her mother was. The Daily Mail explains that, on her birth certificate, she was actually born in India to a 12-year old Constance Selby (of Maori and Indian background) in 1911. Her father wasn't an army officer. He was Arthur Thompson, a White railway engineer. Her grandmother, Charlotte, lied to Oberon that she was actually her mother, as she was ashamed of the unwed nature of Selby who went on to marry another man after Thompson left them.
According to TCM biographies, Oberon was raised believing her half-siblings were actually her nieces and nephews. She grew up in private schools in India, during British regime, and was mocked and bullied horribly for her multiracial background. She did, however, manage to join some drama societies in Kolkata.
Using layers of makeup to hide her skin color, Oberon moved to England as a teenager and was discovered by cinematographer Alexander Korda, who cast her as a temptress Anne Boleyn in The Private Life of Henry VIII (1933).
But tragedy struck the rising star. During the filming of I, Claudius (1937), the actress suffered in a horrible car accident. She had a near-death experience, one which her children believed caused her to never fearing death again. I, Claudius never made it past production, and with the scars on her face, Merle was anxious to work again, if she ever could.
Luckily, with some technical rigging for lighting, an invention fondly nicknamed "the Obie", and fantastic makeup work, Merle was able to hide the scars she'd sustained in the car accident. Classic Movie Hub actually says that Merle suffered skin poisoning from the heavy amount of toxic makeup applied on her skin, and often worsened her facial scarring.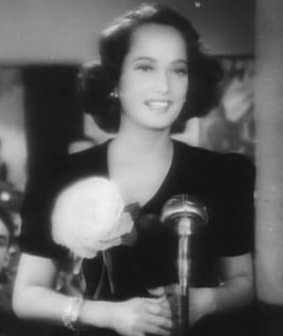 However, her efforts got her the leading role as Cathy in the romantic gothic tragedy of Wuthering Heights (1939). She starred opposite the dark-eyed Laurence Olivier (Heathcliff). It's perhaps her best-remembered role to date. Other movies include another where she starred across Olivier in The Divorce of Lady X (1938), the movie that launched her fame in America The Berlin Express (1948), and the Scarlet Pimpernel (1934). And that's still only a few movies from her long-listed resume.
As of yet, Merle Oberon is the only Asian actress ever to be nominated for Best Actress at the Academy Awards.
However, as the actress got older, her roles waned. It seemed her star was falling back to the earth. She suffered terrible anxiety during the time where multiracial backgrounds weren't just hidden, but entirely illegal in multiple states. Terrified she'd be found out, she even had to lie that her grandmother was her maid. This fear carried into her later life.
Returning to Malibu, with considerable heart problems allegedly caused by the looming threat of revealing her true birth certificate, Merle suffered a stroke in 1979, aged 68. She passed away taking her true secret to the grave, and only her closest circle knew about it.
If born in another world, another era, perhaps Merle Oberon would've been free to live her truest life. Yet for now, her star remains in the heavens, waiting for another actress, and another time.
***
AsAmNews has Asian America in its heart.  We're an all-volunteer effort of dedicated staff and interns.  Check out our Twitter feed and Facebook page for more content.  Please consider interning, joining our staff or submitting a story.