by Erin Chew, AsAmNews Contributor
Creator and Producer for Disney's Doogie Kamealoha M.D. Kourtney Kang defined the concept of "Aloha" during a recent interview with AsAm News as being about "feelings of love and warmth for one another".
For Kang, it was important that she kept the spirit of Aloha burning when creating and producing the series. It is a factor that sets it apart from the original Doogie Howser. She explained where for non-Hawaiians, "Aloha" is just a greeting, but for her, the cast, crew and the locals it is something that is naturally and organically ingrained.
Kang: "Another thing about the spirit of Aloha is that the cast and crew are connected and we all love, care, mentored and supported each other. Actors and crew with more experience mentored and nurtured the younger ones. This is definitely what makes the series special."
Channeling the spirit of Aloha was the common theme discussed by different cast members from the series. The vibe received was that this spirit was the glue that bound cast and crew together in comradery and encouragement when working on the series. Mapuana Makia, who plays hospital resident doctor "Noelani" in the series, compared Aloha to comfort food;
Makia: "Working on this show, we all felt "aloha" – and this feeling is a bit like comfort food because you feel the warmth from everyone around you. I hope those watching the show can also feel the "aloha" and allow it to whisk them away to Hawaii, giving them a wonderful world they can escape to".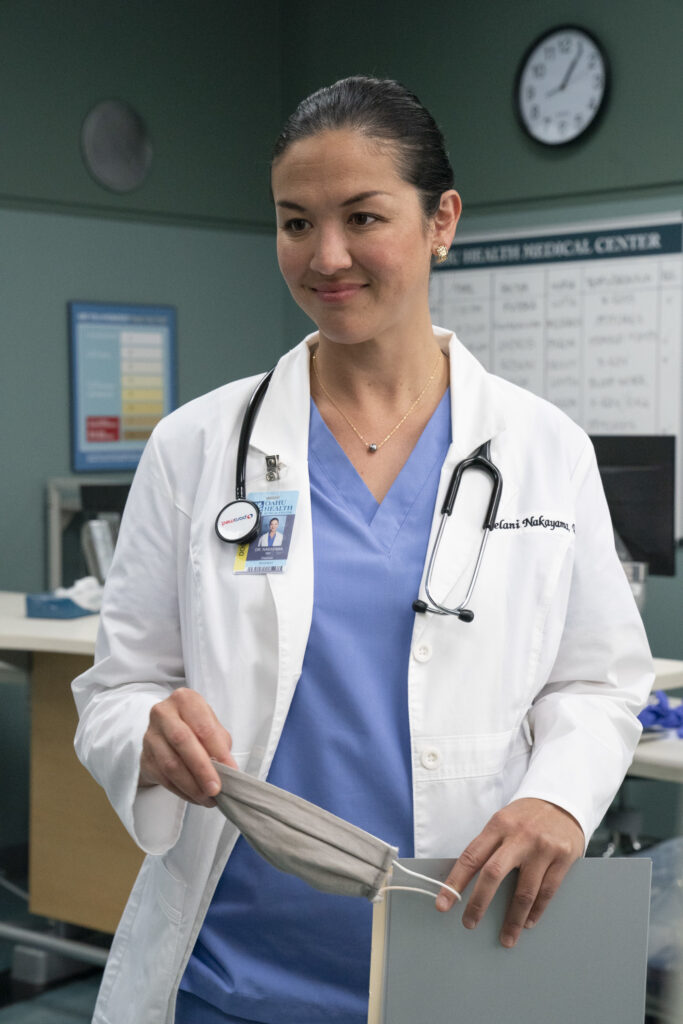 Jason Scott Lee who plays "Benny Kamealoha" ( Lahela "Doogie" Kamealoha's father) interpreted the definition of "Aloha" slightly differently. He took the position that to him, this concept was more about mentoring, mutual respect and being humble. He mentioned that his character "Benny" embodies the spirit all in one because he is the mentor, the cheerleader and the person who teaches his family what mutual respect means.
Scott Lee: "I try to be a lot like my character "Benny" in the show. Yes, he is a father and a husband, but he is the family's life teacher and mentor. For me, I have been in the acting game for a long time, and I would impart any knowledge and experience to the younger ones who were all eager to learn".
"What was beautiful about the cast and crew for the show was that everyone has a sense of humility and a sense of genuine respect and that is what we/they all bought to their characters. There was great comradery on this show and to me all this embodies the spirit of "Aloha" to me".
For both Matthew Sato who plays "Kai Kamealoha" (Lahela's older brother) and Wes Tian who plays "Brian Patrick Kamealoha" (Lahela's younger brother), "Aloha" meant more about the journey, and how both the characters they plays were exploring and navigating their own journeys and how they would balance that out in dealing with their prodigy sister.
Sato: "For me, the spirit of Aloha is all about a journey. For Kai, it is his journey into adulthood navigating how to live as a free spirit in the shadow of his genius, doctor younger sister whom he loves and adores."
Tian: "I agree with Matthew, even though I am only 12, I know I am on my "Aloha" journey because I love exploring all options that come into my life. This is like the character I play in the show – Brian. As the baby of the Kamealoha family, he looks up to his genius sister and older brother, and his "Aloha" journey is him trying different things, trying to impress everyone he meets and loving his older siblings and parents."
Finally, Peyton Elizabeth Lee who plays the lead "Lahela "Doogie" Kamealoha", made parallels between her own life and the life of the character she plays. For her, "Aloha" is about navigating two worlds and relying on the support systems of family and friends to sustain her energy and her passion for everything she does.
Lee: "Playing "Lahela" was not too hard for me because I felt a personal connection to her. I mean, we both live in two worlds – "Lahela" being both a doctor and a teenager, and my own life being an actor and a high school student."
"For me, "Aloha" is all about the love and support system around us which helps us through dealing with adult expectations and pressures living dual lives."
Episode 1 of "Doogie Kamealoha M.D.", will be released on Disney Plus on Wednesday, September 8.
AsAmNews has Asian America in its heart. We're an all-volunteer effort of dedicated staff and interns. Check out our new Instagram account. Go to our Twitter feed and Facebook page for more content. Please consider interning, joining our staff, or submitting a story or making a contribution.