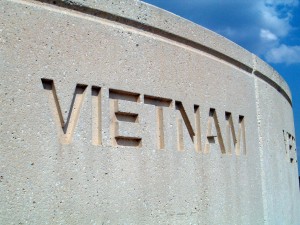 If it's true the first generation of Vietnamese Americans came to the United States for a better life for themselves and their families, then the Vietnamese American Oral History Project at UC Irvine is an extension of that.
The first generation is telling their stories to the next generation, passing on the history, their stories, their heritage to the young. At UC Irvine, students are being asked to interview their parents, their grandparents about life escaping the Viet Cong and settling into a new life in America. Students are finding getting their elders to open up can be difficult.
"At first it was easy, because my parents are older and I think they wanted to get their story out somehow," Sophomore Vince Vu told PRI, the World. "The hard part was trying to get them to remember certain things like racial segregation, stuff like that, specific stories."
Even the teacher knows getting people to reveal their past can be challenging.
"When it comes to private life and home space, that's where we see the silences, and the ghostly haunting of the Vietnam War," Professor Thuy Vo Dang said.
City Councilman Christopher Phan is among those who have told their stories to the project.
His first memory of the United States?  "We had our first snowstorm and it was just phenomenal," he said. "I had never seen snow in my entire life. It was awesome."
PRI, The World has uploaded several of the oral history projects on its websites. You can listen to them here.