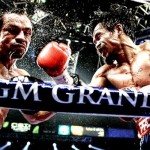 Muhammed Ali retired after losing two bouts in a row in 1981.
Should Manny Pacquiao do the same?  Pac Man has refused despite pleas from his family concerned about his health.
Now a blogger in the Bleacher Report says if Pacquiao is going to fight again, its a must that he win if he's going to preserve his legacy.
The 34-year old champ loss a controversial split decision to Timothy Bradley on June 9th. But then came a stunner, a no doubt knock out from Juan Manuel Marquez on December 8th.
Manny, the argument goes, must prove he still has what it takes to be a competitor.
Josh Benjamin wrote:
 Does anyone think that Pacquiao wants to go out with his tail between his legs as a washed-up champ? I sure don't.
Pacquiao wouldn't be the first athlete to go out on the decline of his career. Willie Mays comes to mind. He was just a shadow of himself after he left the Giants and closed his career with the New York Mets.
 What do you think? Is Pacquiao's next fight a must win. If he loss, would that impact your opinion of him? Leave your comments below.