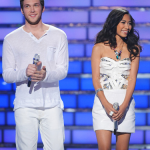 At just 17-years-old American Idol runner up Jessica Sanchez could follow the path to stardom paved by Idol's top female contestants–  Kelly Clarkson, Jennifer Hudson, Katharine McPhee, and Carrie Underwood.
McPhee and Hudson did not did not win American Idol, but have gone on to have bigger careers than their season's two winners, Taylor Hicks and Fantasia Barrino. It's too early to say whether Sanchez can have a bigger career than Phillip Phillips, but she certainly gets as much buzz as Phillips.
Sanchez told Wetpaint her new album set to be released soon will be more her. She says her time on idol didn't reflect the kind of artist she wants to be saying its weird singing about things I've never experienced.  On the new album I get to be more myself."radio friendly, filled with music you can move and dance to."
Jessica is also looking forward in appearing in several upcoming episodes of Glee this season.