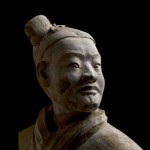 China's famous Terracotta Warriors are on exhibition at San Francisco's Asian Art Museum.
It's a rare opportunity to see the Warriors up close and on ground level. Even in Xian, China you are looking down at them. But at the Asian Art Museum you can see them eye to eye and experience how life-like and individualistic each Terracotta Warrior really is.
"They're very individualized. They look like actual human beings, said Deborah Clearwater to KQED.  " Some of their noses are broader. Some of them have downturned mustaches, some of them have upturned mustaches. All of the hair styles are completely different. The hairstyles indicate their rank and their positions can also tell you a little bit about their role."
The clay figures were dug up from the burial ground of China's first emperor Qin.  Each Warrior was commissioned to guard the emperor's tomb.
"One of the thing the designer wanted to do with this gallery is give you a sense that you're entering a tomb. So this entry port is built out to make you feel like you're going out into this cavernous space," Clearwater said.
The Terracotta Warriors will be on display at the Asian Art Museum through May 22.
You can learn a lot more on KQED.