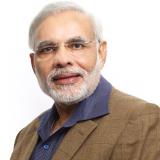 Just a week after the Wharton School of Business at the University of Pennsylvania withdrew an invitation for him to speak, Narendra Modi spoke via satellite in Hindi to members of the Indian American community.
DNA reports Modi didn't directly address the Wharton controversy or the issue he is most often criticized for, the killing  of Muslims in the 2002 post-Godhra riots that claimed over 1,200 lives.
"My definition of secularism is simple: 'India First'. Whatever you do, wherever you work, India should be the top priority for all its citizens," the current Chief Minister of Gujarat, a state in western India, told audiences watching his satellite conference in Edison, NJ and Chicago.
"When we get a mandate of five years, we must work on that and serve people selflessly. If we do that then people will forgive our mistakes as well," Modi said.
Modi is banned from entering the United States on the issue of human right. Some have predicted he will become the next Prime Minister of India.
You can read extensive coverage of Modi's speech in  DNA.