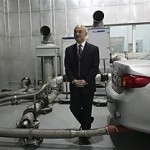 Victoria Hu of West Covina, CA hasn't seen her father ever since he was arrested in 2008 on accusations from a business rival in China that he had stolen company secrets.
Those charges were dropped 17 months later, but then the same rival filed a patent infringement lawsuit against him. Chinese authorities are preventing her father from leaving until the lawsuit is settled, reports the Daily Mail.
The junior at UC Berkeley has now gone public with her ordeal telling her father's story on social media and launching a petition on change.org.
'The stress hit both my health and my schoolwork: I was often sleep-deprived, depressed and irritated,' she wrote. 'I worried constantly and wondered if he is still alive. … Although I reacted initially with anger and hopelessness, I realized eventually that I couldn't afford to pity myself. My mom needed my support"
Her father Zhicheng Hu is an American citizen and an an award-winning scientist with nearly 50 patents. He had been in China conducting research on catalytic converters.
Victoria refuses to give up hope.
"I fight because one day my family will all sit down to eat dinner together again."
  You can read more about his heart wrenching story in the
Daily Mail