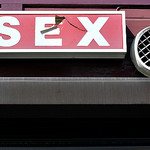 A Korean national suspected of running a house of prostitution in Los Angeles has been turned over to Korean Authorities, reports LA Weekly.
Prosecutors in Korea are after Eun Suk Sun because she is suspected of exploiting Korean nationals as prostitutes.
Immigration officials in the United States were able to turn Sun over to Korea because they say Sun overstayed her visa.
"If the charges in this case prove true, this fugitive's actions degraded the local community and the lives of the women she exploited for her own enrichment," a US immigration official said.