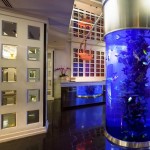 41-year-old New York hotel owner Vikram Chatwal is out on $56,000 bail after being arrested on one count of trafficking of drugs and seven counts of possession of cocaine, heroin and other drugs, according to INDOlink citing police reports.
 Police say the owner of the Dream Hotel (seen here) was arrested last week when he was trying to board a plane with drugs at the Fort Lauderdale/ Hollywood International Airport in Florida. Transportation Security Administration (TSA) officials say they found drugs hidden in his luggage.
 He was previously admitted twice for rehab for alcohol addiction.
Read more of the story here.