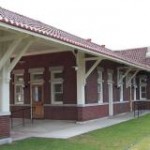 Actor George Takei will speak at the dedication of the new World War II Japanese American Internment Museum next Tuesday, reports Rafu Shimpo.
Both incarceration camps in Rohwer & Jerome  are located in Southeast Arkansas and imprisoned 17,000 Japanese Americans during World War II.
Takei's family was among the 17,000. He was only five at the time, but has vivid memories from the Camp experience.
The opening will also feature the exhibit "Against Their Will."